Project GUTS: Simulation and Modeling for Middle School STEM Teachers
When and where
Location
Education Development Center 43 Foundry Ave Waltham, MA 02453
Description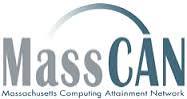 MassCAN invites Middle School Science, Technology, Engineering and Math teachers to attend a one-day professional development workshop based on Santa Fe Institute's NSF funded program "Project GUTS: Growing Up Thinking Scientifically."
What is Project GUTS?
Project GUTS: "Growing Up Thinking Scientifically", is a year-long science, technology, math and engineering (STEM) program for middle school students in New Mexico. Project GUTS was designed for students from all different backgrounds to engage in scientific inquiry by investigating topics of interest using computer modeling and simulation.
Get GUTS during our one-day introductory workshop and then sign up for either the online MOOC running November 23, 2014 through January 14, 2015 and/or our Face-to-Face 3 Day workshop on February 16, 17, & 18th.
We are working in partnership with Irene Lee, Project GUTS' principal investigator and curriculum creator from from Sante Fe Institue to prepare STEM teachers to use this outstanding curriculum with our Massachusetts students.
Please bring a Windows Laptop / Mac Laptop for the event.
Breakfast and Lunch Provided.