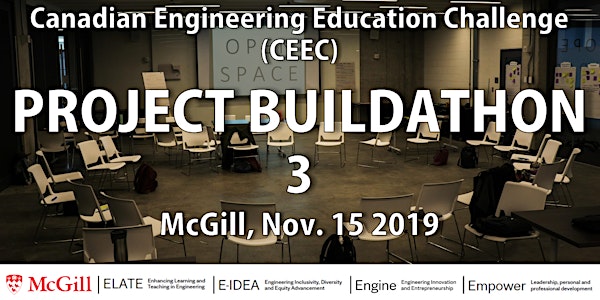 Project Buildathon 3 - McGill
Are you ready to make meaningful connections, be productive, and stretch your thinking - all while trying something completely different?
When and where
Location
McGill University 845 Rue Sherbrooke Ouest Montréal, QC H3A 0G4 Canada
About this event
Project Buildathon workshops are an opportunity for Engineering Educators - instructors, educational developers, administrators, students, etc. - to find alignment and work collaboratively around common priorities. The workshop is structured to empower attendees to simultaneously achieve their own specific objectives and act as a catalyst towards furthering engineering education initiatives. In this emerging and complex Engineering Education space in Canada, where people have unique backgrounds and different needs, we require a different approach than what we are used to with typical knowledge-translation workshops. It is difficult to describe ahead of time, because each Buildathon event is unique based on who attends, and what the common priorities are.
Are you ready to make meaningful connections, be productive, and stretch your thinking - all while trying something completely different?
The Goal of Project Buildathon 3:
To host an open space for engineering educators to come together around a common theme to find alignment between priorities and opportunities for sharing, collaboration, and networking. The idea for the event is to recruit participants who will benefit from working collaboratively with each other for a day. The theme of this Project Buildathon will be:
Teamwork and Equity, Diversity and Inclusion
The specific workshop objectives are for participants to:
Build relationships – new and existing,
Build projects – new and existing,
Build shared understanding – developing individual capacity
What do you mean by a 'theme' of Teamwork and Equity, Diversity, and Inclusion?
While this is more broadly an Engineering Education workshop, the theme allows us to start on the same page, to more quickly find alignment and make tangible progress. However, we are hesitant to get too specific about the theme, because sometimes the most interesting outcomes are ones that emerge from tangents. Teamwork and Equity, Diversity, and Inclusion are often thought of as two very broad topics, each containing sub-themes, and we hope participants will bring ideas related to either of them (see table below). There are many challenges associated with integrating either of these topics into the curriculum, but there is a real opportunity where they intersect.
Workshop Format:
The event will resemble a student entrepreneurship or 'hackathon' event, with high energy levels, a strong outcome focus, and teamwork – except it will be educators having all the fun! The workshop consists of one main facilitation approach: Open Space. The workshop format was designed to mimic that of an 'extended conference coffee break', where participants are empowered to only engage in what they find most valuable, which inherently leads to the strengthening of relationships and development of a network of innovative engineering educators.
At the beginning of the workshop participants propose ideas for topics they wish to engage with. The topics are consolidated, and an agenda for the day is built together, with everyone free to participate in whichever sessions they choose. There are some guiding principles to ensure this process works, and they are focused on shifting ownership to each individual participant to make sure they are always either learning or contributing.
This event is a followup to previous successful Buildathon events hosted in Toronto (Dec. 2018) and CEEA-ACEG (Ottawa, June 2019). Attendees have consistently found the event valuable, and keen to participate again in the future. This event is the first to pilot a 'regional model' to make these events more accessible to engineering educators across the country.
Sponsors
Project Buildathon 3 has been graciously sponsored by four Engineering Initiatives at McGill
ELATE: Enhancing Learning and Teaching in Engineering
E-IDEA: Engineering Inclusivity, Diversity & Equity Advancement
Empower: Leadership, personal & professional development
Engine: Engineering Innovation & Entrepreneurship
As we get closer to the event, registered workshop participants will be contacted with more specific details. Event registration is capped at 30, so be sure to register early! Feel free to contact the event organizer, Steve, with any questions or comments:
Stephen Mattucci, Canadian Engineering Education Challenge (CEEC), (stephenmattucci@engineeringchangelab.ca)