Description
New Leaders Council Chicago presents
Progressive Solutions for Chicago
The New Leaders Council Chicago is proud to partner with The CivicLab to host the Progressive Solutions for Chicago forum - an important discussion to talk about progressive solutions to our city's biggest challenges.

1871 Tech Incubator
The Merchandise Mart
12th floor
Monday, April 3
5:30pm - 7;30pm
Suite 1212
[The simple URL for this event = http://tinyurl.com/NLC-Event-4-3]
Cost: $20 - inlcudes a copy of the book and light refreshments! $30 at the door.

We will be featuring Tom Tresser, the organizer and editor of "Chicago Is Not Broke. Funding the City We Deserve" as well as other authors from this book, including Hilary Denk of the Illinois League of Women Voters, and author of the chapter on a progressive income tax for Illinois, Amara Enyia (2015 Mayoral candidate) and author of chapter on a public bank for Chicago, and community organizer Jonathan Peck, author of the chapter on next steps.
The book outlines a number of ways to save and generate major, sustainable and progressive revenues for Chicago so that this great city works for EVERYONE. There will be time for Q&A and the authors will be signing books after the presentation.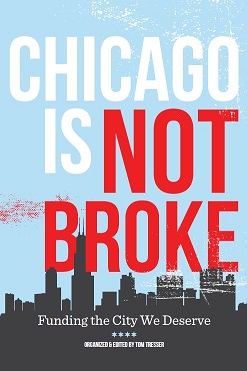 "There are only a few people courageous enough to sift through the lies and tangled webs that proves Chicago isn't broke, but the politics are. Most people won't take the time to do the research, but Tom Tresser and his team have and this book should be on your list." - Karen Lewis, President, Chicago Teachers Union
"Tom Tresser's latest book, Chicago Is Not Broke is essential reading for all who have an interest and investment in the future of our city, from City Hall to the residents of each of Chicago's 77 neighborhoods. This book offers solutions, not only for the city to dig itself out from where it is, but for taxpayers, legislators, and concerned Chicagoans, to learn about the financial state of the city, and provides a progressive and responsible path forward." – Cook County Clerk David Orr
New Leaders Council Chicago (NLC Chicago) is a 501(c)(3) that works to recruit, train and promote the progressive political entrepreneurs of tomorrow — trendsetters, elected officials and civically-engaged leaders in business and industry who will shape the future landscape. NLC Chicago recruits Fellows from business, nonprofit organizations and government who will shape the future landscape. Our mission is realized primarily through the NLC Institute; the nation's premiere political entrepreneurship training program.
The CivicLab is a progressive "do-tank" that innovates for democracy, civic engagement and social justice. We operate the TIF Illumination Project (www.tifreports.com) and published "Chicago Id Not Broke" in July of 2016. The TIF research and education work triggered 47 public meetings all over Cjicagoland. The "Broke" Book Project has spawned 50 meetings to date. All this is being done with NO funding or even an office! Ask us how we do this and how YOU can help - info@civiclab.us.
About the space: 1871 is a Chicagos' premier space for techology and entrpreneurship. Located on the 12th floor of the Merchandise Mart.