PROGRESSIVE GALLERY TOUR: NEW CANAAN

Friday, December 2, 2016 from 6:00 PM to 7:30 PM (EST)
Event Details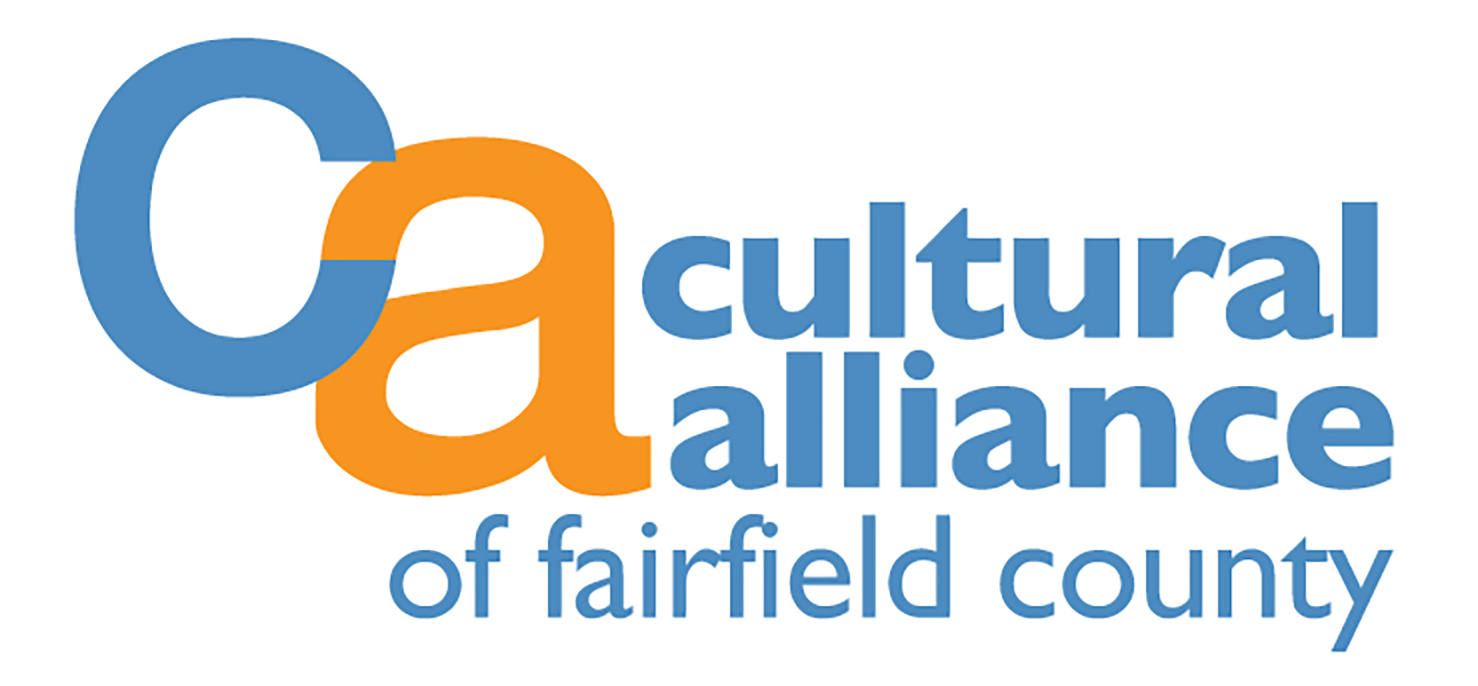 PROGRESSIVE GALLERY TOUR 2
Join us as we continue the second season of our Progressive Gallery Tour of our Fairfield County commercial gallery members - from Greenwich to Shelton - for visits to three of our member galleries in New Canaan, (together with one special nonprofit guest), as part of the NEW CANAAN HOLIDAY STROLL, Friday December 2, 5:30-7:30pm
---
---

The Progressive Gallery Tour, a program of the Cultural Alliance of Fairfield County, was designed to bring our artist, cultural nonprofit, and creative business members together once a month to discover the richness and variety of our commercial gallery members. Each month we visit a different town - from Greenwich to Shelton.
---
---

---
---
---
5:30pm SILVERMINE ARTS CENTER POP-UP - Talk: 5:45pm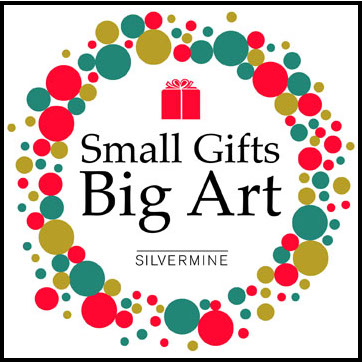 We open with a guest, the nonprofit Silvermine Arts Center, whose Art Guild is holding a 3-day special annual Holiday Fundraiser: Small Gifts Big Art: "unique, one-of-a-kind gifts by Silvermine's talented Guild artists" will be on display and for sale. All proceeds support Silvermine on this special tax-free night. Gallery Director Jeff Mueller will give a short talk about the show, the Guild and Silvermine at 5:45pm.




---
---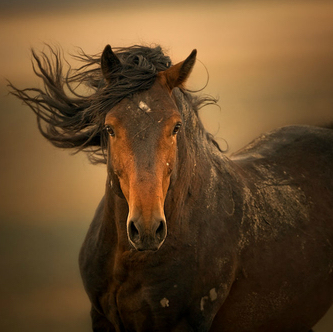 We continue at 6pm at the Sorelle Gallery, 84 Main Street, with EMBRACE BEAUTY, a selection of works by Kimerlee Curyl and Jason Young and a designer vignette by Gina Eastman Design. 

Kimerlee Curyl lives in Santa Ynez, CA. Her beautifully presented, limited edition horse photography reflects her passion for depicting wild horses and preserving their natural environment. She travels to remote areas of Utah, Wyoming, and South Dakota to photograph wild horses roaming free, while simultaneously inspiring and aiding wild horse protection programs.
New York artist Jason Young studied at the Sorbonne and the Institute des Hautes Etudes en Arts Plastiques in Paris and continues experimenting with intricate and daring materials. Resin, urethane, metals, and automotive lacquer transform his traditional art training in to high-tech, minimalist 'trompe l'oeuil' work that can be seen in the lobbies of Robert A.M. Stern Architects, The Ritz-Carlton Battery Park, and the Beverly Wilshire Hotel in Beverly Hills.
---
---
---
 6:30pm HANDWRIGHT GALLERY, 93 Main Street - Talk & Tour: 6:45pm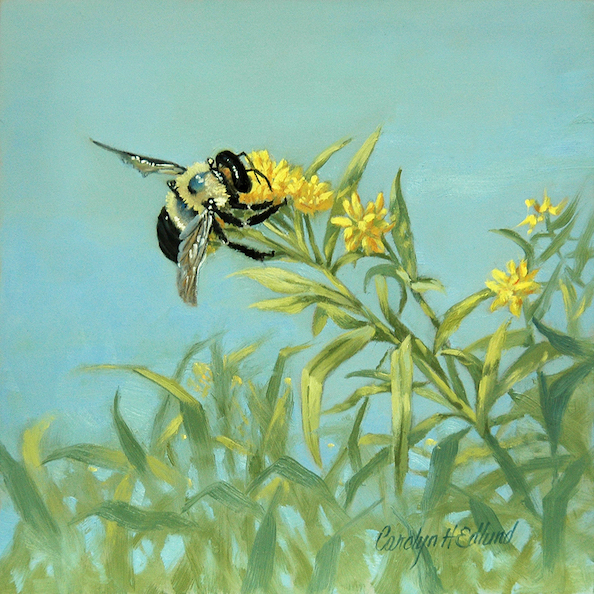 We then move on to Betsy Jesup's Handwright Gallery, and her third annual Small Works Show that celebrates the many different styles, colors and subjects that imagination and inspiration can take. The exhibit showcases the small-scale work from some of the region's best artists, presenting a range of creativity from abstract expressionism to contemporary realism, and representational still lifes to impressionistic landscapes. As Betsy puts it: "These small doses of creativity are guaranteed to dazzle the viewer and make anyone fall in love with art.  Their small format allows collectors to find the perfect starter piece or to fill in a gap in their existing collection, all at an affordable price." At left, Carolyn Edlund's Bumble Bee Number 1, oil on panel, 6"x6".
---
---
---
7pm HEATHER GAUDIO FINE ART, 66 Elm Street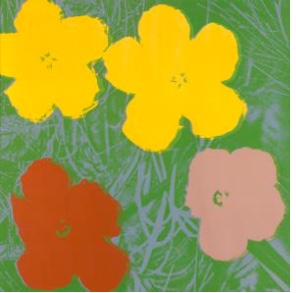 Lastly, at 7pm we will visit Heather Gaudio Fine Art, which is showing Lasting Impressions, a group show of colorful prints by leading contemporary artists Ross Bleckner, Jim Dine, Caio Fonseca, Betty Merken, Donald Sultan and Andy Warhol.  Come and witness prime examples of prints by important and established painters who are also naturally gifted printmakers, selecting specific techniques best suited to their own formal expression. Warhol's high-contrast silkscreened "Flowers," quickly became an iconic cultural image; Sultan uses enamel inks and flocking in his silkscreens to deconstruct his forms, echoing the industrial materials and variant surfaces seen in his large-scale work; Bleckner translates his "Cell" paintings series onto paper also using a multi-colored silkscreen process.  Other artists embrace more traditional techniques of relief and engraving: Dine uses copperplate etching and the woodcut to give his revered heart motif a vibrant, expressionistic energy; Fonseca works with an amalgamate of etching processes such as aquatints and soft grounds to make layered and overlapping bold abstractions; and Merken opts for the oil-based monotype, blurring the boundaries between printmaking and sculpture with her "Slab Structures."
---
Please register above and join us for refreshments, good conversation, networking and more.
When & Where

Silvermine Pop-Up, Sorelle, Handwright & Heather Gaudio Galleries
70 Main Street
New Canaan, CT 06840


Friday, December 2, 2016 from 6:00 PM to 7:30 PM (EST)
Add to my calendar
Organizer
The Cultural Alliance of Fairfield County is a nonprofit, membership service organization that supports its members by providing unified marketing, capacity building, professional development, and advocacy services. For the public, it publishes FCBuzz.org, a free comprehensive cultural calendar with the latest information on what's happening in the arts and culture across Fairfield County. FCBuzz.org offers ticket and event information for: music, theater, dance, visual arts, history, lectures, literature, kids & families, classes, workshops, special events & more.  To sign up for our weekly E-Buzz selection from the dozens of cultural events across Fairfield County, click here.

Cultural Alliance of Fairfield County appreciates the major support we receive from the Connecticut Office of the Arts, the National Endowment for the Arts, Fairfield County's Community Foundation, New Canaan Community Foundation, and the City of Norwalk.