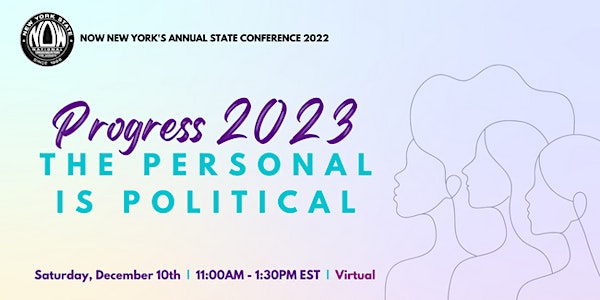 Progress 2023: The Personal is Political
NOW is the time to come together across New York State!
Date and time
Saturday, December 10, 2022 · 8 - 10:30am PST
Refund Policy
Contact the organizer to request a refund.
Eventbrite's fee is nonrefundable.
About this event
Join us today at the link below.
Join here via computer: https://us02web.zoom.us/j/83310737645pwd=UEpyaXNNVmVtdDcwSVZvNXJsQ1B1dz09 or call in at 1-305-224-1968 , Passcode: 133229.
If you have any issues joining, email contact@nownyc.org.
-------
NOW members have been taking action in 2022 and we're revved up for more feminist fuel in 2023 to take back our rights, build community and create progress. Join us for an inspiring, action-packed conference to learn how we can turn setbacks into progress and create the future we want to see.
Speakers
Dina Bakst | NOW New York has teamed up with A Better Balance, a legal advocacy group dedicated to ending discrimination against women in the workplace, to convince lawmakers to protect pregnant women while on the job. ABB co-founder Dina Bakst and NOW-NY President Sonia Ossorio will talk about the push to make The Pregnant Worker's Fairness Act a reality and how each of us can make that happen. It's a 'never underestimate the power of women' moment!
Nancy Hogshead-Maker | Three-time Olympic Gold medalist and civil rights attorney Nancy Hogshead-Maker has been at the forefront advocating for change, accountability and progress on issues from sexual abuse by coaches, unfair employment contracts, and enforcement of Title !X sports equity. As founder and CEO of Champion Women, she works to create a level playing field. We'll hear about the latest challenges facing women's professional sports and how to ensure fair competition.
NY Assemblywoman Pamela Hunter | Syracuse Assemblywoman Pamela Hunter is a rising star in the New York legislature who is the lead sponsor of a bill championed by NOW NY that aims to provide services rather criminal penalties for those bought and sold in the sex trade by raising the eligibility for services to 24 years old, while working to ensure that sex buyers, pimps and traffickers can be held legally accountable for the harms they perpetuate. Under UN protocol ratified by the US, there exists an international obligation to target the demand for prostitution. This bill does that and more.
NYS Senator Anna Kaplan | A new generation of Iranian girls is taking to the streets and demanding new rights, freedoms and future. The oppressive Islamic regime has met the resistance with horrific deadly force, brutally killing multiple teen girls in police custody and threatening families to not speak out. We'll speak with New York State Senator Anna Kaplan, who fled Iran at age 13, about what the Biden Administration can do to support the Girl Revolution in Iran.
CHANGE MAKER AWARD: Paxton Smith | Texas High School Valedictorian Paxton Smith became a leading reproductive rights activist when she used her 2021 graduation speech to raise the alarm on extreme abortion restrictions being pushed by Texas lawmakers. The defiant and rousing speech she gave was not the one she provided to the school. Her gutsy move brought national attention to the precarious right to abortion in Texas and throughout the country, and huge applause from her classmates and teachers. Her speech will live on as a testament to the power of speaking one's mind and has inspired untold numbers of Americans to stand up for reproductive freedom.
If you have any Issues, please email contact@nownyc.org.