Sales Have Ended
Registrations are closed
Maaf. Pendaftaran telah ditutup.
Sales Have Ended
Registrations are closed
Maaf. Pendaftaran telah ditutup.
Description
Tema:
Dawn of The Space Age
Lokasi
Program Sains Angkasa Cuti Sekolah ke 25 kali ini akan diadakan di dua lokasi iaitu di Planetarium Sultan Iskandar dan juga di Perpustakaan DBKU, Majma' Mall.
Peserta
Peserta adalah untuk yang berumur dari 13 sehingga 17 tahun. Lepasan SPM dan pelajar universiti/kolej/politeknik digalakkan menjadi fasilitator.
Pengenalan
Aktiviti seperti ceramah dan aktiviti berkumpulan akan berkisar berkenaan dengan dua buah kuasa besar dunia semasa Perang Dingin USSR dan USA. Kelas akan melibatkan aktiviti hands-on, simulasi dan pembentangan persoalan dan masalah. 10 sehingga 15 minit akan digunakan untuk ceramah pendek dan siri ceramah pendek ini akan digunakan sebagai pengenalan untuk aktiviti kemudiannya yang akan dijalankan. Satu ciri utama semasa Space Race, Amerika dan Russia adalah membuat roket yang dapat melepasi halaju lepas dan sampai ke orbit yang mengelilingi Bumi dan siapa yang pertama dahulu sampai ke Bulan. Tapi untuk tujuan PSACSXXV kali ini, prinsip dan membuat roket adalah projek utama yang akan diadakan.
Objektif
Objektif kali ini akan mendedahkan kepada pelajar prinsip-prinsip yang digunakan di dalam pelancaran roket.

Prinsip pergerakan fizik Newton yang terlibat digunakan untuk menerangkan prinsip melancarkan roket.

Roket yang menggunakan tekanan udara dan air digunakan sebagai model untuk menggantikan bahan api sebenar untuk tujuan tujahan kehadapan roket secara menegak. Altimeter akan digunakan untuk mengukur ketinggian.
Aktiviti
Aktiviti yang akan diadakan adalah aktiviti secara berkumpulan dan ada aktiviti memerlukan satu kumpulan akan dipecahkan lagi kepada kumpulan kecil untuk melengkapkan tugas yang diberikan.

Peserta digalakkan menggunakan telefon pintar untuk mencari maklumat dan menggunakan pelbagai app media sosial untuk berkongsi aktiviti dengan orang awam.

Walaubagaimanapun, semasa penerangan oleh fasilitator diadakan, telefon pintar harus di 'Silent Mode' untuk sementara.

Matematik

tingkatan satu dan dua juga akan digunakan seperti isipadu dan diameter selain hukum fizik Newton turut digunakan untuk menerangkan konsep roket.

Sila gunakan Hashtag #PSACSXXV untuk media sosial.
Pakaian
Bebas
Keperluan
Telefon pintar (digalakkan) dengan app Instagram/Facebook/Twitter (jika ada)

Kamera (jika ada)

Laptop untuk Projek kumpulan (jika ada)

Alatulis

Penyedut minuman(disediakan)

Bekas minuman

2 Botol air coca cola/revive etc kosong

Plastik sampah hitam (disediakan)

Benang tebal 5 meter

Cap/payung

Altimeter (disediakan)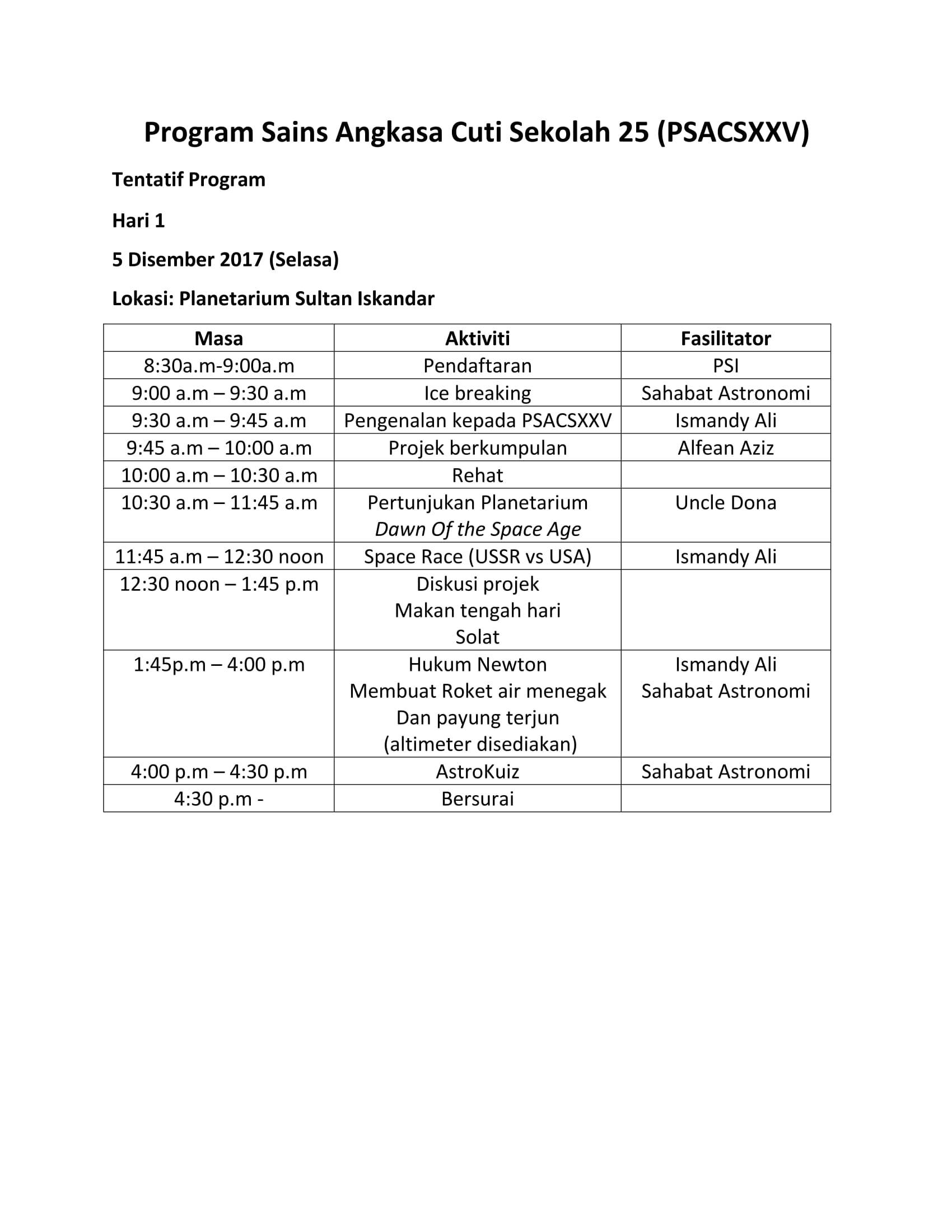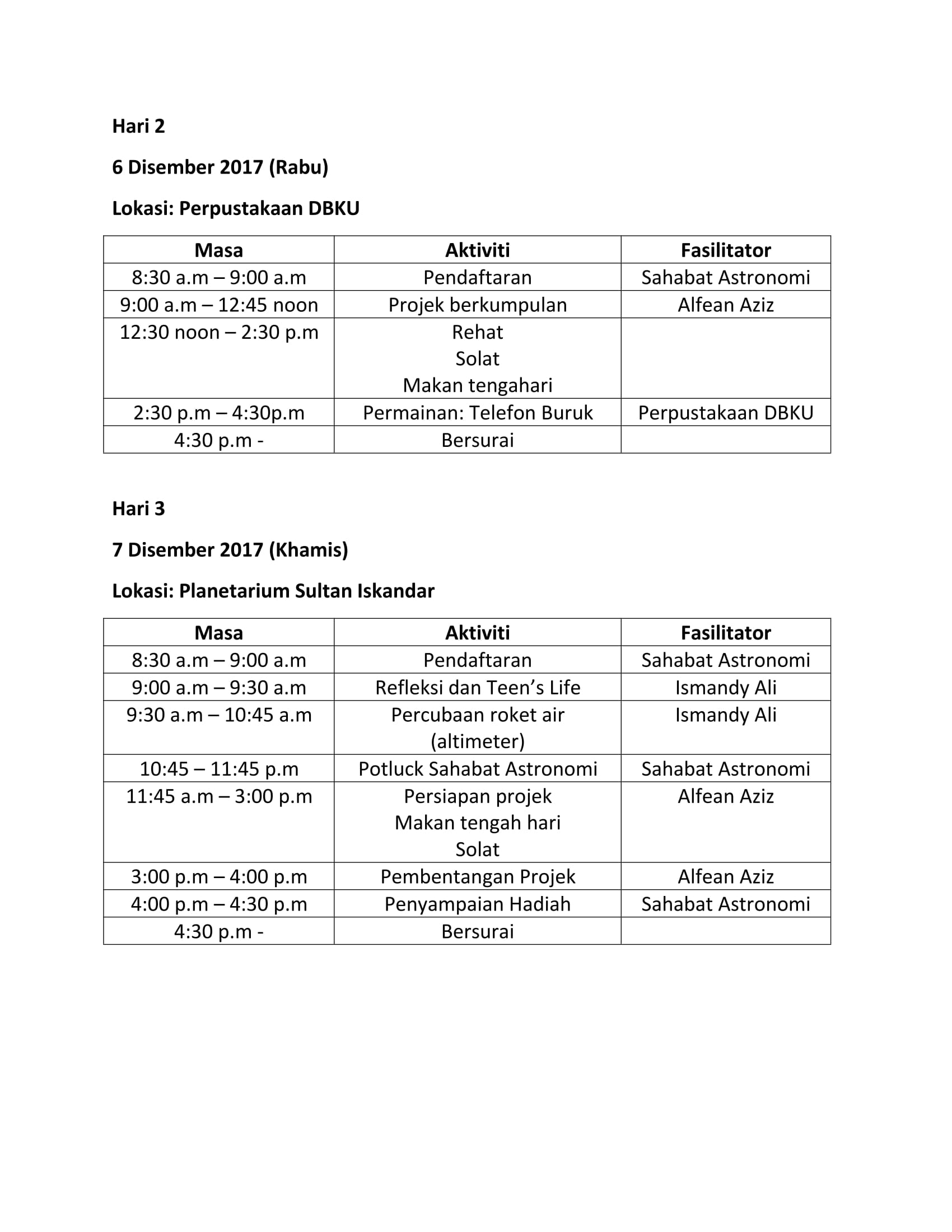 Sila muat turun Borang Kebenaran Ibu/Bapa/Penjaga di sini dan kembalikannya kepada pihak Urusetia pada hari pendaftaran.