Program 27 - Workers Unite Third Annual Music Nights In Brooklyn! Part 1 -...
Description
SPECIAL EVENT - "Live Music Weekend" plus films!
7PM
Bands include:
• Color Collage - Shane Conerty brings his unique blend of rock, pop and soulful guitar work to a series of unforgettable original songs. Not to be missed!
• The City and Horses
• Spritzer
• Caged Animals
Films: Gabby Antonio Smashes the Imperialist, White Supremacist, Capitalist Patriarchy! - A comedy web series about the trials and tribulation of a young woman of color who struggles to do good in the whitest city in America - Portland, Oregon. She wants to change the world, but it's not quite happening - yet. It's funny, non-preachy, and sparks important conversations about racism, cultural appropriation, gentrification, and all the ups and down of nonprofit life. (2018, 18 min)
Select short films from the festival's best.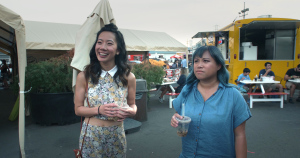 Come have a drink or a bite at this new venue in Williamsburg, Crystal Lake Brooklyn, and enjoy songs from indie talent.