Profit, People, PLANET: The Business Case for Bold Sustainability
Description
OUR ANNUAL BAY AREA CAPITAL CONNECTIONS (BACC) CONFERENCE
The annual Bay Area Capital Connections convening (BACC) is an annual event hosted by the Alliance for Community Development bringing together the Bay Area entrepreneurship ecosystem with the goal of increasing equitable access to all sources of capital (financial, social, human, intellectual and cultural). Together, we aim to increase regional economic empowerment, bring more capital into the hands of diverse and low and moderate income entrepreneurs, and decrease displacement for local Bay Area residents.
This year, for our 11th Bay Area Capital Connections conference (BACC XI), our theme is "Profit, People, PLANET: The Business Case for Bold Sustainability." In the morning, we will feature speakers and introduce participants to our VALUES System, a values-based philosophy we apply to entrepreneurship here with our Alliance members. In our first round of breakout sessions, we will discucss each of our VALUES: Viability (profit) Accessibility, Local leadership, Unity and Eqiuty (people) and Sustainability (planet). In our afternoon round of breakout sessions, we will focus the scope on what we see as our most urgent value, Sustainabiltiy, and our community's impact on the planet. Full agenda below.
THIS YEAR IS UNIQUE
This year is the Alliance for Community Development's 20th anniversary! This year's conference will focus on one of the most urgent issues of our time: our impact on our planet. We will dive into what we have learned over the last 20 years in terms of the intersections of race, class, capital access, social impact business models, and together, make the business case for BOLD sustainability.
From 8am to 3:30pm our conference will feature a diverse community of sustainability and regenerative economy actors, local social entrepreneurs, community forward visionaries, racial equity champions, and action-oriented change makers.
From 3:30 to 5:30pm, the Alliance will host a 20-Year Celebration, honoring two decades of ecosystem-building, hear from local entrepreneurs, meet community visionaries, and talk next steps on the David Brower Center's outdoor terrace. Stay tuned for more on special speakers, drinks, and hors-d'oeuvres.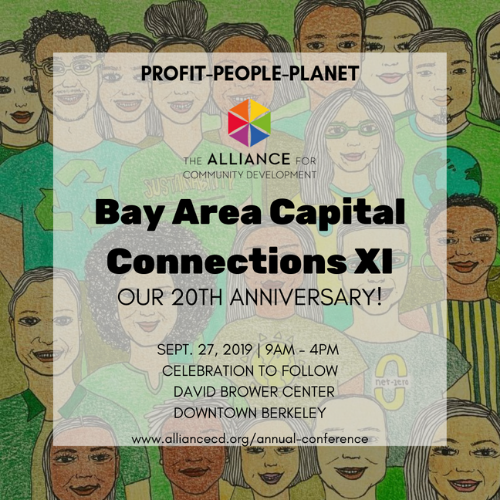 KEY DETAILS
When -- Friday, September 27th 2019 from 8:30am - 5:30pm.
Who -- Bay Area entrepreneurs, visionaries, leaders, and the people who support them (investors, lenders, technical assistance providers, marketing specialists, attorneys, mentors, customers, etc.).
Where -- The David Brower Center, 2150 Allston Way, in the heart of downtown Berkeley.
CONFERENCE AGENDA
MORNING
8:00 - 9:00am -- Breakfast + Morning Community Building: Event registration and participant connection over local, sustainable breakfast and coffee.
9:00 - 9:30am -- Opening Remarks: Alliance celebrates 20 years of connecting diverse, local entrepreneurs to capital and introduces our VALUES System.
9:30 - 10:00am -- Morning Speakers: Local leaders to be announced
10:00am - 12:00pm -- MIcrocosm Sessions: Participants join breakout sessions on each of our six VALUES: Viability, Accessibility, Local leadership, Unity, Equity and Sustainability. Featured speakers working on innovative approaches to funding and business modeling will be joining each collaborative breakout session.
AFTERNOON
12:00 - 1:30pm -- Lunch + Afternoon Community Building: Participants connect over local, sustainable lunch and tasty beverages.
1:30 - 2:00pm -- Afternoon Speaker: Nancy Pfund of DBL Investors on our past, our collective origin story (Bay Area Equity Fund I) and our future.
2:00 - 3:00pm -- Macrocosm Sessions: Participants join breakout sessions looking at the first of our values we'll be focusing on: SUSTAINABILITY. How is innovative sustainability work (surrounding energy, water and waste) within local businesses and not-for-profits funded? Who is doing this work and having an impact in the big picture? How does a local business secure critical buy-in from investors, board members and team members?
3:00 - 3:30pm -- Closing Remarks: Presentation of collective next steps and invitation to participate in values-aligned activities generally and the VALUES System specifically.
RECEPTION
3:30 - 5:30pm -- Drinks + 20 Year Anniversary Reception: This year the Alliance celebrates its 20th anniversary on the David Brower Center Terrace with special speakers, a live DJ, local and sustainable drinks and hors-d'oeuvres.
BECOME A MEMBER FOR DISCOUNTED TICKETS!
Are you already a member of the Bay Area Entrepreneurship Alliance (BAE Alliance)? Members of the BAE Alliance receive deep discounts on tickets and are generally given priority for event contracting and sourcing. To join, visit our website, www.alliancecd.org/join, and join today!
*In-kind membership options are available*
SPONSORSHIP
Interested in sponsorship opportunities? Please don't hesitate to reach out to Naima McQueen, Director of Strategic Partnerships at naima@alliancecd.org or call 510-319-9702. More on sponsorship levels is available at www.alliancecd.org/annual-conference
*In-kind sponsorship options are available*
QUESTIONS?
If you have any questions, please don't hesitate to reach out to Naima McQueen, Director of Strategic Partnerships at naima@alliancecd.org or call 510-319-9702.