Profit First: A Blueprint for Creating and Increasing Your Profits
A Blueprint for Creating and Increasing Your Profits
About this event
Profit First: A Blueprint for Creating and Increasing Your Profits
Presenters
Steven Hughes
Atiya S Brown, CPA
Topics Covered:
Create SMART profitability goals and a plan to reach them
Implement the four principles of a permanently profitable business
Reduce financial stress and manage their business's cash flow with ease
Q&A with a Certified Public Accountant
About the Presenters:
Steven M. Hughes is a financial educator, Reiki practitioner, and curriculum designer that specializes in creating clarity around your money. He has taught thousands of adults how to maintain, manage, and grow their money to realize their financial goals. After making every money mistake imaginable as a college student, it took the first-generation Jamaican-American years to improve his financial situation. He now shows others, through his experience and his specialized financial psychology and therapy education, how to do the same.
Steven is now a Certified Financial Education Instructor, financial psychology nerd, and weekly on-air money expert for the CBS morning news show in Columbia, SC. In 2014, Steven founded Know Money Inc, a nonprofit that helps Black college students create a legacy of financial literacy and learn how to think and talk about money positively. Steven has been featured in Forbes, Business Insider, Yahoo! Finance, Credit.com and other media publications.
He has worked with World Economic Forum, Transitions Homeless Community, Homeless No More, Verizon Wireless, BlueCross BlueShield, Sonoco Recycling, South Carolina Chamber of Commerce and more.
Atiya S. Brown aka The Savvy Accountant is a CPA, CA and a Certified Financial Educator Instructor. She is dually licensed in both Canada and the USA as a Certified Public Accountant. She has over 16 years experience in the accounting/finance world.
She is the owner of The Savvy AccountantTM where she is savvy at solving tax issues for her #SavvyFamily aka clients. She has, to date, saved them over $3MM in tax savings with her tax strategy plans and tax help. She has a special place in her heart for the real estate industry and works a lot with agents and investors as well as small online business owners.
Prior to that she worked for 5 years at a Big 4 Accounting Firm before she went onto work in the Financial Services industry. She attended The John Molson School of Business (JMSB) in Montreal, Canada for both undergrad and graduate studies. She finished top 5 in her graduating class before completing the Chartered Accountancy examination to become a CPA, CA.
She has always had an obsession with numbers so she naturally chose accounting, Her passion for tax came about at the age of 20 when she was recruited to join a team of 3 and represent her university to compete against other schools across the country. Her team was able to finish third place in all of Canada their first year competing in the case competition. Her love for tax strategy grew from there, she loves figuring out each unique situation and how to best solve its case.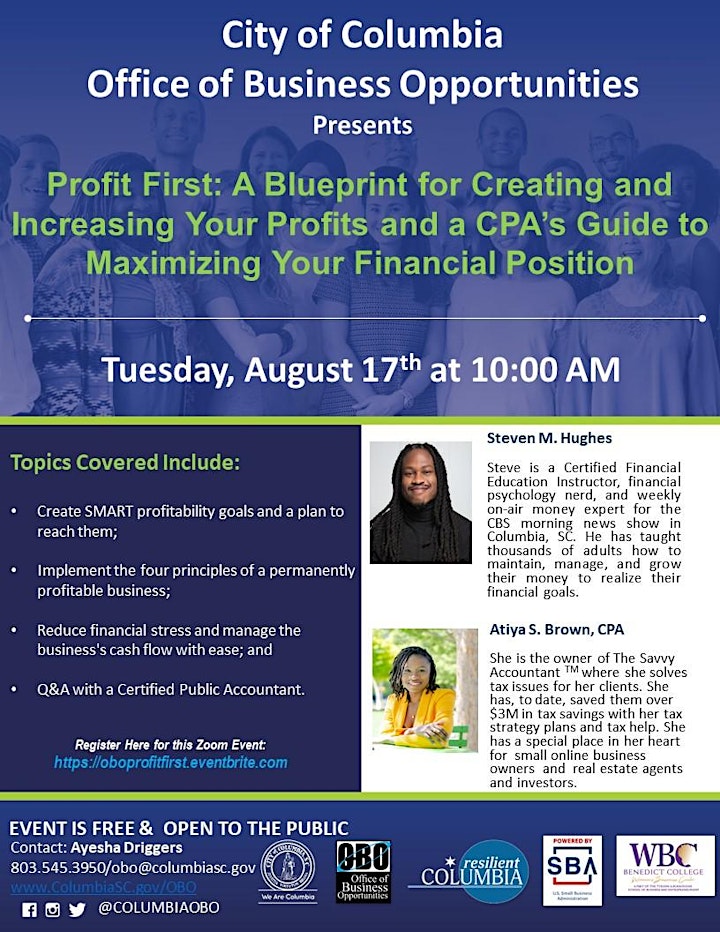 Organizer of Profit First: A Blueprint for Creating and Increasing Your Profits
The Office of Business Opportunities is committed to supporting initiatives that benefit small, women and minority owned businesses in the City of Columbia.  This objective is accomplished by providing creative financiing, technical assistance and eduction to build the capacity of these businesses. The office has three divisions: (1) Commercial Lending; (2) Technical Assistance, Education and Advocacy; and (3) Contractor and Supplier Diversity.