Description
I will be in Dallas, TX Saturday, March 24th with my multi-millionaire business team. We wanted to get about 15 hungry entrepreneurs together to meet me at my hotel conference room for a four hour Profit Attraction Mastermind.

This is a great opportunity for new or aspiring business owners to be mentored by business veterans. You cannot be late. Doors will lock at 3:30pm. Don't be tardy or you might miss one business nugget that could change your life!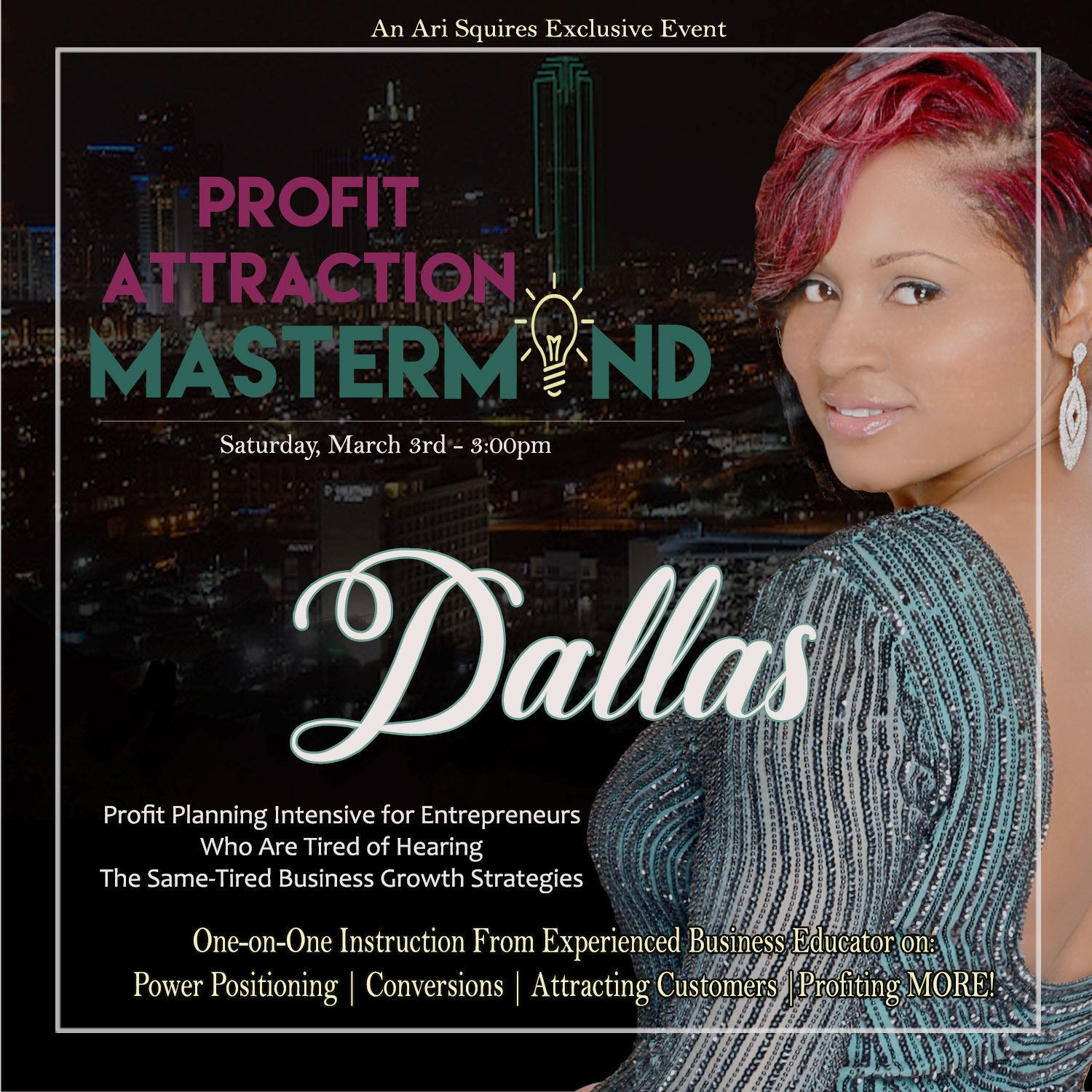 I will assist each person in giving them a PUSH on Creating a Profit Attraction Plan:

Participants will gain more clarity, wisdom and proven profit planning strategy that I've used for my millionaire clients on...

-Power Positioning in YOUR Market Online and OFFLINE
-Unique Hook with Strategic Planning
-Systems YOU Need to Attract Customers, Partners, and Investors
-How I Can Possibly Help YOU if you're ready to Profit More.

Invite some go-getters and I will see you there for this amazing opportunity.

*Note, this is not a scammy network business opportunity. We just want to help YOU grow your business and learn from the mistakes we've made.

Even if you can't make it invite others.
THE FIRST 5 TO REGISTER INVEST ONLY $25. The investment will be $45 after that. Move fast! Don't let this opportunity pass you by!

About Ari Squires:
Ari Squires is founder and CEO of Profit Attraction Academy, where she has helped clients reach and surpass their profit goals. Her agency has worked with some of the greatest entrepreneurs in personal and business development including people like Paul C. Brunson (OWN Network), Darrin Henson (Celebrity Actor), and Kevin Harrington (ABC's Shark Tank). The Academy attracts hundreds of clients and provides financial success for her clients using problem-solving product creation as well as online and offline marketing strategies.

Her training programs—PUSH Partners and Profit Attraction Academy—have helped students attract thousands of fans, leads, investors, and sales, increasing their ROI through live events, online training, speaking, product creation and coaching.

Ari knows from personal experience that anybody can achieve their business goals and dreams because she is the ultimate success story. Her dreams of financial freedom through entrepreneurship started in the mean, cold, gang-infested streets in Sacramento, California. But some bad decisions led to incarceration then homelessness, leaving Ari with no money and no life. She could only find mediocre employment, which left her unfulfilled.


That's when she made an ambitious decision and took a risky opportunity, started her business and changed her life forever. Today, Ari is debt-free; has thriving businesses, amazing clients, sold-out training seminars, a growing financial portfolio and a dedicated team; and is committed to helping other entrepreneurs build their businesses using her Profit Attraction Methods.

Ari is also the Producer of the award-winning documentary 'No More Chains' which profiles eleven women who turned their life trauma into entrepreneurial triumph. She lives in the Washington, DC area with her ten-year-old son and husband Darryl who are both entrepreneurs.