Professional Volunteer Sign-Up: Student Night
About this Event
Students engage in a "Speed-Dating" Networking event that focus on the different careers available to Accounting & Finance Majors.
There are a total of 4 "Turns" of the clock, in which students will choose which tables to join, complete a quick ice breaker to start the conversation, and after 15 minutes they will change to another table. Conversations are mostly directed by the students questions or a random career question that can be found on the table.
Expectations of a Professional Volunteer for Student Night:
Talk with students about your career path for about 2 hours on Oct 24, 19
Provide your business card if the student ask or you would like that student to contact you
Share the Student Registration for Student Night (At this time not available)
Wear a Name Badge during the event
In hopes of generating interest in the industries Accounting & Finance covers besides Audit, Tax & Financial Planning, each volunteers badge will state 1 to 3 IMA Management Accounting Competency Framework - Domain Group their current job description falls. In addition to providing 1 to 2 Competency related to your position to help students understand the variety & similarity between industries.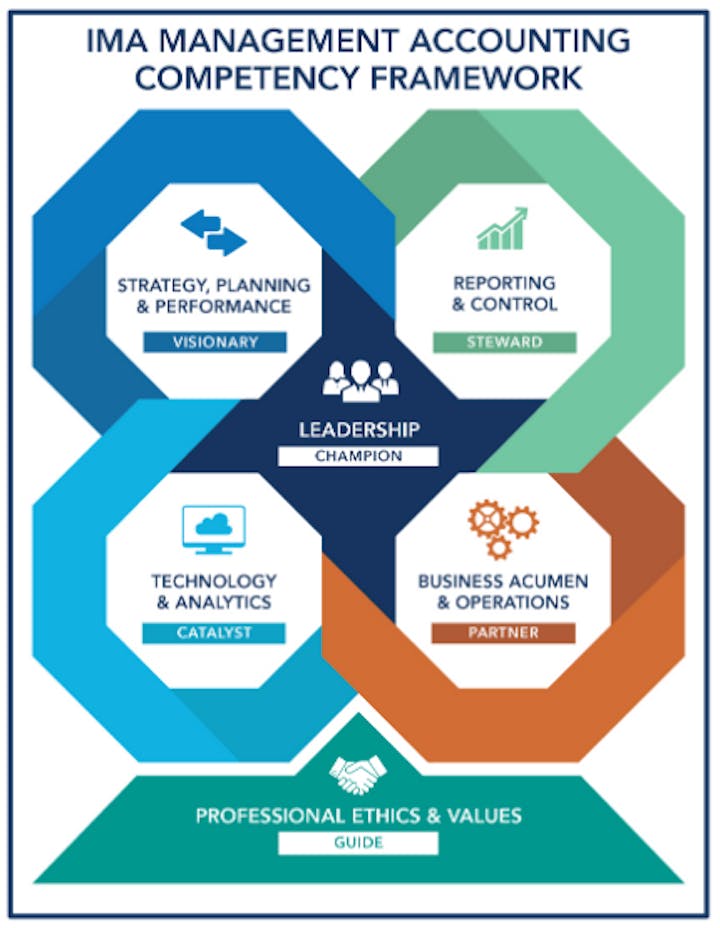 Descriptions of the IMA Management Accounting Competency Framework - Domain Groups:
Strategy, Planning & Performance
The competencies required to envision the future, lead the strategic planning process, guide decisions, manage risk, and monitor performance.
Reporting & Control
The competencies required to measure and report an organization's performance in compliance with relevant standards and regulations.
Technology & Analytics
The competencies required to manage technology and analyze data to enhance organizational success.
Business Acumen & Operations
The competencies required to contribute as a cross-functional business partner to transform company-wide operations.
Leadership
The competencies required to collaborate with others and inspire teams to achieve organizational goals.
Professional Ethics & Values
The competencies required to demonstrate the professional values, ethical behavior, and legal compliance essential to a sustainable business model.
Volunteer today with the Louisville IMA Chapter for the Student Engagement Program: Student Night!
Photography
By registering, you agree and acknowledge that IMA® (Institute of Management Accountants) and Bellarmine University, along with their partners, subcontractors, or affiliates, plan to take photographs and capture video footage at this workshop for reproduction in educational, news, or promotional material, whether in print, electronic, or other media, including Bellarmine and IMA and IMA's affiliate partner websites. By participating in this workshop, you grant IMA, Bellarmine, and any of its designated subcontractors, partners, or affiliates the right to your image (both photographs and videos) for such purposes.
Liability Waiver
By registering, you agree and acknowledge that you are undertaking participation in IMA® (Institute of Management Accountants) events and activities as your own free and intentional act, and you are fully aware that possible physical injury might occur to you as a result of your participation in these events. You give this acknowledgement freely and knowingly and that you are able to participate in IMA events, and you do hereby assume responsibility for your own well-being.