Professional Trainer Incubator Program

Wednesday, November 7, 2018 from 7:30 PM to 10:00 PM (Malaysia Time Malaysia (Kuala Lumpur) Time)
Event Details
What If I Told You That Anyone in the World,
Including You Can Make 6-7 Figures Income by Just Using Your Mouth.
Still Not Convinced? What If We Tell You That You Can Take 

Any Of Your Personal Knowledge, Experience or EVEN Your Hobby

, Turn It Into Program That Public Will Happily Pay You 

HIGH TICKET PRICES

 To Learn From You?
And… You Can Easily Generate Hundred Of Targeted Leads Per Week 

WITHOUT SALESMAN

?
Do you realise some of the richest people in the world like Oprah Winfrey made millions by just using her voice? Some of the most powerful men in the world used their speech to prevent war or even started a war like Obama or even Hitler!
Let us share an unknown secret everyone has…
DMC will hold a 2 hours no holds barred talk on how you can generate 6-7 figure income a year by just sharing about your passion!
(A.K.A Most Common Excuses)
I am a housewife, or I have no knowledge, no working experience, how can I be a trainer? Is it a joke?
As a Malaysia's No.1 Digital Marketing Training Company, we have a proven simple system which can help you to take any knowledge, any experience, any training you have received or even your hobby and instantly turn it into programs that the public will happily pay you high ticket prices to learn from you.
Problem 2
I have no money to start a training business.
Answer
We have to tell you that training business require lowest investment ..ever! All you need is your knowledge, your mouth and your voice..
Problem 3
I have no idea how to run training preview and get customers.
Answer
We will teach you step-by-step on how to run preview and conduct seminars. As mentioned above, this is a 1+1 offer (Free Digital Marketing Professional Certification Program), you will learn how to run Digital Ads to get customers for yourself.
Problem 4
I have training certification, but partner with training company don't get me customers. How?
Answer
SALESMAN NEEDED to run your own training business. You should attend the workshop & you will know why we say so.
Problem 5
I have stage fright and no confidence. How can I start it?
Answer
No worry! We trained more than 500 Digital Marketers and we have the simple system which could help you speak like a pro, gain instant authority. You will learn how to control the room & gain attention and the steps to overcome stage fright in 3 seconds.
Problem 6
I have no idea what training to give.
Answer
No problem at all! We will share you five of the in market demand trend for free and how you can start teaching. Or.. You can join our pro-active & friendly training team to start your first training!
But… Wait a Minute! Are You Asking Me to Speak in Public?
The short answer to it yes, and I also understand speaking in public is ranked even higher as the number 1 fear compared to by eaten by a shark.
Fear not as that is why we have the Trainer Incubator Program for you. It is a customise proven program to transform you from being a meek person to a powerhouse in public and start earning 4, 5 even up to 6 figures after implementation!
Come and listen to our 2 hours presentation where we share how we can transform literally anyone into a master presenter and guide you from a person who doesn't even know how to use a powerpoint presentation to a master trainer who will knock the socks of the audiences. And at the same time getting paid so much for it.
[INSIDER FACT – Almost 90% Of People Don't Know About It!]
There is no other industry as in the speaking industry where there is no ceiling price. 

You can charge RM1,000 per hour or even RM100,000 a day, it all depends on you and your audience!
For the first time in history, no one else will be sharing this closely guarded secret in the industry but I will spill all the beans in why speaking and training industry is the most lucrative industry and yet only a few minority people know about it.
By End Of The 2 Hours Talk, You Will Discover:
Why speaking and training is the highest paying career in the world with the lowest investment ever and how you can grab this new opportunity even if you have no experience or talent.
How anyone can be a persuasive, charismatic speaker/trainer and speak confidently even if you have stage fright or have no idea what topic to present.
How to market yourself to your right audience, get them to attend your workshop, training or events without any salesmen.
Is This For Me?
(1) If you are currently making 5-6 figures income a month, you probably can't benefit much from this course
(2) If you have a passion and knowledge you want to share to the world and make additional 5-6 figures income a month sharing what you love
(3) If you don't have a business yet and want to get started by transforming yourself to be a super master speaker, getting your message out there and be able to monetise it
(4) If you sick of your job and want to look for new and fulfilling career which can command a 5-6 figures income a month
We will have so much fun and knowledge sharing session, by end of the day, we are sure that you will be able to get benefited values that worth your time and be able to take action.
We are limiting this opportunity to 30 pax only. The whole event I can charge RM1,200 but for you today to help you change for a better life, I would give the 30 pax who take action for FREE.
Learn from the No.1 Digital Marketing Training Company in Malaysia (From Nothing To No.1 Within 12 Months)
This course breaks down digital strategy to its fundamental core: Why does my business exist and why do my customers care? Students will walk away with a holistic and actionable understanding of the current digital landscape to drive success and growth for their business.

We use a structured program called RACE:

R – Reach
A – Act
C – Convert
E – Engage



3 Main Things That You Can Gain From This Workshop
[CASE STUDY]
How To Turn Personal Knowledge Into A Program,
And Generate A Million Ringgit Of Sales Within 12 Months
[ACTION PLAN]
How To Generate
"Sniper Leads"
Without Any Salesman
[SOFT SKILL]
How To Hit 70% Conversion Rate When Preview
(10 Attendees, 7 Sign Up For Premium Course)
Introducing DMC's Trainer Incubator Program
A program designed to help anyone, including you and I in the shortest time possible,
to identify your greatest passion and follow a systematic way of sharing in to the public and at the same time get paid lots of money for doing so.
YOU WILL LEARN:
Lesson 1 : Overcome Fears, Big or Small,about Speaking before Audience
- Overcome Public Speaking Phobia in 3 Sec
- Getting in the Right State
- Set the Right Picture
- Bring Your Humour Buddy
Lesson 2 : Platform Secrets - How To Conduct A Presentation that will knock their socks off
Proven Simple System (SYSTEM) to:
- Shake the Audience;
- Get their Attention;
- Gain your Authority; and
- Deliver Your Content
Lesson 3 : Power Topic Title Generation
- Find Your ``Inner Based`` Topic through 10 Proven Steps
- Power Program Topic Generation
- How to Give the Market What They Want
- Top 5 In Demand Market Topics
Lesson 4 : Charisma Enhancement
- Get Audience to Pay Attention without Offending
- 3D Presentation Style
- Find your Microphone Sweet Spot
- Influencing Hand Movement
Lesson 5 : Rapport Building
- Rapport Building through Breathing, Tempo & Rhythm in Words
- P.P.F System
Lesson 6 : Attitude Adjustment, Installation & Crowd Control
- Be Alert, Get Attention & Hold the Crowd
- Power of Voice & Tonality
- Finding emphasis in words to send important message
- The Use of Command Questions
- Developing Proactive Eye Contact
- Handling Presentation Interruption
Lesson 7 : How to Create Experiential Learning
- Adult Learning Behaviour
- Art of Question Asking
- Get Audience to See What You Want Them to See
- Experience is Not the Best Teacher! It is the ONLY Teacher!
- 6 BUZZ Story Telling Technique
Lesson 8 : Program Session Planning
- Attention Grabbing
- Transform Mindset
- Knowledge Delivering (4MAT Technique)
- Activities & Actions
- Closing & Celebration
- Testimonials
Lesson 9 : To Charge High Ticket Price
- 3 steps Messaging Framework
- Ideation of New Opportunity
- Stacking Technique
- SOWHAT Technique for Closing
Lesson 10 : Proven Preview Package & System
- 25 Step by step guide on WHAT you need and HOW you can run preview and conduct seminars
- Program Preview & Training Checklist
Lesson 11 : Where to Start & How to Get Quality Testimonials
- Free Database Gathering Secret
- Free Portfolio & Testimonial Gathering Secret
- Quality Testimonials Gathering Technique - OQ Technique
Lesson 12 : To Sell Your Program WITHOUT SALESMAN
- 6 steps system for hypnosis sales message
- The Power of No Salesman Selling
[Lesson 13] – BONUS Training Worth RM5,800!
Why Should You Learn From DMC?
We are one of the pioneers of digital marketing in Malaysia. 
We consulted and created digital marketing courses 
for universities and institutions.
We teach only what works today. 
Our courses are all up-to-date and we only 
focus on strategies that work, not just theories.
We have a wealth of practical experiences. 
We manage many big corporations and SME accounts 
in digital marketing helping them to generate leads and awareness.
We simply care about you. 
We know how to make you comfortable 
and want to see you succeed in digital marketing.
Chia Chia has more than 26 years of experience speaking in public. She is a Certified Trainer and Licensed NLP Trainer and Coach, has helped and worked with individuals to identify their passion and take advantage achieve their dream.
Using proprietary research proven techniques and our experience to guide you in developing your own speaking business from your passion and knowledge, giving you the advantage of making a strong stand in the market and ahead of competition.
Our training philosophy is focused on highly practical knowledge that delegates can use straight away.
We Have Trained Over 1000+ Individuals &
Are You Ready to Turn Your Passion Into A Program That Public Will Happily Pay You HIGH TICKET PRICES To Learn From You?
And… Generate Unlimited Leads Without Any Salesman?
Early Bird Bonus – FREE! (Standard Ticket Price RM697!)** 
We always have full house event,
make sure you reserve your seat earlier! **
When & Where

Digital Marketing Consultancy Sdn Bhd
No E-701, Block E, Pusat Dagangan Phileo Damansara 1, No.9, Jalan 16/11
Off Jalan Damansara
Petaling Jaya, Selangor 46350
Malaysia

Wednesday, November 7, 2018 from 7:30 PM to 10:00 PM (Malaysia Time Malaysia (Kuala Lumpur) Time)
Add to my calendar
Organizer
We have over 48 years of combined experience, we help organisations & individuals take advantage of the opportunities created from digital disruption. Our specialty is creating long-term digital academies to effect major change within large organisations. We use proprietary research techniques and our experience to identify your requirements and customise digital development programs. Our training philosophy is focused on highly practical knowledge that delegates can use straight away.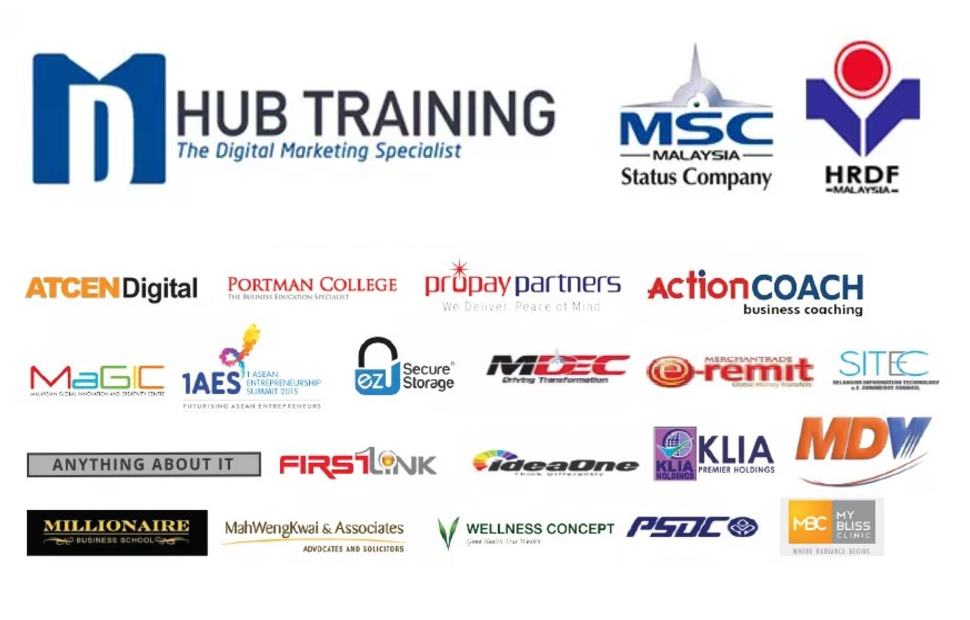 Our Past Trainings