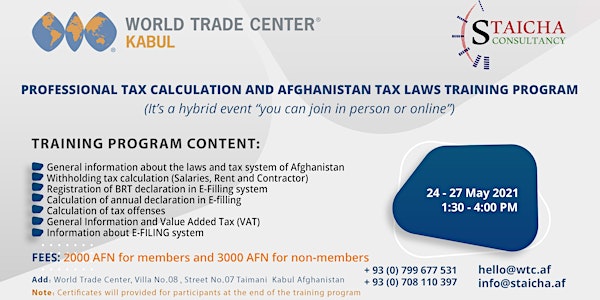 Professional Tax Calculation and Afghanistan Tax Law Training Program
Location
Taimani
Street No. 7
Kabul, Kabul
Afghanistan
Professional Tax Calculation and Afghanistan Tax Laws Training Program
About this event
Professional Tax Calculation and Afghanistan Tax Law Training Program
(It's a hybrid event "you can join in person or online")
Date: May 24 – 25 – 26 – 27, 2021 Time: 1:30 to 4:00 pm
Venue: Location: World Trade Center, 7th Street of Taimani Kabul Afghanistan
Description and goals:
Staicha Financial and consultancy Services Company with having 14 years of experience in financial and tax services, with support and partnership of the World Trade Center Kabul Afghanistan will organize a 4 days training program on "Professional Tax Calculation and Afghanistan Tax Law" to support the private sector and improve the capacity of taxpayers about professional tax calculation, taxpayer rights, tax deductible expenses, tax nondeductible expenses, withholding tax calculation, annual tax return ,tax balance sheet and Value Added Tax (VAT) which is a new tax in Afghanistan and will be implement from financial year 1400 (21 Dec, 2021). This program helps all taxpayers to calculate and pay their taxes professionally as per taxation laws to avoid paying extra taxes and tax penalties.
Who can attend?
All local and foreign private institutions, government enterprises, tax services firms, graduates and students and others.
Download Training Brochure Dari
Download Training Brochure English
Registration Fee: 2000AFN for Members and 3000AFN for Non-members
For more information, contact us:
Phone: +93799 677 531 / + 93 708 110 397
Email: meena.wardak@wtc.af / hello@wtc.af / info@staicha.af