Professional Social Media Marketing Training Program
About this event
Are you struggling to keep afloat your business in the digital landscape?
Or are you looking for ways to improve your social media marketing skills?
We can help you!
Sign up for our Social Media Professional Certification Program (SMPCP) as we provide hands-on training and equip you with the most potent weapon in the arsenal of an entrepreneur that you can apply immediately - Social Media Marketing!
Our carefully curated topics include:
Facebook advertising
How to set up a Facebook ad;
The 3 elements of a Facebook ad;
Audience insight analysis;
Using Facebook story and why;
Facebook posts: how, when and frequency;
The 80/20 rule in writing Facebook content;
What are the Facebook algorithm and its importance.
2. Copywriting and Content marketing
The components of good content;
AIDA content marketing strategy.
3. Chatbot
How to set up an autoresponder for your Facebook page.
4. Instagram
Setting up your Instagram Business account;
How to use Instagram Business tools;
Post frequency and timing;
Audience insight analysis.
5. WhatsApp Business
Setting up a WhatsApp Business account;
Setting up an auto reply system (for Android);
How to broadcast messages;
How to set up Business Catalogues on WhatsApp;
How to set up video chat rooms on WhatsApp.
6. Telegram
Why use Telegram;
The advantages and benefits of Telegram;
Setting up a Telegram account;
How to use the chatbot function.
Armed with five years of social media marketing experiences and providing consultation services to SMEs and multinational corporations, our trainer will teach you how to improve sales figures by engaging your customers the right way so that you could lower customer acquisition costs through targeted marketing by using our Digital Marketing Business Planning Framework - RATE.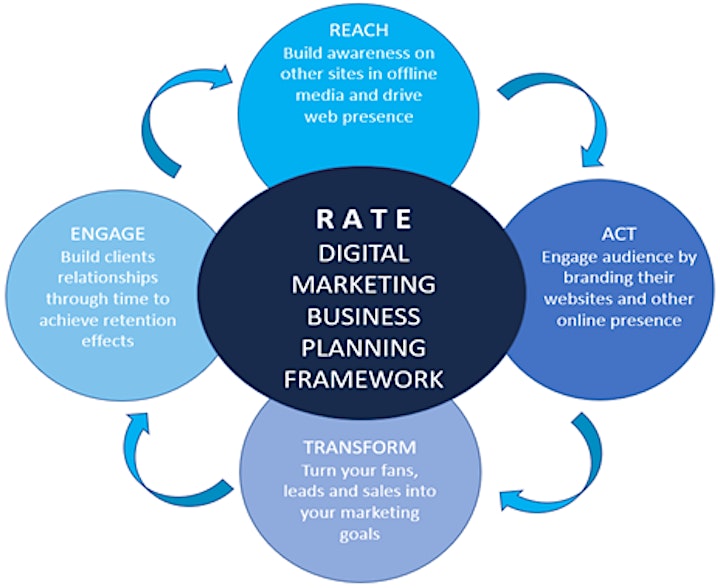 REACH: Build brand awareness among the audience by driving web traffic to your site.
ACT: Engage your audience using various effective social media marketing tools. TRANSFORM: Turn your fans and leads into a sales conversion.
ENGAGE: Build client relationships through audience retention.
Apart from providing consultation services, our trainer has also conducted countless social media marketing workshops, training more than 30 companies including Melaka Kini, MCA, and a top-performing Great Eastern agency in 2019.
Organizer of Professional Social Media Marketing Training Program