Professional Scrum Product Owner Workshop (PSPO) - Dallas (Sept 21-22)

Thursday, September 21, 2017 at 9:00 AM

-

Friday, September 22, 2017 at 5:00 PM (CDT)
Event Details
Professional Scrum Product Owner is a 2-day course that covers the role and accountability of the Product Owner on a Scrum Team and in the organization.
Professional Scrum Product Owner is THE cutting-edge course for effective Product Ownership. It explores the worldwide challenge that many Scrum implementations run into, i.e. how should business people and product managers engage in Scrum and collaborate with Scrum Development Teams?
The Professional Scrum Product Owner class focuses on the core expectation for Product Owners to maximize the value of the work done for a software product, thereby serving customers, users and the organization.
Course Facilitator: Ravi Verma 
Ravi Verma is a public speaker, coach, consultant and blogger with a passion for helping teams recapture the magic of making IT. With 18+ years in the industry, Ravi has a proven track record of delivering multi-million dollar, enterprise class software in the networking, telecom, wireless and security software space. Having worked with giants like Cisco, Avaya, Siemens and Hewlett Packard, as well as startups and mid-sized companies, he is intimately familiar with patterns of success and failure that seem to occur whenever you put together a bunch of people with a bunch of code.  
Target Audience
The training may be interesting to all involved in software development upon the Scrum framework, but has been specifically conceived for those responsible over products from a business perspective and taking up the highly accountable role of Scrum Product Owner.
Students are challenged to think in terms of Scrum and the Scrum principles to better understand what to do when they return to their workplaces.
Students will have a clear understanding of the mechanics of Scrum and how the role of the Product Owner fits in
Students can act as a Product Owner for Scrum Teams and stakeholders
Students can effectively increase the business agility of their organization
Course Topics
Agile Product Management
The Scrum Product Owner
Managing Requirements, Products and Releases
Value-Driven Development
Pre-requisites
Attendees make the most of the class if they:
Have a solid understanding of Scrum either through working on a Scrum Team, or through having taken part in a Professional Scrum Foundations or similar course.
Have been on or are closely involved in building or enhancing a software product or application using Scrum.
The Professional Scrum Product Owner course has two associated credentials: Professional Scrum Product Owner level I (PSPO I) and Professional Scrum Product Owner level II (PSPO II).
All participants completing the Professional Scrum Product Owner course receive a password to take the PSPO I assessment and are entitled to a discount on the PSPO II assessment.
How do I achieve the Professional Scrum Product Owner (PSPO I) certification?
The PSPO I certification is achieved by taking and passing an online assessment in your own time following the course. It can be taken from any internet connected computer.
What is required to achieve the Professional Scrum Product Owner I (PSPO I) certification?
The PSM I assessment is comprised of 80 multiple choice questions that must be completed in 60 minutes. The pass mark is 85%.
When & Where

HeadSpace Dallas
4100 Midway Road
Suite 2120
Carrollton, TX 75007


Thursday, September 21, 2017 at 9:00 AM

-

Friday, September 22, 2017 at 5:00 PM (CDT)
Add to my calendar
Organizer
Aleph Technologies is a premiere training, management consulting and professional services company. Aleph offers exceptional trainers with real-world experience. Our class room and online based learning provide engaging and applicable exercises that allow for practical understanding of the material. Aleph Technologies has experience providing its expertise at an individual and corporate level. We understand that Agile is a mindset, not just a methodology, and ongoing attention to get the full benefit of its practices is essential. Aleph Technologies provides attention to detail that allows for career growth and excellent products.
training@aleph-technologies.com  
1-888-955-915  
aleph-technologies.com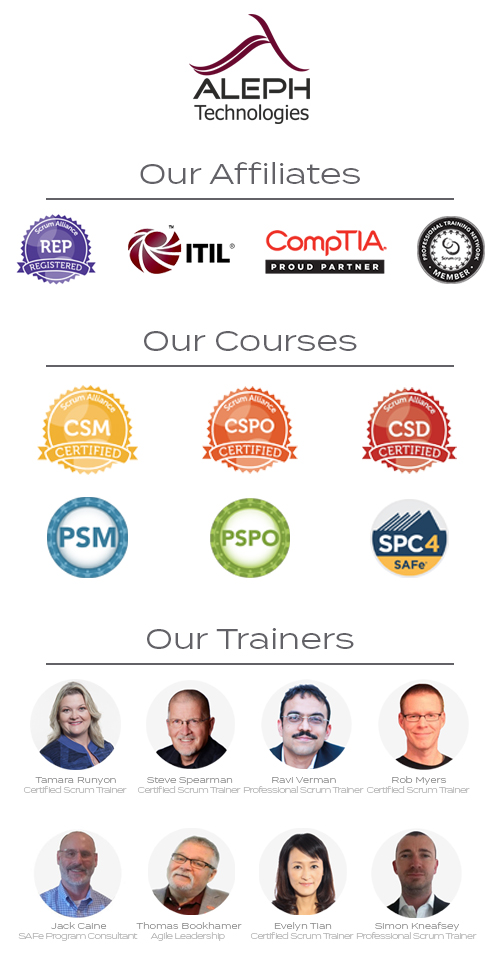 Privacy Policy: http://aleph-technologies.com/privacy-policy/