Professional Scrum Master Training & Certification from Scrum.org

Monday, July 13, 2015 at 8:30 AM

-

Tuesday, July 14, 2015 at 4:30 PM (EDT)
Event Details
Realize the Benefits of Agile

The Madison Henry Group delivers Scrum.org's Professional Scrum Master (PSM) Course, an in-depth training and certification program for Scrum Masters and experienced practitioners needing more advanced instruction.
Why train with Scrum.org?

Scrum Leadership

– Scrum.org is led by the co-creator of Scrum and co-owner of the Scrum

Guide,

Ken Schwaber

.
Scrum

 Guide Alignment

– Scrum.org's training is aligned with the Scrum Guide that is published and maintained by Scrum co-creators Ken Schwaber and Jeff Sutherland.
PSM Course topics include the theory of Scrum along with scaling scrum, release strategies and team behaviors. You will learn through instruction and team-based exercises, and are challenged to think on your feet to better understand what to do when returning to your workplace.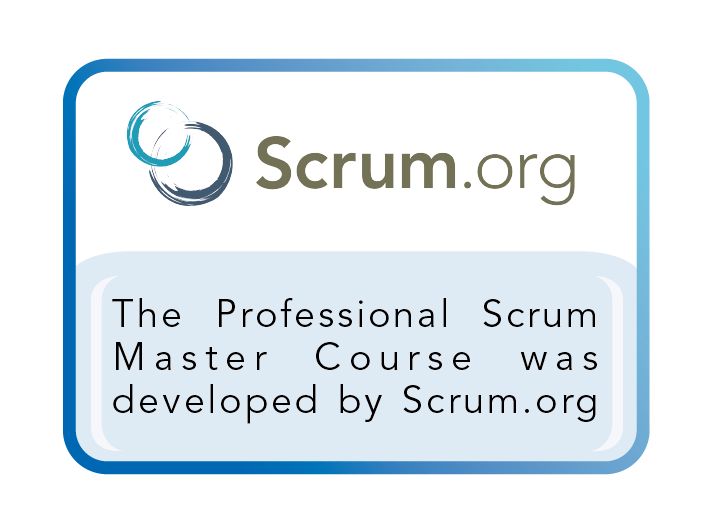 .
The PSM Course was initially designed by Ken Schwaber, co-creator of Scrum, in 2009 as a significant update to the Certified ScrumMaster (CSM) Course that he developed with the Scrum Alliance back in 2002. Since 2009, the PSM Course has been maintained and regularly enhanced by Scrum.org, where it has evolved into the industry's highest quality and most consistently delivered Scrum Master training.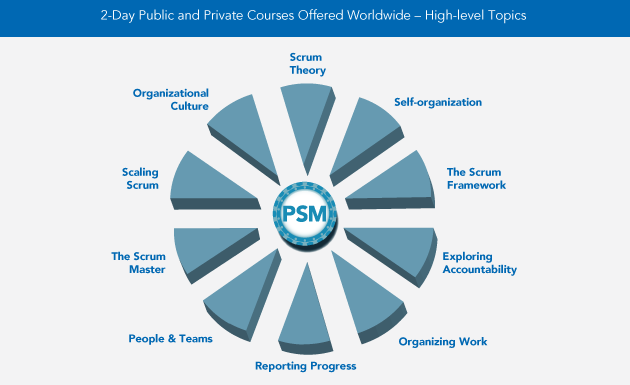 Assessment & Certification
Professional Scrum Master I (PSM I)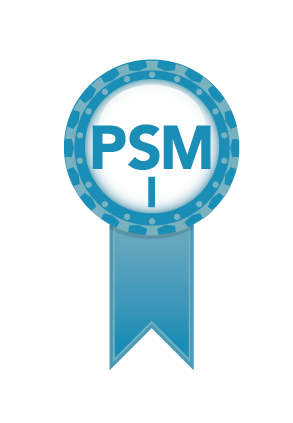 PSM I Assessments measure fundamental knowledge and application of the Scrum Framework, along with an understanding and interpretation of the Scrum Guide. Upon completion of a Professional Scrum Master Course, you will receive credentials for taking an assessment up to two times within a 14-day period. After achieving a minimum score, you will earn the industry-recognized PSM I Certification and be recognized on Scrum.org. Achieving PSM I is the minimum demonstration of knowledge any Professional Scrum Master should be able to make.
Professional Scrum Master II (PSM II)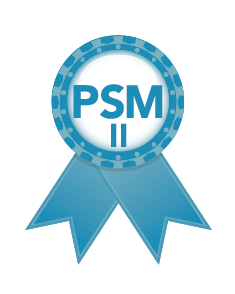 Once you've earned PSM I Certification, the PSM II Assessment is available to demonstrate a high-level of understanding of the Scrum framework, its practices  and values and its application in the real world. The PSM II Assessment is incredibly challenging and incorporates a combination of multiple-choice questions, case study questions and essays. Achieving the PSM II Certification is a significant accomplishment and you will be recognized within an exclusive group on Scrum.org.
Course Prerequisites
The PSM Course is primarily targeted toward Scrum Masters, those responsible for the successful use and/or rollout of Scrum and anyone in a role that supports a software development team's efficiency, effectiveness and continual improvement.
Course prerequisites:
Have read the Scrum Guide - free download available here

.

Understand project management fundamentals.

Understand requirements and requirements decomposition.

Have been on or closely involved with a software project that builds or enhances an application or product.

Have read one or more of the Scrum books.

Want to know more about how Scrum works, how to use it and how it could help their team

.
Course Details
The PSM Course is a mix of instruction, case studies and exercises as you collaborate with other students during 2 days of training: 
Day   1

    Theory & First Principles

ü  Complexity of Software Development

ü  Predictability of Software Development

ü  Self-Organization

ü  What is Agility?

ü  Case Study & Exercises

Day   1

    The Scrum Framework

ü  What's Needed for Scrum?

ü  How is Scrum Empirical and Iterative?

ü  The Scrum Framework

ü  Definition of Done

ü  Case Study & Exercises

Day   2

Planning & Reporting

ü  Exploring Accountability

ü  Organizing Work

ü  Release Strategies

ü  Reporting Progress

ü  Case Study & Exercises

Day   2

People & Teams

ü  Team Composition

ü  Team Behaviors

ü  Team Conflicts

ü  Dispersed & Distributed Teams

ü  Case Study & Exercises

Day   2

The Scrum Master

ü  Scrum Master Responsibilities

ü  Scrum Master Skills

ü  Scrum Master Challenges

ü  Case Study & Exercises

Day   2

Scrum at Large

ü  Scaling Scrum

ü  Scrum in the Enterprise

ü  Organizational Culture Change

ü  Case Study & Exercises
About Scrum.org
Scrum.org is the home of Scrum and a global community with some of the best Scrum practitioners in the world.  Founded by Ken Schwaber, the co-creator of Scrum, Scrum.org serves as the leader of Scrum's evolution and maturity to improve the profession of software development.
Striving to provide all of the tools and resources needed to deliver valuable software, Scrum.org hosts the Scrum Guide in 30 languages along with community forums and webcasts to foster collaboration and shared knowledge.
In addition, Scrum.org defines industry-leading Scrum training, assessment and certification programs that are offered worldwide, including Professional Scrum Foundations, Professional Scrum Master, Professional Scrum Product Owner and Professional Scrum Developer.
Please visit Scrum.org for more information.
About Madison Henry
The Madison Henry Group helps clients realize the benefits of Agile principles for complex software development and transform their organizations in the pursuit of Agility. 
Founded in 2005, Madison Henry offers an Agility Framework with professional services for Agile Readiness and Agile Transformation.  Our firm partners with Scrum.org, led by the co-creator Scrum, Ken Schwaber to deliver Professional Scrum Training & Certification Programs. 
We are passionate about our work.  We value insight, commitment and innovation.  We maintain an unwavering pledge to client success and satisfaction.
Have a question about attending a public Scrum.org course or scheduling private Scrum.org training? If so, please contact us at scrumtraining@madisonhenry.com or 770.667.8027.
About Your Professional Scrum Trainer, Daniel Sloan
Over 85% of Daniel's students have earned their PSM I Certification on their first attempt!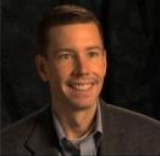 Daniel Sloan is a Professional Scrum Trainer with Scrum.org. He is one of the few people in the world certified to teach all four courses within Scrum.org's curriculum: Professional Scrum Product Owner, Professional Scrum Master, Professional Scrum Developer and Professional Scrum Foundations.
A co-founder of The Madison Henry Group in 2005, Daniel serves industry leaders ranging from global conglomerates to mid-sized businesses to entrepreneurial startups in the roles of Professional Scrum Trainer and Agile Coach. He focuses on facilitating organizational transformation by aligning vision, culture and Agile principles to inspire engagement, instill ownership, enable change and ultimately sustain continuous improvement.
Daniel holds certifications with Scrum.org for Professional Scrum Trainer (PST), Professional Scrum Master (PSM, PSM II), Professional Scrum Product Owner (PSPO I, PSPO II) and Professional Scrum Developer (PSD), receiving his PSM under Ken Schwaber, the co-creator of Scrum. In addition, he has earned the designation of Certified Scrum Professional (CSP) with the Scrum Alliance where he is also a Certified Scrum Product Owner (CSPO) and Certified ScrumMaster (CSM), having obtained his CSM under Jeff Sutherland, the co-creator of Scrum.
Prior to co-founding Madison Henry, Daniel helped build a $25 million consulting practice with a leading Microsoft Gold Partner while earning numerous client and partner satisfaction honors, including Microsoft's Southeast Partner of the Year. In his earlier career, he served in roles such as program manager, product manager, project manager, architect, developer and business analyst.
Daniel is a 1992 graduate of the University of Florida with a Bachelor's Degree in Aerospace Engineering.
Scrum Training Tesitmonials for Daniel Sloan from LinkedIn: 
Mr. Sloan was enthusiastic, had great real world experience and not only explained the Scrum Framework but explained the mindset the Scrum master should have. Overall fantastic course and instructor!

Dan provided excellent training for Scrum. He showed the relative simplicity of Scrum principles while his real world examples illustrated the potential complexities that may be experienced during implementation.

Daniel is a very knowledge Scrum trainer. He kept the training very informative and energetic. The training material was easy to follow and understand. I highly recommend Daniel to train any individual or organization on Scrum Framework.

Dan Sloan was full of energy, real word knowledge, and very realistic examples from his many years of experience. Valuable, enjoyable, and beneficial training.

Daniel was our instructor for Professional Scrum Master training. He is an engaging instructor with expert domain knowledge, personal experience in the field, and a clear passion for the underlying principles of Scrum. His training class was both enjoyable and effective, and helped me to successfully complete the PSM I assessment.

I attended a Scrum Foundations class and a Scrum Product Owner class taught by Daniel and found both to be beneficial and valuable. Daniel's facilitation of the classes was excellent and his presentation of the material was valuable and easy to comprehend. The classes were a good mix of exercises and lecture and I was easily able to absorb and retain the information.

I took the Professional Scrum Foundations training class Dan facilitated. This class was an "eye opening" class for me...Scrum makes so much sense. As a BA on a development team, I look forward to deploying the Agile and Scrum techniques Dan taught us. Dan is an experienced Agile Coach who taught the material in a creative manner that engaged us all. I look forward to a continued relationship as we transition to Agile.

Dan gave me the last push on knowledge and confidence I needed to get my Professional Scrum Master Certification. I attended his class last week and just got able to pass the exam. His deep knowledge and hands-on training worked perfect for me. Thanks Dan!!

I attended the Scrum Master Classes where Daniel was a trainer. I was impressed with the way he taught and explained the topics. I wish I could have professors in my university with his manner of knowledge giving. I would recommend him to all my friends and colleagues who want to learn the real Scrum Framework.

I attended Scrum for Product Owners training taught by Daniel. He was very engaging, provided real world experience, and tied back learning to each student's situation. The content and pace was appropriate...time was not wasted.

When & Where

Lakeside Commons - Building One
990 Hammond Drive
Suite 760
Atlanta, GA 30328


Monday, July 13, 2015 at 8:30 AM

-

Tuesday, July 14, 2015 at 4:30 PM (EDT)
Add to my calendar
Organizer
The Madison Henry Group
The Madison Henry Group helps organizations realize the benefits of agile software development and pursue organizational agility.
Founded in 2005, Madison Henry enables high performance and optimizes the value delivered by complex software through three lines of professional services: Agile Transformation with coaching and consulting across the enterprise; Training & Certification in partnership with industry leaders such as Scrum.org, Scaled Agile (SAFe) and LeanKanban University; and Staff Augmentation for the key roles of Scrum Masters, Scrum Developers and Kanban Delivery Managers..
We are passionate about our work. We value insight, commitment and innovation. We maintain an unwavering pledge to client success and satisfaction.
Have a question about public or private Scrum Training & Certification? Please contact us at training@madisonhenry.com or 844.BE.AGILE.
Professional Scrum Master Training & Certification from Scrum.org