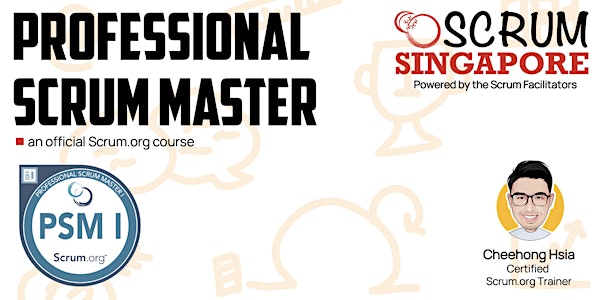 Professional Scrum Master
Scrum Singapore is proud to present the one and only Professional Scrum Master (PSM) course given by certified scrum.org trainers!
When and where
Location
Clarke Quay 3 River Valley Road Singapore, 179024 Singapore
Refund Policy
Contact the organiser to request a refund.
About this event
1 day 6 hours

Mobile eTicket
Professional Scrum Master (PSM) is a 2-day course that covers the principles and (empirical) process theory underpinning the Scrum framework and the role of the Scrum Master in it. This course combines instruction and team-based exercises and teaches what is at the heart of the Scrum and Agile movement.
Examen voucher + free attempt:
Because this is an official Scrum.org course, a free attempt at the globally recognized Professional Scrum Master I certification exam (PSM I) is included.
In-person class given by scrum.org certified trainers:
This is an in-person class given by scrum.org accredited trainers with ongoing field experience. Because of this, the trainers are able to share their experiences from the trenches and connect it back to the theory to meet your learning objectives.
No boring PowerPoint slides. 100% interactive and redesigned into mini-workshops.
Our classes are somewhat unconventional. We don't do PowerPoint, and we don't think the traditional "we talk, you listen" is fun, nor is it effective. Also, we don't like spaces designed for big meetings or school settings.
Here is a sneak preview of what our classes tend to look like.
What You Will Learn
Over the two days, students will see why PSM is the advanced course for effective Scrum Masters and anyone coaching a team toward increased efficiency and effectiveness. The course includes advanced thinking for servant-leadership and behavioural shifts.
Students are challenged to think about the Scrum principles throughout the course to better understand what to do when returning to the workplace.
The PSM course is much more than just a set of slides and an instructor. In this course, students work on real-life cases with other classmates together as a team. This course is made up of discussions and hands-on exercises based on real-life cases.
The course covers all the topics related to Professional Scrum Master I (PSM I), Professional Scrum Master II (PSM II) and Professional Scrum Master III (PSM III) certification assessments.
Who Should Attend
The Professional Scrum Master course is for anyone involved in product delivery using the Scrum framework. It is particularly beneficial for those people within an organization accountable for getting the most out of Scrum, including Scrum Masters, managers, and Scrum Team members. We also suggest that you read through the PSM Subject Areas.
Course Objectives
A clear understanding of the rules of Scrum through the empirical foundation of Scrum
Act as Scrum Masters for Scrum Teams and stakeholders from an in-depth understanding of servant-leadership
Effectively start using Scrum
Increase the effectiveness of Scrum underway
Course Topics
Scrum theory and principles
The Scrum Framework
The Definition of Done
Running a Scrum project
Working with people and teams
Scrum in your organization
The role of the Scrum Master
Certification & Assessments
All participants completing the Professional Scrum Master course will receive a password to attempt the Professional Scrum Master I (PSM I) assessment. PSM class participants who attempt the PSM I assessment within 14 days of receiving their free password and do not score at least 85% will be granted a 2nd attempt at no additional cost.
You are also entitled to a 40% discount on the PSM II assessment once passing PSM I. The industry-recognized PSM certifications require a minimum passing score.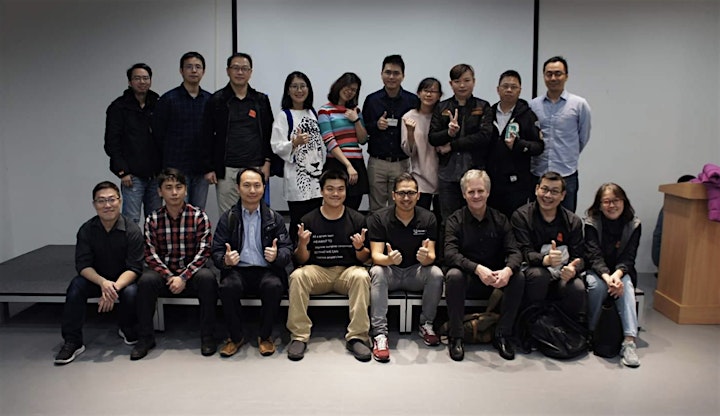 Chee Hong Hsia
Chee Hong is a Dutch-born Singaporean scrum.org trainer and one of the few globally vetted to teach all the scrum.org courses. He has been heavily involved with Scrum since 2006. He is freelance Agility Consultant & ICF Coach with over 15+ years of experience in helping individuals, teams and organisations deliver more value while going through an agile transformation. His experience comes from working with numerous organizations in Europe and Asia. He helps and coaches scrum teams, middle management and C-level executives in the art of servant leadership, empirical thinking, bottom-up intelligence, the power of self-organization, and evidence-based management and validate-learning.
His mission is to improve the profession of product delivery and coaching organizations in their Agile transformation journey. He uses Scrum in combination with Kanban, Lean, and Extreme Programming practices while respecting the underlying Agile values and principles.
As a licensed Scrum trainer, he combines his two passion: Scrum & travelling. He travels around the world to meet and teach Scrum. During his travels, he facilitates professionals on a journey of discovering the underlying values and principles behind Scrum and challenges students to re-imagining the true potential of Scrum.
In the Netherlands, Chee Hong is the cofounder of Scrum Facilitators, a Dutch-based training organization with seven trainers on a mission to help professionals become awesome Scrum facilitators through training, meetups and product development.
Venue
We believe that the venue is as important as the training itself. As mentioned, our classes are somewhat unconventional. We don't do PowerPoint, and we don't think the traditional "we talk, you listen" is fun, nor is it effective. Also, we don't like spaces designed for big meetings or school settings. That's why, at this moment, we're exploring several venues that will meet our criteria and give you the best experience possible!