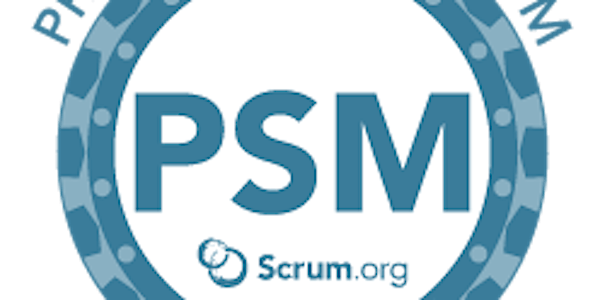 PROFESSIONAL SCRUM MASTER
PROFESSIONAL SCRUM MASTER TRAINING
About this event
VENUE- THIS IS AN ONLINE CLASS
This is a Virtual Class. All timings are in Malaysian Timezone
COURSE OVERVIEW
The 2-day Professional Scrum Master course covers the principles and (empirical)process theory underpinning the Scrum framework, and the role of the Scrum Master in it. This course is a combination of instruction and team-based exercises, and teaches what is at the heart of the Scrum and Agile movement.
PSM is the cutting-edge course for effective Scrum Masters and for anyone coaching a software development team toward increased efficiency and effectiveness.The course includes advanced thinking for servant-leadership and behavioral shifts.Throughout the course, students are challenged to think in terms of the Scrumprinciples to better understand what to do when returning to the workplace.The PSM course is much more than just a set of slides and an instructor. In this course,students work on real-life cases with other classmates together as a team. This courseis made up of discussions and hands-on exercises based upon real-life cases.
The PSM course is spread across two-days and covers the following: 
Scrum theory and principles
The Scrum Framework
The Definition of Done
Running a Scrum project
Working with people and teams
Scrum in your organization
The role of the Scrum Master
PrerequisitesThere are no specific prerequisites for attending this training or attempting the exam.Assessment CertificationAll participants completing the Professional Scrum Master course will receive a password to attempt the PSM I assessment, and are also entitled to a discount on the PSM II assessment. The industry-recognized PSM certifications require a minimum passing score on these rigorous assessments.The ExamThe PSM I, II and III level certifications are achieved on obtaining a minimum passing score in a rigorous assessment, which is held online.PSM I holders understand the basics thoroughly, and are able to use globally accepted terminology and approaches to Scrum.PSM II holders have a deep understanding of the principles and processes that underpin Scrum Framework and can effectively apply Scrum in the organizational context. PSM III certification holders demonstrate a distinguished level of mastery over Scrum.To learn more about each level, visit this link: https://www.scrum.org/professional-scrum-certifications/professional-scrum-master-assessments
tryScrum
Our mission is to Humanize Organizations by going deeper to unlock prescience  to challenge the established thinking and drive Transformation. We bring the right people together to build capabilities that enable Organizations to achieve sustainable transformation. tryScrum.com brings great value to clients by building capabilities through our training, Coaching and consulting services.
Trainer :
Venkatesh Rajamani
Arunvignesh Ramakrishnan
Meetup Groups from tryScrum.com
Scrum Master Studio - Chennai : https://meetup.com/Scrum-Master-Studio/
Scrum Master Studio -Bengaluru : https://www.meetup.com/SMStudio_blr/
Product Owner Studio : https://www.meetup.com/Product-Owner-Studio/
Why tryScrum?
One of the highly rated companies on Trustpilot 4.9*/5
Access to tryScrum "Resources" (tryScrum >>> Resources)
Access to tryScrum meetups and Webcasts (tryScrum >>> Studios)
Exclusive Product Studio to help Product Owners
Access to tryScrum Academy at a Special Price
tryScrum alumni discounts on any future workshops
Take more than 3 workshops from us and become a Gold member of tryScrum to get exclusive benefits
Our reviews
https://uk.trustpilot.com/review/tryscrum.com
tryScrum Support Center
https://tryscrum.com/support-center/