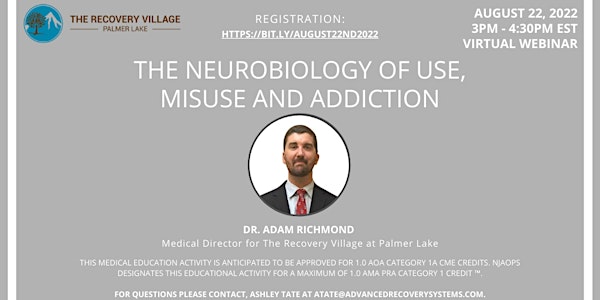 Professional Education Series:The Neurobiology of Use, Misuse and Addiction
Professional Education Series: The Neurobiology of Use, Misuse and Addiction
About this event
PLEASE REGISTER THROUGH DEMIO: https://my.demio.com/ref/HOfB5Z8sqHJSUksi?utm_source=eventbrite
Speaker: Dr. Adam Richmond
OBJECTIVES
At the conclusion of this activity, participants will be able to:
Understand at least 3 neurotransmitters in the brain and how they relate to addiction, mood and anxiety.
Be able to describe the areas of the brain involved in reward, happiness and memory.
Describe medication interventions that can contribute to opioid use disorder and how they work.
Discussion—what is a Medical Hospital System to Do?
About:
Dr. Adam Richmond brings more than a decade of leadership experience and medical knowledge to his role as Medical Director for The Recovery Village at Palmer Lake. Dr. Richmond earned his doctorate in 2009 at the Ross University School of Medicine and completed a postdoctoral psychiatry fellowship at the Children's National Medical Center in Washington, DC.
Adam had worked as a licensed psychiatrist, clinical director, chief of staff and medical director at multiple hospital systems across Colorado before joining The Recovery Village as a Regional Medical Director. He is currently an adjunct professor at the University of South Alabama, University of Cincinnati, Drexel University and Rocky Vista University, and a member of the American Academy of Child and Adolescent Psychiatry.
Program Goals and CME Credits
Global goals for The Neurobiology of Addiction are designed to illustrate the New Jersey Association of Osteopathic Physicians and Surgeons (NJAOPS) commitment to provide independent, needs-based education that fosters change in physicians' knowledge, competence and performance to ultimately improve patient outcomes.
KNOWLEDGE
Offer a core curriculum of clinical education, including comprehensive reviews of established practice patterns as well as new developments in diagnosis and treatment
Provide updates of available pharmaceuticals, medical devices and management strategies
Disseminate information related to practice management, quality of care, ethical practices and non-clinical topics that contribute to desired patient outcomes
Provide a forum for analyzing and critiquing new medical information
COMPETENCE
Foster the translation of evidence-based science into daily clinical practice.
Provide training in clinical diagnostics and procedures, including osteopathic manipulative techniques, presented in self-paced and hands-on format.
Promote professional exchanges between and within specialty groups with similar clinical and/or educational interests
Target Audience
This live educational activity is intended for all professionals involved in delivering patient care, with particular emphasis on physicians. Nurse practitioners, clinical nurse specialists, and physician assistants, as well as medical students, will also benefit.
Accreditation
Physician (AOA) Accreditation Statement
The NJAOPS is accredited by the American Osteopathic Association Council for Continuing Medical Education to sponsor continuing medical education (CME) activities for osteopathic physicians.
Credit Designation Statement (AOA)
NJAOPS designates this live activity for 1.0 AOA Category 1-A CME credits. Physicians should only claim credit commensurate with the extent of their participation in the activity.
Physician (AMA) Accreditation Statement
The NJAOPS is accredited by the Medical Society of New Jersey to provide continuing medical education for physicians.
Credit Designation Statement (AMA)
NJAOPS designates this educational activitiy for a maximum of 1.0 AMA PRA Category 1 Credit™. Physicians should claim credit commensurate with the extent of their participation in the activity. Requirements for successful completion are attendance in a session in its entirety and completing the evaluation tool.
Health Professionals
Participants may claim hours to receive a Certificate of Participation for an activity designated for AMA PRA Category 1 Credits™.
Disclosure Statement
It is the policy of NJAOPS that the information presented at CME activities will be unbiased and based on scientific evidence. To help participants make judgments about the presence of bias, NJAOPS has provided information that Program Committee members, moderators, and speakers have disclosed about financial relationships they have with commercial entities that produce or market products or services related to the content of this CME activity.
Disclosure of Off-Label Use
The contents of some CME activities may contain discussions of off-label uses of some of the agents mentioned. The faculty will inform participants if discussion of any non-FDA approved uses of pharmaceuticals or medical devices will be included in their presentation.
Acknowledgement of Financial Support
This live educational activity has not received any financial supported.
Contact Information
For questions regarding the accreditation of this activity, please contact the New Jersey Association of Osteopathic Physicians and Surgeons (NJAOPS) at info@njosteo.com.
For questions regarding Continuing Education Events please contact Event Director, Ashley Tate at ATate@advancedrecoverysystems.com Mailing address is 750 Orlando Ave Suite 201, Winter Park, FL 32789.
How to Join Demio:
Step 1: After registering for the event, you will immediately be redirected to a page confirming you have successfully registered for the event. On this page, you have the ability to add the registration link to your calendar using the "add to my calendar" feature.
Step 2: You will receive an email from Demio containing a unique link to join the event. Please keep this link and do not share with anyone, as it only will work for one attendee.
Step 3: On the day of the event, you will be emailed a reminder that the event is starting in one hour and another email stating the event will begin in 15 minutes. Please click the "join the event" button to be directed to the platform. Demio is a web browser based platform, and can only be accessed using Chrome, Firefox, Safari or Microsoft Edge web browsers. All other platforms are not supported.
Step 4: If you are joining the event prior to the designated start time, you will be directed to the waiting room. There you will see a timer counting down until the event start time.
Step 5: Once the event, begins you will be let into the event and immediately greeted by one of our team members. When participating in one of our events using Demio, you will not be seen on video or heard on microphone. To interact with the speaker, ask questions, or engage with other attendees, please use the chat feature on the right side of your screen.
Step 6: Enjoy the presentation! One of our team members will follow up with you after the event and provide a recording of the webinar.
If you experience audio issues during the event, be sure to use one of the supported web browser listed above. You may also need to adjust audio settings within the browser. If you are using a supported web browser and care continuing to experience audio issues, please exit the event and rejoin using the same join link you previously used. If you are using an extended monitor, you may need to unplug the monitor to resolve the issue.
Should you experience additional issues or have questions, please email Seckstrom@advancedrecoverysystems.com, who can better assist your needs. You may also visit, https://support.brightervision.com/knowledge-base/demio-webinars-audio-video-troubleshooting/ for a step-by-step troubleshooting guide.