Description
Format: Part Time (6 hours per week over 5 weeks – 30 hours total)
Dates:

FEB/27 - MAR/22, Every Tuesday & Thursday + FEB/28 and MAR/21, Wednesday on 7pm - 10pm

Location: 4 Cats Co-Business Community, Unit 1101, 11/F, Eastern Centre, 1065 King's Road, Quarry Bay
Price: HK$16350 (Pearson VUE exam fee is included)
Language: All courses delivered in English and supplemented with Cantonese
The globally recognised digital marketing certification courses are exclusively designed by digital marketing professionals and approved by the Digital Marketing Institute's Syllabus Advisory Council, ensuring that you receive the most up-to-date information available during the course of your studies; all the classes are delivered face-to-face by local industry experts.
The diploma is the most widely taught, industry-accredited available in the field.
---
ACCREDITATION
The Digital Marketing Institute is the global certification body for Digital Marketing education. Their syllabus defines the framework of knowledge, skill and competency required to meet the current and future demands of the Digital economy, and their practical, industry-driven qualifications are recognised as the international standard in Digital Marketing certification. The certification received will be that of "Certified Digital Marketing Professional".
This award has been credit rated by SQA at Level 8 on the Scottish Credit and Qualifications Framework (SCQF). SCQF level 8 corresponds to level 5 on the European Qualifications Framework (EQF).
The final exam to be certified is administered by Pearson VUE. The Pearson VUE exam fee is INCLUDED. There is NO additional fee for the exam. The final exam may be taken at select locations around Hong Kong.
Please go to Pearson VUE for details on available test centres and dates.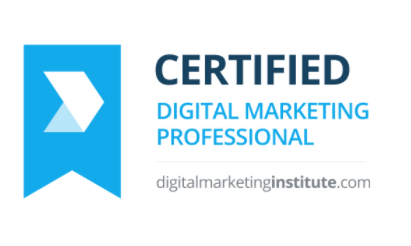 ---
PROGRAMME CONTENT
The Professional Diploma programme focuses on the planning, implementation and measurement of your Digital Marketing strategy. The course* consists of ten modules of 3 hours each totalling 30 hours.
Do I need a notebook?
A notebook is not required, but a printed student handbook will be provided for the course, which contains useful information pertaining to each module. A soft copy of the lecture will be available for download on the following day of each lecture.
What about dinner?
Dinner will not be served, but you are free to bring food, order delivery or eat at one of the nearby restaurants.
* The course can accommodate a maximum of 20 total confirmed students.
Module 1: Introduction to Digital Marketing
The Introduction to Digital Marketing module enables you to harness the power of Digital Marketing as a core driver of your marketing strategy. You will understand the foundation principles of Digital Marketing, and be able to distinguish how it differs from traditional marketing. After all, the key to understanding Digital Marketing is a change of mindset.
Module 2: Search Engine Marketing (SEO)
The Search Engine Optimisation module examines the various tactics for enhancing your website's position and ranking with search engines. You will learn about on-page and off-page optimization, and most importantly, how to plan your keywords strategically. You will walk away with the technical know-how, understanding and insight to build and maintain an effective SEO strategy.
Module 3: Search Engine Marketing (PPC)
The Pay Per Click module demonstrates how to implement and manage search advertising campaigns. You will appreciate the mechanics of how PPC systems function and be able to analyse current Search Marketing activity and target your campaign to key audience groups in order to improve CTR, while recognising the features of strong ad copy, and develop your skills in writing compelling ads.
Module 4: Email Marketing
The Email Marketing module covers the four foundational aspects of email marketing: Subscriber Management, Email Design, Delivery and Reporting. You will learn how to develop a subscriber database, and be able to plan a marketing segmentation strategy, and recognise what makes for good email design in terms of user centric content, coherent layout and an attractive design
Module 5: Digital Display Advertising
The Digital Display Advertising module helps you develop a comprehensive understanding of the creation and deployment of digital display advertising. You will learn about the wide range of ad display formats and how to select them for your campaign target audience. You will also be able to develop clear campaign objectives and optimise your campaign based on firm results analysis.
Module 6: Social Media Marketing (Part 1)
The first Social Media Marketing module covers the emerging trends in social media and the opportunity afforded by the 'always connected' social consumer. You will recognise the suitability of different social platforms for your objectives, and also be able to configure accounts across Facebook, Twitter, LinkedIn, YouTube and Google +, as well as other emergent social platforms.
Module 7: Social Media Marketing (Part 2)
The second Social Media Marketing module explores how to implement social advertising features to build relationships with customers. You will learn how to use advanced features such as Events, Groups, Promotions, Offers and Jobs, and you will also learn how to set suitable goals for your chosen social media platforms, and create and manage your campaigns to budget and schedule.
Module 8: Mobile Marketing
The Mobile Marketing module covers the emergent trends within the mobile space, and the new opportunity afforded by "always on" mobile devices when interacting with specific audiences based on context and location. You will understand technologies such as NFC, Mobile Sites, Apps and Bluetooth, and their role in mobile campaign development.
Module 9: Analytics
The Analytics module enables you to fully measure, monitor and optimise your Digital Marketing activities. You will learn how to build an online reporting structure for your business, and learn about the range of specialist tools that are available to help you understand how to measure and monitor online traffic. You will be able to align business KPIs with your digital marketing goals.
Module 10: Strategy & Planning
The Strategy and Planning module provides a structured approach based on the Digital Marketing Institute Methodology, incorporating a nine step process based on three distinct parts, bringing together all the strands of the Professional Diploma in Digital Marketing, to create a coherent and holistic Digital Marketing Plan.
-
Final lecture roster may change without notice.
---
TIME & LOCATION
Dates: FEB 27, 28 and MAR 1, 6, 8, 13, 15, 20, 21, 22
Time: 7pm to 10pm
Location: 4 Cats Co-Business Community, Unit 1101, 11/F, Eastern Centre, 1065 King's Road, Quarry Bay
---
SYLLABUS ADVISORY COUNCIL
The Syllabus Advisory Council is the industry based working group which defines and validates Digital Marketing Institute syllabus content. The Council contributes to the development of internationally recognised standards supporting digital marketing education by ensuring the consistency of our industry-led training and certification programmes.


---
ABOUT BONFIRE MEDIA
Bonfire Media is the first Education Partner of Digital Marketing Institute in Greater China.
We are excited to play a part in elevating the overall digital marketing skills in the region through training with the delivery of a localised international syllabus, and the certification of students through standardised testing.
With a clear reference point of what a digital talent really is, it makes it easier for people to enter the field, and easier for those already in it to identify and evaluate digital talent, thus strengthening the industry as a whole.
---
ABOUT DIGITAL MARKETING INSTITUTE
Digital Marketing Institute is the global education and certification body for the digital marketing industry.
Professional certification provides students with the skills and knowledge to thrive and prosper in this rapidly growing industry. The programmes have been developed in close collaboration with global industry leaders and with many of the world's leading subject matter experts.
We have a growing international Certified Partner Network that delivers our programmes to many thousands of people worldwide.
---
Payment Terms & Method: 10% non-refundable deposit (HK$1,635) upon enrolment confirmation with the remaining 90% to be paid prior to the course start date.
By clicking check-out you agree to the Terms & Conditions and adhere to this policy.
For more details, please visit our website:
http://www.bonfiremedia.hk