Description
Please join us for this unique event where TeamWomenMN Member & Mentor Program Participant, Amalia Moreno-Damgaard will provide a gourmet cuisine and wine tasting experience at the amazing Cambria Gallery in downtown Minneapolis! In Cambria's demonstration kitchen, Award-Winning Chef-Author Amalia will prepare and showcase festive appetizers from Latin America paired with a presentation on cultural nuances, healthy eating and ideas for holiday entertaining with Latin flair. You can even pick up an autographed copy of Amalia's latest book! You won't want to miss this world class, extraordinary event.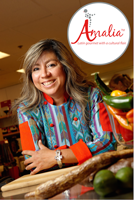 About Amalia Moreno-Damgaard
Amalia Moreno-Damgaard is a bilingual chef-entrepreneur born and raised in Guatemala City with a prior international banking career at three major U.S. banks. Her company, Amalia LLC, is a woman-owned enterprise and consultancy firm that helps individuals and companies develop a broader understanding and appreciation of Latin cultural nuances through healthy gourmet cuisine. Amalia helps brands to effectively connect with the Hispanic market through education, product ideation and development, strategy, and as a liaison between U.S. and Latin American companies. Her clients are comprised of Fortune 100-1,000 corporations, including General Mills, Boston Scientific, Target, Medtronic, and others. She recently became the spokesperson for Crystal Farm's first line of Hispanic cheeses.

Giving back has always been at the forefront of Amalia's activities and currently, she serves on the boards of the American Diabetes Association-MN, DepartSmart, and Common Hope, and has mentored many women throughout her career through Women Entrepreneurs of Minnesota (WeMN.org), a 501(c)6 nonprofit that she founded. Amalia is a frequent media contributor on local TV and writes for publications such as Minnesota Business Magazine, Volaris-Inflight Magazine, and El Minnesota de Hoy. Her best-selling first book, Amalia's Guatemalan Kitchen-Gourmet Cuisine with A Cultural Flair, has won nine international awards including the prestigious Gourmand Award for Best Foreign Cuisine USA from Paris, France, and is currently writing her second book. Amalia has an Executive Masters in International Business with a concentration on culture from St. Louis University, and is a graduate of both Le Cordon Bleu and the National Speakers Association-MN (NSA). More: AmaliaLLC.com.

About Cambria Gallery
Cambria Gallery is an innovative showroom in the heart of downtown Minneapolis. It showcases a myriad of inspirational home and commercial installations, all created by locally renowned interior designers, architects, artists and manufacturers. Full Cambria slabs are also on display. Cambria settings include a wide variety of kitchens and baths, as well as a live demonstration kitchen, fireplace surround, and a bar area. The gallery and staff give homeowners and professionals a convenient location to gain inspiration and design ideas and experience the depth and movement in Cambria's trend-setting design palette. No appointment is necessary. Cambria surfaces are available through builders, designers, architects and kitchen & bath retailers throughout North America.