Professional Advisor's Event: Charitable Strategies to Address Your Client's Income Tax Problems

Wednesday, October 25, 2017 from 3:45 PM to 6:30 PM (MST)
Event Details
CE Credit - SpiritsTasting & Light Fare
Be a Hero! Charitable strategies to address your client's income tax problems
Free Professional Advisors Education & Spirits Tasting Social
 Learn charitable strategies to help your clients avoid income taxes after the sale of real estate, a business or other assets.  Discover how to turn appreciated assets into a retirement income stream.
Presented by:
Jonathan Morrison, Senior Partner, Frazer Ryan Goldberg & Arnold, LLP
Randy Huston, CFP, Vice President, Yellowstone Trust Administration
Wednesday, October 25, 2017:
3:45 p.m. – Registration
4:00 p.m. - Program (CE Credit)
5:30-6:30 p.m. – Spirits Tasting
Location:
SARRC's Sybil B. Harrington Campus for Exceptional Children
300 N 18th St (18th St and Van Buren)
Phoenix, AZ 85006
Speaker Bios:

Jonathon Morrison
Jonathon Morrison is a Senior Partner at Frazer Ryan Goldberg & Arnold, LLP.  He is a licensed attorney in both Arizona and California and is a Certified Specialist in Estate Planning, Trust and Probate Law in California.

Jonathon's background as a Silicon Valley tax and estate planning attorney sets him apart from the majority of estate planners across the country. In addition to preparing basic wills and trusts and handling probate and trust administration matters, Jonathon is recognized in Arizona and California for designing advanced estate planning solutions for high income and high net worth clients whose objectives include income tax and estate tax minimization, charitable and philanthropic giving, business exit and succession planning, and/or creditor protection.

Jonathon and his California-licensed partners also represent clients and serve as co-counsel to attorneys with respect to California-specific matters, including California "Proposition 13" real property tax, California real property transfers, California probate and trust administration, and California income tax issues.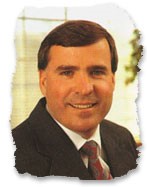 Randy Huston, CFP
Randy Huston serves as Executive Vice President for Yellowstone Trust Administration. Randy is a Certified Financial Planner ® with expertise in charitable estate planning. He has a master's degree in social science and has been a real estate broker. Randy has worked in the financial services field for 29 years. An estate problem solver, he has helped hundreds of families meet their estate planning goals through a wide variety of trust and other tax-saving techniques.
Organizer:
Southwest Autism Research & Resource Center's Planned Giving Professional Advisory Council
Victoria Ames – ARTEMiS Law Firm, PLLC
Tom Batson – Wells Fargo Advisors, LLC
Kathy Bosco – SARRC Grandparent Group leader
Nathan Buckles – SilverTree Special Needs Planning
Allyson Neary Califano – Plattner, Schneidman, Schneider & Jeffries
Chadwick L. Campbell, JD – Cohn Financial Group
Andrea Claus – Morris Hall P.L.L.C.
William Dolan, JD – US Bank
Russ Goldstein – U.S. Trust – Bank of America
Meighan Harahan – Waterfront Financial, LLC
Tiffany T. House – MasterTech Financial Advisors - AZ
Randy Huston, CFP – Yellowstone Trust Administration
Lindsey Jackson – BMO Private Bank
Cathy Knapp – Fraser Ryan Goldberg & Arnold
Edwin Knight – A New Leaf, Inc.
Robin Cochran Kruger – Attorney
Kimberly Kur, JD – Arizona Community Foundation
Barbara Larson – RSM US, LLP
Lori Lashley – The Families Advocate, LLC
Peter Liefer – ValuesQuest, Inc.
Barbara Loutos – Loutos Consulting
Denise McClintic – Wells Fargo Private Bank
Troy McNemar – McNemar Law Offices, P.C.
Regeanna Mwansa – Financial Services
Dan Owens – CoBiz Wealth
Michelle Roddy – ARTEMiS Law Firm, PLLC
Carolyn Sechler – Sechler CPA PC
Megan Selvey – Bivens & Associates, P.L.L.C.
Bart Stevens – Special Needs Planning
Karen Starbowski – MassMutual Arizona
Emily R. Taylor – Emily R.Taylor Attorney, PLLC
Janet Tubbs – Prudential
Jacquie Weflen – TFO Phoenix
Event Contact:
Beth Salazar, SARRC Planned Giving Manager
602-606-9876 
bsalazar@autismcenter.org
When & Where

SARRC's Sybil B. Harrington Campus for Exceptional Children
300 North 18th Street
Phoenix, AZ 85006


Wednesday, October 25, 2017 from 3:45 PM to 6:30 PM (MST)
Add to my calendar