About this Event
Prof
No artist has emerged from Minnesota this decade and walked his own private catwalk quite like Prof. After spending the early part of the 2010's having amassed a strong loyal following, distributing nearly 200,000 records through his own imprint, Stophouse, his 2013 signing to Rhymesayers Entertainment helped propel him to the next stage of his career before releasing his landmark 2015 Rhymesayers debut, Liability. Additionally, his annual self-headlined Prof Outdoors festival has repeatedly sold out a 4,000+ capacity for years. While there's been a perception that the eccentric Minneapolis MC is out-of-control, Prof's undeterred, unwavering commitment to his mission has revealed the detailed craftsmanship behind the perceived chaos. Today, as his latest album title states, the newly sophisticated Prof is more accurately referred to as Pookie Baby.
While Prof may be best known for his show-stopping live performances, with this album he pulls back the curtain, inviting the listener to join him for the most private of moments, all with a sleek touch of sophistication. As much of a showman as he is a shaman, Pookie Baby was poured out of the perspective of a man known for wild live shows, whose rigorous touring and performance schedule led to debilitating injuries. Grounded for months and undergoing multiple surgeries, Prof returned with a new perspective, and a new pair of gators. This new Pookie Baby persona is all cleaned up, teeming with unbridled sexuality, and suited with a multitude of styles that run the gamut from triple-time Chicago drill to emotive, bluesy crooning. Pookie Baby helps clarify where this passion and the essence of Prof come from, and he's never been better dressed for it.
As Prof continues to become more refined in crafting songs, Pookie Baby showcases a spectrum of moods, ranging from infectious absurdity to earnestly introspective. "Focus" highlights Prof's well-buttoned dedication to perfectionism behind the anarchy. "No" unflinchingly gives aggressive self-preservation the anthem it's always deserved. "Be Around" touches on the most satisfying comforts of dependability in relationships. "Send Nudes" finds reward in the vulnerable intimacy present in exposing oneself via text message, when done consensually. Pookie Baby culminates in the one-two punch of "Minneapolis" and "Eulogy," with the former asserting his love for his hometown, while the latter affirms his keen awareness of the ever-present fragility of life and the specter of mortality.
From cynically skewering the authenticity of artistic statements, as on "I've Cooked Crack Before", through the heartfelt reminiscence of "Designated Hitter" recounting the place marijuana holds in his happier memories, to ultimately knowing how he wants to be remembered once he's left the world's stage, Pookie Baby is just as much the crowd-pleasing party animal's moment of prideful self-reflection, as it is the blueprint for making the most out of life while navigating the hardships.
Please remember to enjoy Pookie Baby responsibly.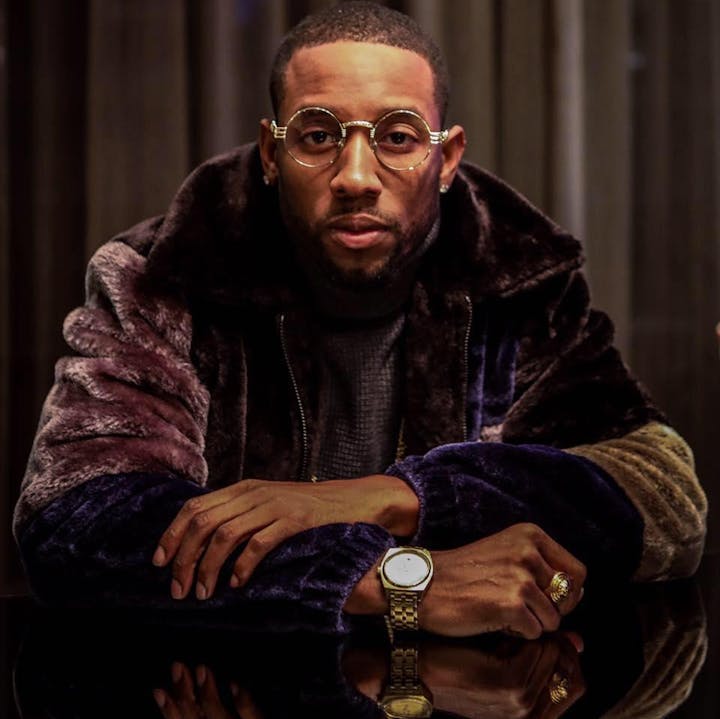 Mac Irv
Some stories birthed and illustrated in the hood never leave city limits. And for some, music is more than just an outlet. It's an escape. Born and raised in North Minneapolis, Mac Irv's gift for rhyming began at an early age, most of which he learned from his grandfather along with living across the street from Cornbread Harris, father of Grammy award winning producer Jimmy Jam. At 9 years old, Mac Irv started a rap group and was making rhymes in his basement.
His gift for music went undisclosed for many years as his talent for basketball required a full commitment. After receiving a scholarship to the University of Minnesota, Mac Irv exceeded athletic expectations, placing him as an All-Big Ten Player from 2006-2008. Graduating with a degree in Business Marketing, the Gopher player's athletic ability was unknowingly deteriorating slowly. His professional career overseas was eventually cut short after a serious hip injury. Shortly after at the age of 25, Mac Irv became a father to a baby girl. Despite battling depression while simultaneously taking on new responsibilities of parenthood, Mac Irv's passion for music was soon reignited.
With support from his Pilot Life Team Tre Adams and producer Willie Wonka, Mac Irv developed smooth, quick rap lines and metaphors reflecting his experience on the Northside, the ups and downs of relationships, and lessons extracted from sports. Things quickly progressed and his career as an artist was solidifying.
"Got Me Open" was released on Youtube as his first single, but it was "Hometown" that allowed him to ultimately represent for Minnesota, embodying the nickname, "Hometown Hero". In 2014, Mac Irv toured with Rhymesters artist Prof and his single "The Cycle" was nationally featured on MTV Jams. During that same year, Irv was selected to perform at Soundset, in company with Nas, Wiz Khalifa, and 2 Chainz.
Continuing to be a voice for his community, his loyalty for Minneapolis is undimmed. After several projects and local shows consistently selling out, Mac Irv's ambitions brought him to perform at South by Southwest. His mixtape, "Sincerely Mac Irv" was featured on DatPiff and received an immense amount of feedback from his fans - which are known as his "fam base".
Exposing disparities in his neighborhood through lyrics, Mac Irv has earned a place in the Hip Hop arena of Minneapolis. Heavily affected by death and incarceration of friends throughout the years, he continues to persevere through the oppression that confronts his community by inspiring a little bit of everyone.