About this Event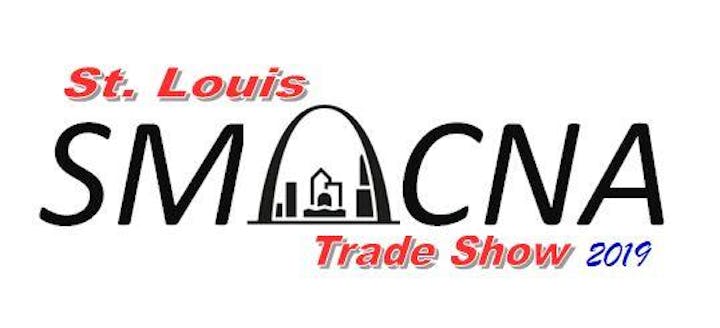 -Main SMACNA Seminar is SOLD OUT-
***SMACNA St. Louis Contractors may contact Kyle Tibbs at Kyle@smacnastlouis.org for a reserved contractor seat.
General admission is always free and includes mini-seminars- not the main SMACNA Seminar.
Over 500 local consulting engineers, architects, area sheet metal contractors, mechanical contractors and industrial users, as well as code officials from the City of St. Louis, St. Louis County, St. Charles County and Jefferson County will be invited guests of SMACNA – St. Louis. Contractors of SMART Local 36, independent contractors, trade schools, public officials, and more will be in attendance. Last year's Trade Show featured dozens of exhibitors, hundreds industry experts, and over 500 attendees. With the new space, the event is expected to draw nearly a thousand individuals!
Ticket Options
All contractors, engineers, public officials, general public, and invited SMACNA guest are FREE TO ATTEND - Please register as general admission or SMACNA Guest.
.
Exhibitors are required to purchase a booth starting at $900 and up.
.
The event features a free open bar (Must be 21) and a food lounge for contractors, engineers, exhibitors, and invited guest of SMACNA. Please contact SMACNA to ensure you don't miss out on our food/beverage lounges!
.
*Cost- Exhibitors
This event has previously sold out, don't wait! (**New venue will allow for additional attendees**)
Booth space reservations are on a first-come, first-served basis.
The first booth is $900. Additional booths are $700 each.
*Cost- Attendees (Contractors-General Public)
1. All Local 36 contractors & members are free to attend. (Only contractors and their designated employees receive complimentary food and beverages)
2. Invited guest/Sponsored guest of SMACNA, SMART Local 36, and affiliate members- Free (Includes food & Beverage)
3. General Admission- Free (includes admission and seminars- open to anyone)
*Schedule of Events
1:00 p.m.- General Registration/Seminar Registration Open
1:30 p.m.- Trade Show Floor Opens- Open to all attendees
2:30 p.m.- SMACNA Seminar (Professional Development Hours included)*Topic TBD
4:00 p.m.- Food & Beverage Lounges Open/Registration closes
Mini-Seminars begin at designated booths.
5:30 p.m.- Mini-Seminars End
7:30 p.m.- Trade Show Floor Closes
8:00 p.m.- Food & Beverage Lounges Close
***New this Year***
Schedule a one-on-one with a contractor or an exhibitor!
All Local 36 contractors and all exhibitors will be able to schedule a one-on-one with each other. Beginning August 1st- More info to come. Subject to attendees approval and availability
*Free Seminar- All Attendees
SMACNA will once again be offering a free seminar to all attendees! Eli Howard, Executive Director, Technical Resources for SMACNA National will be presenting an industry seminar. Each participant will receive Professional Development Hours (PDHs). Additional mini-seminars will be published prior to the event- more details to come.
Topics
2019 SMACNA Fire, Smoke Damper Manual
2019 SMACNA Kitchen Grease Duct Fabrication Tables
*Booth Info- Exhibitors
Booths will have a company name plate, one 8' skirted table, two chairs, and 110 voltage electric outlet. Registration will prompt for additional chair/table request and additional attendees.
All exhibitors receive food and beverage passes- 2 passes for each booth. (Additional attendees may be purchased for $50 each)
*Mini- Seminar Options for Exhibitors
If you'd like to host a mini-seminar at your booth, please included info in registration. All Mini-Seminars will be conducted from 3:30-5:30pm or following the SMACNA Seminar with Eli Howard.
Location:
Greensfelder Recreation Center
Queeny Park 550 Weidman Rd. Ballwin, MO 63011