Productization & Data Management Live Construction Webinar
This live webinar will dive into the opportunities that data presents and how specialty and general contractors can use that data.
About this event
In this webinar learn how a manufacturing mindset focused on productization & data management can help any self-performing contractor be better at assembling your components and tracking those assemblies. Understand Supply Chain Management (SCM), New Product/Project Introduction (NPI), Change Management (CM), Quality Management System (QMS), and Bills of Materials (BOM) are the pillars of efficiency. Having a connected data management system helps your company reuse, modified, track, and search all your data through those processes.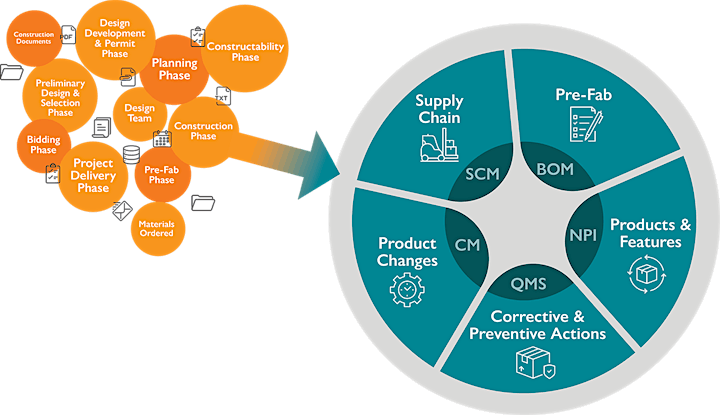 Organize disjointed data into manageable, connected data slices. Connecting information with data management creates visibility and predictability by creating one source of truth where the data can be accessed, automated, and consumed. Manufacturing has used this technology for years and now the construction industry can take advantage of the same technology to organize their data.

Jarod Schultz - Solution strategist in the convergence of construction and manufacturing known as Industrialized Construction. He works with teams to develop new automated solutions that building product manufacturers and self-performing contractors value: inventing new automation solutions, workflows, and processes. He collaborates with these early adopters & innovators to use Data for Manufacturing & Assembly (DfMA) processes and workflows to eliminate waste and to create productization of assemblies, bringing manufacturing data management solutions (Product Data Management and Product Lifecycle Management) to the construction industry to solve communication, tracking, and data silos.
Greg Barmore - Over the course of the last 27 years of selling technology and services into the AEC industry, he has witnessed some amazing changes in the construction industry. In 2005, he became successful transitioning Architecture and Engineering clients away from 2D AutoCAD and into 3D BIM workflows in Revit. Eventually, Architects and Engineers pushed beyond the basics of Revit / BIM for marketing purposes, and started providing some value to the construction side of the project lifecycle. His passion has become one of holistically 'clearing the smoke' around overall project delivery, and with the help of Team D3's proven process assessment methodologies, help reduce redundancy, feature overlap, feature gap, and spend.

ABOUT TEAM D3 CONSTRUCTION SOLUTIONS
Team D3 is taking their years of experience in the AECO and Manufacturing industries and applying it to the construction space. Team D3 Construction Solutions combines the power of Autodesk Construction Cloud with automation and data techniques that help construction leaders visualize, utilize, and energize their project data. Team D3 Construction Solutions combine the strength of D3 Technologies (Manufacturing), MG (AECO), and Ecad (Process & Power) under the Team D3 banner to bring construction solutions to the next level. Learn more