Sales Have Ended
Registrations are closed
Ticket sales for this offering have ended. We hope you can join us at the next one!
Event Information
Location
Mac & Cheese Productions (Damen & Division; address sent upon registration)
Near Division blue line stop
Chicago, IL
Sales Have Ended
Registrations are closed
Ticket sales for this offering have ended. We hope you can join us at the next one!
Description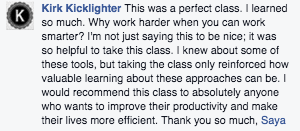 *TIP: many people get their work to pay for this class. Usually submitting the registration confirmation and the below description is all they need to do. Ask your boss and see if you can get this expensed as Professional Development!*
Saya will share an overview of numerous resources (mostly tech-based) that she uses on regular basis to maintain organization, frugality, and efficiency, along with tips and insight, to give you a starting point to deciding which tools to further investigate and incorporate into your own life. This class is not about learning the ins and outs of specific tools, but about someone else narrowing the overwhelming field of options and presenting her best-practices and favorites for you to choose which you'd like to learn on a deeper level.
Class is lecture-style structured, with the focus being on the teacher sharing knowledge rather than on interactions between students.
Areas of focus:
- email
- digital organization
- to do list
- calendar
- automation & efficiency
- security
Saya has run a successful business for since 2004, filled with event curation, keeping track of and adhering to deadlines, wrangling thousands of people, being laid-back yet professional, traveling the frugal path, and wearing many hats, which she has managed to do while keeping her sanity and with a smile on her face. It CAN be done!
What to bring
A laptop/tablet is VERY useful but not mandatory. Note-taking materials strongly suggested, there is A LOT of info covered. Lunch/snack for yourself if you feel you'll get hungry (eating during class a-ok!).
Testimonial
"Great class! Saya is very friendly and efficient and covered a lot of different tools and apps to help you save time. I love that most of what she recommended were free apps (some with paid upgrades), and she also talked about systems and concepts that could apply with or without the specified tool.
The Mac and Cheese studio is also super comfortable and cozy. I took this class on a Saturday and stayed at home that night to start implementing some of the tools I was excited about. I'd definitely recommend this class if you are an app- or tech-leaning person (or want to be more of one!)" -- for more testimonials, head here

REFUND POLICY: there are no refunds, so make sure you can commit before you join us. You can transfer your spot to someone else at any point by logging into your Eventbrite account and updating the name and email; handling of payment is your responsibility.
Date and Time
Location
Mac & Cheese Productions (Damen & Division; address sent upon registration)
Near Division blue line stop
Chicago, IL