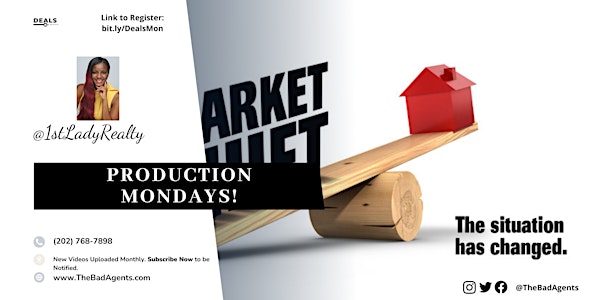 Production MonDays!
How to THRIVE & NOT just SURVIVE the shifting Real Estate Market!
About this event
Realtors it has been a crazy couple of years in the Real Estate Industry... business has literally been falling into our laps but now the market has shifted. Few Realtors survive Market Shifts. If you don't evolve, you will not survive. It's crucial to double down now more than ever so this won't happen.
What are you doing today to bring yourself business tomorrow, next week, next month, or the next couple of months, and even next year?
If you're feeling a little lost or stuck, a little frustrated and uncertain about the future and just need a little bit of a push, some inspiration...
Then Join Us and Learn:
How to set ACHIEVABLE goals
Where to look now to find consistent business
Get scripts that work
The ACHIEVE anything Mindset shift
Actionable steps to take today to bring you BUSINESS tomorrow
Learn the best ways you can maneuver in any market.
We only have 4 months left in the year let's reset and finish it strong and start the New Year with endless Deals!