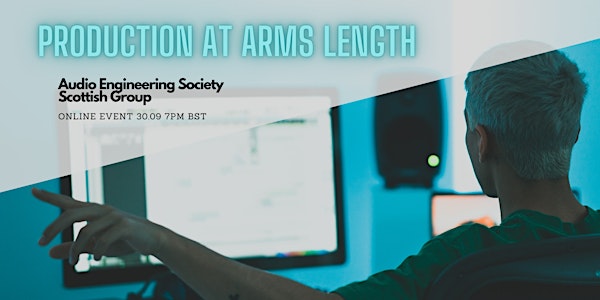 Production at arms length
Join us for this online talk which examines the impact of COVID-19 on the music recording and production industry
About this event
The way that sound is created, recorded and music produced has evolved over many years, usually driven by developments in technology and engineering. Recently the way that music is recorded and produced has changed for a very different reason. Phil Harding, Dennis Weinreich and Melvyn Toms who are a part of 'JAMES', the Joint Audio Media Education Support organisation, take a look at the impact the COVID-19 pandemic has had on music recording and production.

AES Scotland Chair - Dr Elena Prokofieva
AES Scotland Chair Elena Prokofieva will be hosting the event. Elena is an acoustic designer and consultant, Research Fellow at Edinburgh Napier University, co-founder of our Scotland Group and member of the UK Section Interim Committee. She joins the AES Board of Governors as Vice President for Northern Europe, also on 1st January, and will take over responsibility from Per Sjösten for the oversight of AES Sections in Ireland, Belgium, The Netherlands, Denmark, Norway, Sweden, Finland and Russia, as well as the UK.
Presenter Biographies
Dennis Weinreich
Originally from Los Angeles, Dennis Weinreich's interest in audio stretches back to his earliest years while still in school. His home studio was a regular haunt for the booming mid 1960's Southern Californian surf music scene. He was lucky enough to be taken under the wing of a number of local recording engineers who heard and were impressed by the work being produced out of that Orange County garage. This led to dates at United Western and Wally Heiders, as well as work in Film and TV. In 1970 he was juggling University and working at Stephen Bosustow Film Productions where he shot, edited and created sound effects for the Oscar© winning short 'Is It always Right to be Right' with Orson Welles. In that period he was also working as part of the team at The Village Recorder, still one of the hottest studios in Los Angeles. (Steely Dan, Eric Clapton, Sly Stone, Miles Davis, The Stones, Fleetwood Mac)
He arrived in London in September of 1971 to work on the animated series 'The Jackson 5' for what he thought would be six weeks. He's still here.
Finally making the commitment to music over film at Scorpio Sound, Dennis spent the 70's and 80's as a music engineer and producer working with artists as diverse as Jeff Beck, The Walker Brothers, Queen, Supertramp, Wham, The Real Thing, Talk Talk, Jack Bruce, Jon Anderson, Mick Taylor, Hummingbird, and many more. He also bridged the gap between Music and Film, working on film scores for composers Michael Kamen, Richard Thompson, Rachel Portman, Debbie Wiseman, Del Newman and others.
In 1983 he established Videosonics to make creative technology used in the music world available to the emerging independent television sector. By the mid 1990's, under his creative direction, Videosonics had become one of the largest film and TV sound facilities outside the United States.
Dr Phil Harding
Phil Harding joined the music industry at the Marquee Studios in 1973, engineering for the likes of The Clash, Killing Joke, Toyah and Matt Bianco by the late 1970s.
In the 1980s, Phil mixed for Stock, Aitken & Waterman tracks such as You Spin Me Round by Dead or Alive followed by records for Mel & Kim, Bananarama, Rick Astley, Depeche Mode, Erasure, Pet Shop Boys and Kylie Minogue.
In the1990s, Phil set up his own facility at The Strongroom with Ian Curnow. Further hits followed with productions for East 17 (including Stay Another Day), Deuce, Boyzone, 911 and Let Loose.
Recent projects include the book PWL from the Factory Floor (2010, Cherry Red Books) and mixing Sir Cliff Richard's 2011 album Soulicious. Harding has recently worked for Holly Johnson (Frankie Goes To Hollywood), Tina Charles, Samantha Fox, Belinda Carlisle and Curiosity with his new production team PJS Productions.
He is currently Co-Chair of JAMES along with Dennis Weinreich and was the Chairman of the Music Producers Guild. Phil completed his doctorate in Music Production at Leeds Beckett University, April 2017.
Melvyn Toms
Melvyn completed a 5 year technology apprenticeship for EMI Music and took an HND in electronics & electrical engineering. During this time he worked in the vinyl disc manufacturing and high speed cassette duplication and distribution areas. He also spent 2 years with EMI Audio Research, helping with the design and testing of the EMI TG analogue mixing and post production audio consoles.
He then moved to Abbey Road Studios where he worked for 30 years, initially maintaining analogue equipment, with particular responsibility for analogue tape recording. Latterly he was responsible for the installation and support of Abbey Road's post production facilities which included disc cutting, CD mastering, classical music editing, re-mastering rooms, DVD authoring and audio for film production rooms, all of which were digitally networked together.
Since leaving EMI he has been working as an independent consultant and spent several years assisting a charitable organisation with a project to digitize their audio cassette library to make books available on CD and online for visually impaired readers.