Description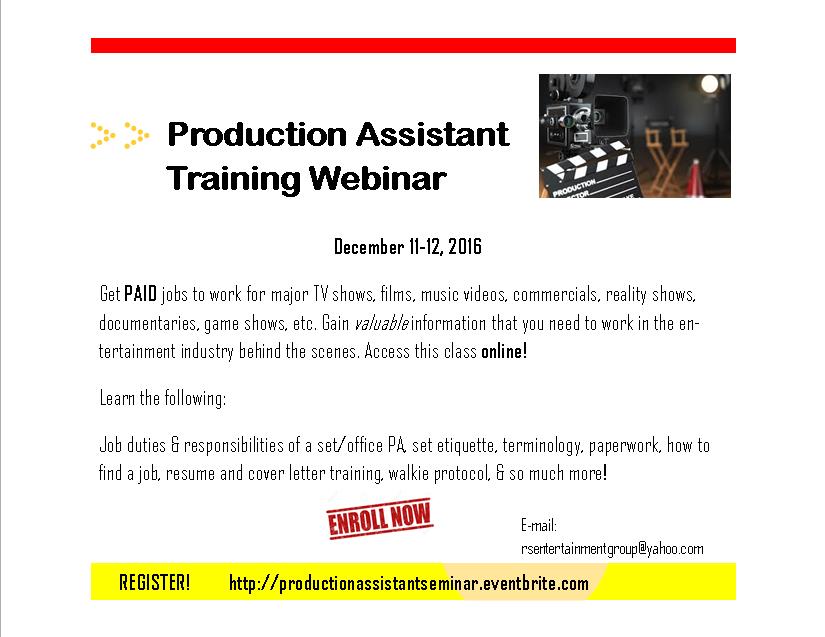 If you want to work behind the scenes on movies and TV shows, this class will prepare you for a career of a lifetime!
This is a virtual class taught online. Details about how to access the class will be emailed to you as we get closer to the class date.
You will learn the following:
Set Etiquette
Equipment Overview
Production Terminology
Crew Titles & What They Do
Greeking
Releases
Call Sheets
Schedules
Walkie Etiquette
Vouchers
Office Production Duties (HR paperwork, script revisions, notes, etc.)
How to Find a Job
Resume
Cover Letter
How to Network Effectively
BONUS: If you register for this class you will be added to the "PRODUCTION CREW JOB LIST
This workshop will be taught by Jennifer Black who has worked on film and TV shows such as "The Voice", "Best Time Ever with Patrick Neil Harris", "Story of God", "Vintage Hunters", and "House Hunters" for major networks such as NBC, HGTV, and National Geographic.
Why Take This Class?
--Prepation. Be prepared to work on a set like a pro.
--Education. Get educated about the industy and career.
--Get Hired. Learn how to find a job.
DON'T TRY TO FIGURE IT OUT ON YOUR OWN.
DISCLAIMER. We do not promise a job or industry connections. We can only train you.