Location
The Palace Of Fine Arts
3601 Lyon St
San Francisco, CA 94123
ProductCon is the largest product management conference series in the world.
About this event
Ticket sale for the virtual access is now closed. Join the event via: https://prdct.school/3KSQOb7
The ultimate networking event for Product professionals is BACK IN-PERSON for the first time since 2020!
You can attend in-person at San Francisco's "Palace of Fine Arts" or join live online from anywhere - just select the best ticket option for you.
Organized by Product School and structured around the hottest topics in Product Management, ProductCon takes place four times per year in San Francisco, New York, London, and Online, and gathers over 15,000 product professionals from all over the world.
ProductCon highlights Product Leaders from diverse backgrounds and leaders of color. You'll learn from inspirational Heads of Product, VPs, and CPOs from tech giants such as Amazon, Meta, Disney, and more.
You'll learn best practices behind the most successful products, and have the opportunity to interact with all our sponsor companies interested in recruiting PMs. Get ready to level up your product management skills, network with a global community of fellow product leaders, and have a ball!
Check out our latest conference
Agenda
7:30 am - Registration
9:00 am - Welcome Address
9:05 am - Social Impact as Your North Star: Building Mission-Driven Products. Emily Dalton Smith, VP of Product, Social Impact at Meta
9:30 am - How Atlassian Does Product-Led Growth. Uday Chakravarthi, VP of Product at Atlassian
9:55 am - Learning and Innovating in Every Moment. Belinda Wong, VP of Platform Product at Salesforce
10:20 am - Morning Break
10:45 am - Customer-Centric and Hypothesis Driven Innovation. Bhavini Soneji, VP of Product Engineering at Cruise
11:10 am - The Future of Product Management. Carlos Gonzalez de Villaumbrosia, Founder & CEO of Product School
11:35 am - How to Build the Team of Your Dreams. Heidi Gibson, VP of Product at Typeform
12:00 pm - Lunch Break
1:00 pm - Building the Product Career Path
Moderator: Rachael Larsen, VP of Product, Education at Product School
Panelist:
1:25 pm - Panel Discussion: Mistakes and Misconceptions in Data Analytics
Moderator: Chiara Piccinotti, VP of Data Science at Amazon
Panelist:
2:00 pm - Afternoon Break
2:15 pm - How to Master Product-Led Growth Strategy in B2B. Mickey Alon, CTO & Founder of Gainsight PX
2:40 pm - The Most Underrated PM Virtue. Ajay Arora, SVP of Product at Disney
3:05 pm - Closing Remarks
3:10 pm - 5:00 pm - The Afterparty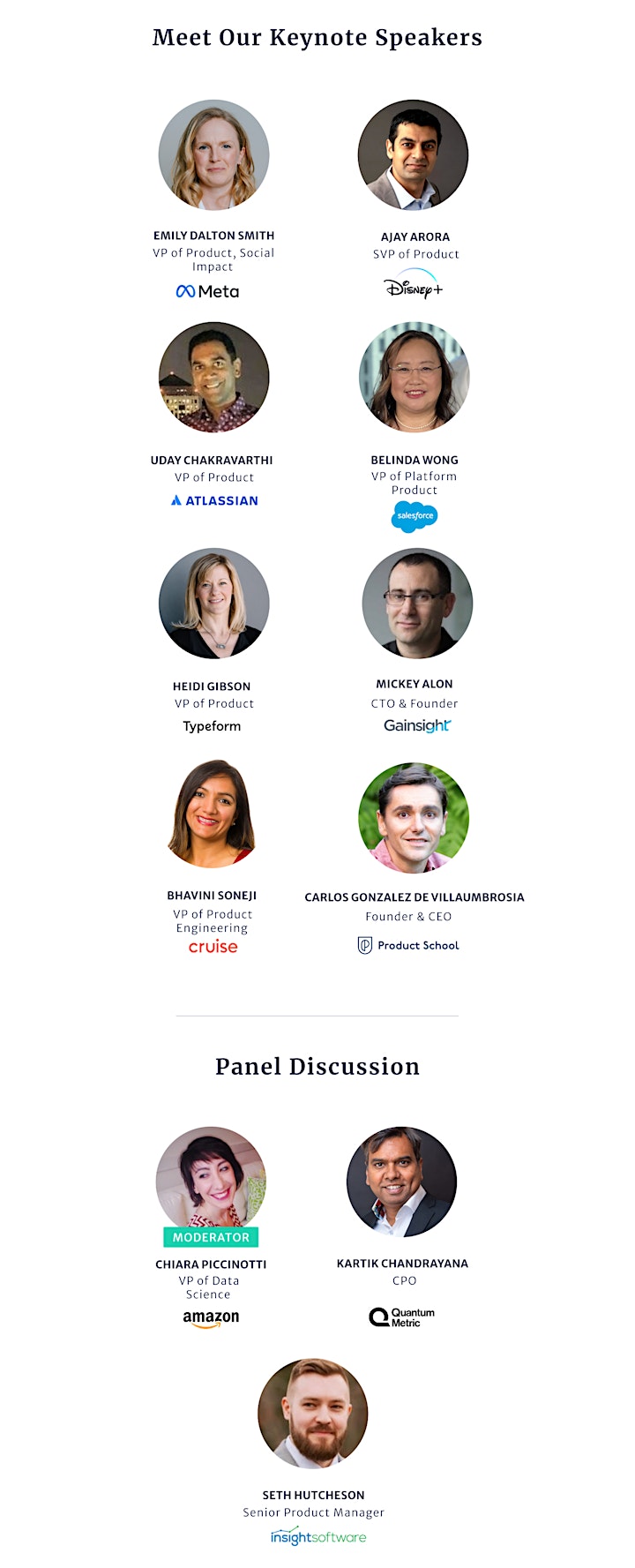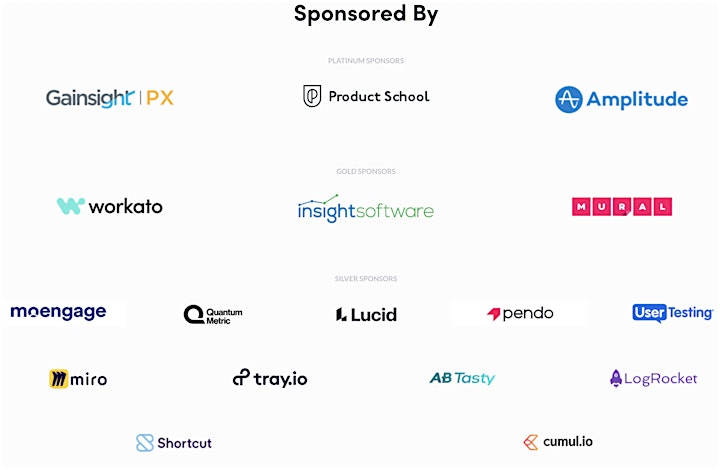 What is #ProductCon?
ProductCon is a conference by Product School where attendees can delve into the future of Product Management. It will feature a mix of keynotes, breakout sessions, and panel discussions, all with the aim to provide actionable insights around how to build products users love.
Why should I attend?
Whether you're a startup or a Fortune 500, an individual contributor or leading a team, what you learn during ProductCon will transform the way you go about building products. You'll come away with concrete ideas you can apply in your company right away, along with fresh contacts that may become customers or partners in the future.
Who is attending?
Attendees of ProductCon are Senior Product leaders; Sr. Product Manager, Director of Product, Head of Product Management, VP of Product, Chief Product Officer.
What does my on-site ProductCon ticket include?
It includes access to the conference and refreshments. You'll also get access to our official parties, some way cool swag, and all the recordings and slides.
I want to send my team. Are there group discounts?
Yes, we offer a Group Discount with 5 tickets for the price of 3! If you are more than 5 attendees from the same company, please get in touch with us to request a unique group discount.
Do you provide any discounts for students, non-profits, startups, etc?
Yes, we provide a limited amount of early-bird tickets. We also provide free tickets to watch the conference live online and receive all the recordings and slides afterward.
Can you advise me on how to convince my boss that ProductCon is worth the investment?
Yes, you can download our convince your boss Google Doc template. 
I'm international and need to order a visa in order to come to ProductCon. Can you help with this?
Yes, we can write you a letter of recommendation for you to apply for a visa. Get in touch with your name, business address, and ticket order number. Please check with your local government office for any visas waiting periods. If for some reason you cannot obtain a visa, we will refund your ticket.
What are the COVID guidelines?
Proof of COVID vaccination OR proof of a negative COVID result is required within 24 hours prior. Please be prepared to show proof of either upon entrance to the venue. Masks are recommended but not required for this event
Will ProductCon be recorded?
Yes, it will be recorded by our multimedia team and the videos edited for your viewing pleasure. Make sure to get your free online ticket in order to receive all the recordings and slides.
How do I become a Sponsor?
Get in touch with us here
Are there volunteer opportunities for this event?
Yes! Apply here.
How can I contact the organizer with any questions?
What's the cancellation/refund policy?
We don't offer refunds but you can transfer the ticket to a colleague or friend. Any ticket transfers must be made at least 48 hours before the event starts.