Description
ProductCon: The Product Management Conference
ProductCon is the largest product management conference series in the world. It is organized by Product School and takes place five times a year in San Francisco, Los Angeles, New York, Seattle and London. The speaker lineup features product leaders from Google, Slack, Amazon, Airbnb, Netflix, Facebook and more. This year you will be able to join us online from the comfort of your own home to learn from the greatest minds in product.
Due to the circumstances, this year you will be able to join us live (and completely FREE!) from every corner of the Earth to enjoy the largest worldwide product conference and learn from the greatest minds in product. You'll grasp the best practices behind the most successful products, and new trends in product management. Get ready to level up your product management skills, network with a global community of fellow product leaders and have a ball!
Check out our latest conferences: London, San Francisco, Seattle, New York, Los Angeles.
Agenda (May 27th) - Conference
09:00 am - Hacking Your Product Career
Gibson Biddle. Fmr VP of Product at Netflix

09:45 am - Building Enterprise Products at Scale
Aarti Bharathan. Sr Director of Product at PayPal
10:10 am - Voice Platforms and Product Management
Ashok Bania. Sr Director of Product at CNN
10:50 am - Why Trust Matters, Against Growth
Neil Shah. Head of Product, Identity at Lyft
11:10 am - What is a Product Insight? And How Do You Get More of Them?
Matin Movassate. Founder & CEO at Heap Analytics
11:30 am - Break
12:00 pm - The Five Essential Values for Product-Driven Companies
Ken Berger. First Product Manager at Slack
12:30 pm - Panel Discussion: Remote PM: Mission Possible!
Moderator:
Margarita Kartashova. Head of Product at Product School
Panelists:
Parul Goel. Product Lead at PayPal
Jerry Becker. Engagement Lead & PM at Red Hat
1:00 pm -How to Drive Product Innovation in the Era of IoT, 5G, and AI
Daniel Elizalde. Head of IoT for North America at Ericsson
1:35 pm - How to Create a Winning Value Proposition for Your Product
Dan Olsen. Product Consultant & Best-Selling Author of The Lean Product Playbook
2:15 pm - Building for Growth
Elena Verna. CMO at Miro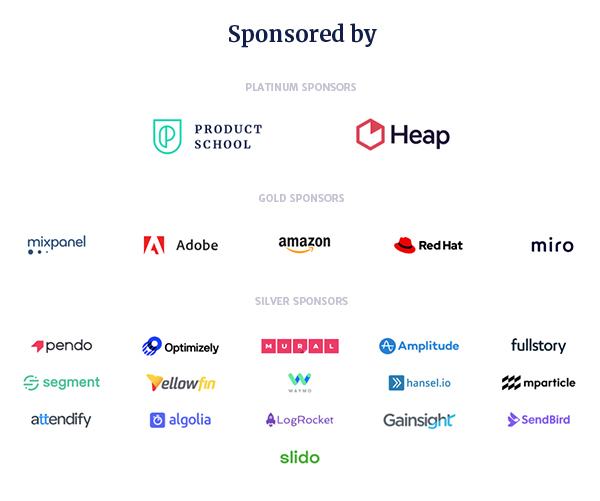 Agenda (May 26th) - VIP Experience
9:00am - 10:30am - Customer Data Platforms (CDPs). Shabih Syed, Head of Product Marketing & Kale Bogdanovs, Product Marketing Manager at mParticle.
Heard about Customer Data Platforms (CDPs) before, but still yet to see how they work or what you can do with them? Learn how.
To stand out, brands must embrace customer experience, and the data and technology that powers it, as a core competency. mParticle's CDP is purpose-built to help brands deliver an engaging, relevant, omni-channel customer experience in real-time. In this workshop learn how to:
Manage data from a variety of inputs (Web, Mobile, OTT, etc.)
Unify data against a single customer profile
Activate data across the ecosystem of marketing & analytics partners
Perform some governance over your data
10:40am - 12:10pm - Lego Labs: An Open Cultural Approach to Team Collaboration & Ideation. Jerry Becker, Product Manager & Darcie Fitzpatrick, Design Lead at Red Hat.
This hands-on and energetic workshop provides a taste of working with Red Hat, Open Innovation Labs (by playing with legos). The activity will simulate tools and techniques used during a Labs residency, touching on human-centered design, lean product practices, agile workflow, and continuous delivery.
Open Innovation Labs relies on open culture, open processes and open source to facilitate transformational change through immersive customer engagements, while building digital products. The goals and practices of the work at Labs focus on cross-functional collaboration and new ways of thinking, some of which will be shared during this session!
12:20pm - 1:50pm - Metrics to Optimize for Product Success. Christy Hollingshead, Director of Training in Solutions & Lane Hert, AM Team Lead at Heap Analytics.
Right now Product Analytics as a field tends to focus on bringing companies data. But what's elided here is the path from data to decision. Product teams don't need data for its own sake. They need data to make better products.
FAQ
What is #ProductCon?
ProductCon is a conference by Product School where attendees can delve into the future of Product Management. It will feature a mix of keynotes, breakout sessions, and panel discussions, all with the aim to provide actionable insights around how to build products users love.
Why should I attend?
Whether you're a startup or a Fortune 500, an individual contributor or leading a team, what you learn during ProductCon will transform the way you go about building products. You'll come away with concrete ideas you can apply in your company right away, along with fresh contacts that may become customers or partners in the future.
What does my FREE ProductCon ticket include?

It includes access to the conference to the livestream and you will be able to download the slides during the conference.
Where is the conference?

ProductCon will take place live, online on May 27th, 2020. We will send you the instructions to join on the day of the conference. The best part is you can watch the conference from the comfort of your own home, wherever in the world you are!
How can I access the VIP pre-conference workshops?
On May 26th (one day prior to the main conference), we will be hosting our private pre-conference workshops with hand-picked product leaders. If you want to get access to this exclusive networking opportunity with top minds in product, you can select the "VIP Experience" ticket at the checkout. Save the date, this is an all-day exclusive deep-dive into the world of product, that you do not want to miss. No refunds are allowed, but you can transfer the ticket to a colleague or a friend. Any ticket transfers must be made at least 48 hours before the event starts.
Who is attending?
Attendees of ProductCon are Senior Product leaders; Sr. Product Manager, Director of Product, Head of Product Management, VP of Product, Chief Product Officer.
How can I contact the organizer with any questions?
Will ProductCon be recorded?
Yes, it will be recorded by our multimedia team and the videos edited for your viewing pleasure. Make sure to get your free online ticket in order to receive all the recordings and slides.
How do I become a Sponsor?
What's the cancellation/refund policy?
We don't offer refunds.
** If you are a holder of an in-person ticket, you have been upgraded! You should have received an email with all the new conditions and perks added. You are still eligible for a ticket transfer to a colleague/friend or to another location, up to 48 hours before the conference. Please email us.
Disclaimer: by registering for this event I agree to receive email communications from Product School and all sponsor brands.