ProductCon is the largest product management conference series in the world.
About this event
DISCLAIMER: The date of the conference is not yet confirmed
ProductCon is the largest product management conference series in the world. It is organized by Product School and takes place four times a year in San Francisco, New York, London, and Online. The speaker lineup features product leaders from Google, Slack, Amazon, Airbnb, Netflix, Facebook and more.
You'll learn best practices behind the most successful products, and new trends in AI, VR, IoT and Blockchain. You'll also have the opportunity to interact with all our sponsor companies interested in recruiting PMs. Get ready to level up your product management skills, network with a global community of fellow product leaders and have a ball! Check out our latest conferences: Online 2021.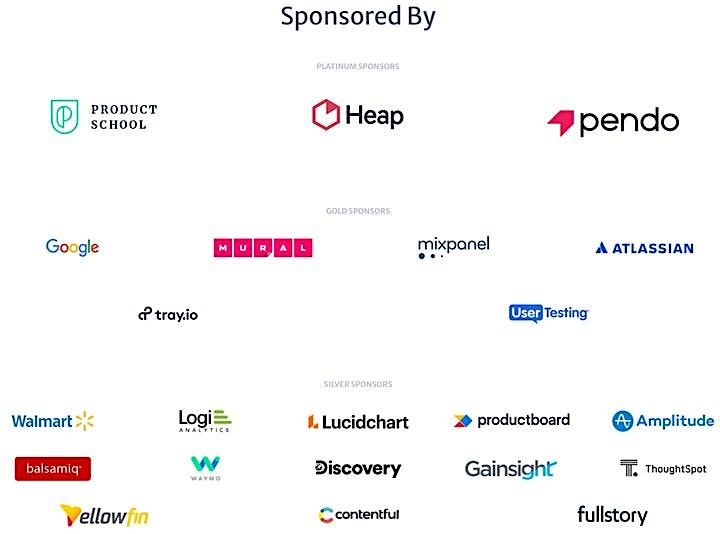 What is #ProductCon?
ProductCon is a conference by Product School where attendees can delve into the future of Product Management. It will feature a mix of keynotes, breakout sessions, and panel discussions, all with the aim to provide actionable insights around how to build products users love.
Why should I attend?
Whether you're a startup or a Fortune 500, an individual contributor or leading a team, what you learn during ProductCon will transform the way you go about building products. You'll come away with concrete ideas you can apply in your company right away, along with fresh contacts that may become customers or partners in the future.
Who is attending?
Attendees of ProductCon are Senior Product leaders; Sr. Product Manager, Director of Product, Head of Product Management, VP of Product, Chief Product Officer.
What does my on-site ProductCon ticket include?
It includes access to the conference and refreshments. You'll also get access to our official parties, some way cool swag, and all the recordings and slides.
I want to send my team. Are there group discounts?
Yes, we offer a Group Discount with 5 tickets for the price of 3! If you are more than 5 attendees from the same company, please get in touch with us to request a unique group discount.
Do you provide any discounts for students, non-profits, startups, etc?
Yes, we provide a limited amount of early-bird tickets. We also provide free tickets to watch the conference live online and receive all the recordings and slides afterwards.
Can you advise me on how to convince my boss that ProductCon is worth the investment?
Yes, you can download our convince your boss Google Doc template. 
How can I contact the organizer with any questions?
I'm international and need to order a visa in order to come to ProductCon. Can you help with this?
Yes, we can write you a letter of recommendation for you to apply for a visa. Get in touch with your name, business address, and ticket order number. Please check with your local government office for any visas waiting periods. If for some reason you cannot obtain a visa, we will refund your ticket.
Will ProductCon be recorded?
Yes, it will be recorded by our multimedia team and the videos edited for your viewing pleasure. Make sure to get your free online ticket in order to receive all the recordings and slides.
How do I become a Sponsor?
Are there volunteer opportunities for this event?
Yes! Apply here.
What's the cancellation/refund policy?
We don't offer refunds but you can transfer the ticket to a colleague or friend. Any ticket transfers must be made at least 48 hours before the event starts.
Organizer of #ProductCon London: The Product Management Conference
Founded in 2014, Product School is the global leader in Product Management training with a community of over one million product professionals. 
Our certificates are the most industry-recognized credentials by employers hiring product managers.
All of our instructors are senior-level Product Managers working at top Silicon Valley companies including Google, Facebook, Netflix, Airbnb, PayPal, Uber, and Amazon. 
With live online courses starting every month, it's easy to find an option that fits your schedule. Classes are held in the evenings or on weekends to ensure that both instructors and students can maintain their full-time jobs.
Unlike traditional MBA programs designed for students seeking roles within the finance and consulting fields, Product School's certificate programs are highly relevant for the next generation of software product leaders, and offered at a fraction of the cost.
Practical, hands-on and with ample group activities and real-world case studies, you'll learn how to build digital products from end to end, lead cross-functional teams and land your next product job or promotion.
In addition to training for individuals, Product School delivers custom product training to Fortune 500 companies seeking to upskill their existing teams or onboard new talent.
We are committed to pushing the product management industry forward. With this aim in mind, we published the Amazon bestseller, The Product Book, host over 1,000 free events per year, The Product Awards, and ProductCon, the largest multi-city conference in the world for product managers.