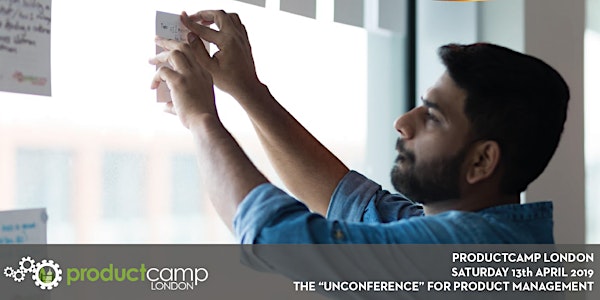 When and where
Date and time
Saturday, April 13, 2019 · 10:30am - 6:30pm BST
Location
etc.venues Marble Arch Garfield House 86 Edgeware Rd London W2 2EA United Kingdom
Refund Policy
Contact the organizer to request a refund.
Description
This event has now sold out. Please join the wait list to be alerted to tickets becoming available.
---




The "Unconference" for Product Management
ProductCamp is the place for active, novice, and experienced product managers to develop their craft, learn from each other, network in meaningful ways, and have a lot of fun. ProductCamp London will be held on Saturday, 13th April, at etc Venues Marble Arch.
ProductCamp is a product management "unconference" where the sessions are created and led by the attendees. Anyone can contribute a session and a formal presentation is not a requirement - a talk, workshop, Q&A, or open discussion are all possibilities. ProductCamp is informal and lots of fun - we'd love to see your ideas on the Session Wall. Come with your lessons, stories, or tips, or simply to participate in some great discussions
---
Changes to this Event
ProductCamp is free to attend and is sponsored by Mind the Product and Optimizely and made possible by volunteers. For the first time in 2019, there will be a registration fee of £20 which will be fully refunded to everyone who comes along, or to those who give us notice of cancellation by Tuesday, 9th April if they can no longer make it.
---
Schedule
Registration will begin at 9:30am, with the official kick-off at 10:30am. Sessions will run approximately every 30 minutes, with a break at 1:05pm for lunch, and the day will end at 6:00pm.
9:30 am - Registration and networking over coffee & a light breakfast (doors open from 8:30am)
10:30 am - Kick-off and the session board opens
11:00 am – Session 1 (35 mins)
11:45 am – Session 2 (35 mins)
12:30 pm – Session 3 (35 mins)
1:05 pm – Lunch break and networking
2:00 pm – Session 4 (25 mins)
2:30 pm – Session 5 (25 mins)
3:00 pm – Session 6 (25 mins)
3:30 pm – Coffee/tea, snacks, and networking
4:00 pm - Session 7 (35 mins)
4:45 pm – Session 8 (25 mins)
5:15 pm – Session voting & prize-giving
5:45 pm – Wrap up
6:00 pm – Drinks and more networking at a pub nearby
---
Frequently Asked Questions
Do I have to give a presentation? No. While we would love you to share your knowledge by leading a session, you are very welcome to just listen and learn.
If I plan on leading a session, can I sign up for a slot now? The schedule is created on the morning of the event, so please come prepared with a talk idea and you can put it up on the Session Wall when you arrive.
What resources will be available for my session? Each room will have access to a projector for presenting slides. Please bring any cables needed to connect to your device. Each room will also be provided with a flipchart and a limited amount of post-it's and Sharpies. If you need a large amount of stationery or requite print-outs, please bring this with you.
Can I change the name or other details on my ticket? Yes, just log in to Eventbrite and make the changes, following these instructions by the end of Thursday, 11th April.

What if I can no longer attend? Please let us know by Tuesday, 9th April to get your refund.
I attended ProductCamp London! How do I get my refund? Refunds will be issued to attendees within 7 days of the event taking place via Eventbrite. You must ensure you have signed yourself in at the event to get your refund, so please come and see us at the registration desk and get your badge.
---
Thanks to our Sponsors:


About the organizer
Mind the Product is the world's largest product management community, regular local ProductTank meetups in over 200+ cities around the world and online, as well as the biggest and best training events, workshops, and conferences in the world (in-person and online) - with annual events in London, San Francisco, Singapore, Hamburg, Manchester, and more. These are the go-to events for meeting other product managers, designers, and developers and honing your product craft.