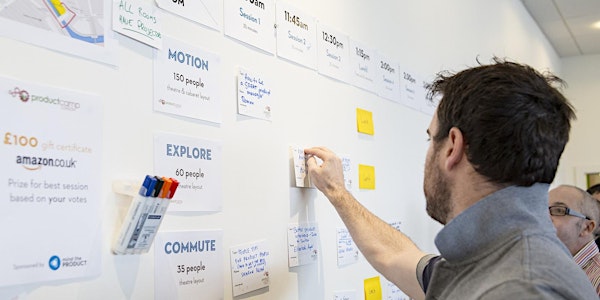 ProductCamp London 2016
When and where
Location
etc.venues Marble Arch Garfield House 86 Edgware Road London W2 2EA United Kingdom
Description
ProductCamp will be held on Saturday, April 16th, at the etc Venue Marble Arch in London.
It's a free event, made possible by sponsors and volunteers, and will run from the morning through to the early evening, giving ample time to meet, greet, learn and discuss. Keep the evening free as we'll likely gather for drinks and some more casual networking after the day.
Schedule:
Registration will begin at 10:00 am, with the official kick-off at 10:30. Sessions will run approximately every 30 minutes, with a break at 1:05pm for lunch, and the day will end at 6:00pm.
10:00 am - Registration and networking over coffee

10:30 am - Kick-off and the session board opens

11:00 am – Session 1 (35 mins)

11:45 am – Session 2 (35 mins)

12:30 pm – Session 3 (35 mins)

1:05 pm – Lunch break and networking

2:00 pm – Session 4 (25 mins)

2:30 pm – Session 5 (25 mins)

3:00 pm – Session 6 (25 mins)

3:30 pm – Coffee/tea, snacks, and networking

4:00 pm - Session 7 (35 mins)

4:45 pm – Session 8 (25 mins)

5:15 pm – Session voting & Prize

5:45 pm – Wrap up

6:00 pm – Drinks and more networking at a pub nearby
About ProductCamp
ProductCamp London is an "unconference" for product management, so the sessions for the day will be driven by the attendees. Everyone is expected to contribute to the day, so think about what you would like to do in a session (workshop, presentation, Q&A, or just an open discussion are some possibilities).
Tips for preparing a session:
We're here all day, and everyone's friendly. Be sure to come prepared to spark a discussion… After all, everyone's an expert in something, so spread the knowledge!
Remember, bringing a formal presentation is not a requirement. Come armed with lessons, stories or tips, and simply be prepared to participate in some great discussions.