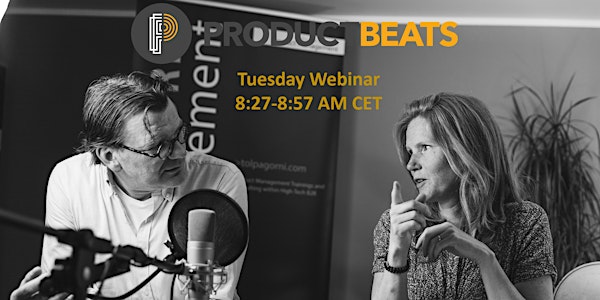 ProductBeats Tuesday Webinar
Energize your product week with thought leaders from around the world
About this event
Follow our free weekly Product Management Webinar series. Every Tuesday, there are reflections and presentations by thought leaders in Product from all around the World. Sharing their tools, methods and insights. See speaker list below.
Join us to catapult your Product Thinking forward. Register here to get weekly Webinar invitations with speaker info and topics:
>> https://content.tolpagorni.com/sign-up-for-webinar-series-1
Also, join the ProductBeats Community to get access to summaries, Q&A with speakers, additional Product Management tools from Tolpagorni Product Management, and the full speaker list:
>> https://productbeats.haaartland.com/
SPEAKER LIST
More speakers are listed. Here are the upcoming seven ones and topics:
24th of Nov - Melissa Klemke, Australia - Get it Done - Product Planning
1st of Dec - Malin Svensson, Sweden - Grow with your Product DNA
8th of Dec - Heikki Pulli, Finland - SALES love PRODUCTS
15th of Dec - Linda Krondahl, Sweden - Next Gen Hackathon accelerating innovation
22nd of Dec - Petra Färm & Magnus Billgren, Sweden - Christmas Special with amazing guests - prolonged to 1h.
5th of Jan - Your spot?
12th of Jan - Jennifer von der Heydt, Germany - Circular Economy - Is your product ready?
19th of Jan - Jeff Gothelf, Spain - How to make OKR:s work