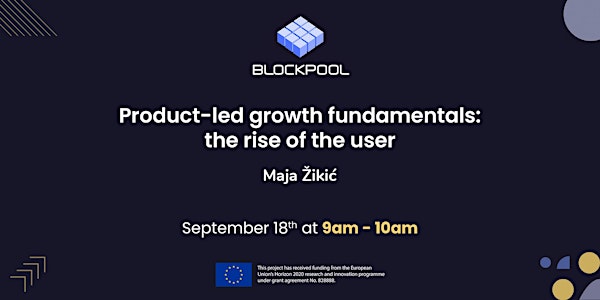 Product-led growth fundamentals: the rise of the user.
This presentation is part of the Blockpool online Bootcamp on September 17 -18, 2020.
About this event
Maja Žikić is a mentor in the Blockpool accelerator program. She will share her latest insights on the importance of the user in product-led growth fundamentals.
Bootcamp agenda
Tap on the links for more information about other events within the framework of the Blockpool Bootcamp: https://bit.ly/338Dwn9
Details
Location: Zoom (access data will be emailed shortly before the start of the event)
Language: English
Registration required via Eventbrite; dial-in via zoom (installation required); maximum number of participants: 300.
Disclaimer: This project has received funding from the European Union's Horizon 2020 research and innovation programme under grant agreement No 828888.