Event Information
Location
The York Butter Factory
66 King St
Melbourne, Victoria 3000
Australia
Description
AGENDA
SATURDAY NOV 23
9:00 Arrivals 9:30 Kick Off 9:35 PRESENTATION: Meet the Mentors "What are you good at?" = 5 mentors x 2 minutes each 9:45 PRESENTATION: Tools Overview = 12 partners with elevator pitches x 2 minute each 10:15 GROUP ACTIVITY: Team Formation Exercise 10:30 Claim a workspace and start working 11:00 TECHNICAL DEMO Location A: SAPI + Whereis API 11:20 TECHNICAL DEMO Location A: Adobe Phone Gap TECHNICAL DEMO Location B: BlackBerry 10 11:40 TECHNICAL DEMO Location A: Amazon Web Services TECHNICAL DEMO Location B: Ninjablocks 12:00 Lunch 12:30 PRESENTATION: Gus Balbontin (Topic: Team improv and the basics of innovation) 13:00 Work 13:30 WORKSHOP: Ideation - Idea Collection and Prioritisation 14:00 Work 14:30 PRESENTATION: Steve Sammartino (Topic: The biggest areas of startup opportunity) 15:00 Work 15:30 WORKSHOP: Persona Definition - Know your Market 16:00 Work 16:30 PRESENTATION: Phil Metcalfe (Topic: Common patterns in the launch of successful products) 17:00 Work 17:30 WORKSHOP: Scenario Definition - Describing the Problem 18:00 Dinner 18:30 Work 19:00 Work 19:30 TECHNICAL DEMO Location A: Wikitude (Webcast) 20:00 Work 22:00 Work 23:00 Work Overnight if Required
SUNDAY NOV 24
9:00 Work 9:30 Work 10:00 Brunch 10:30 PRESENTATION: Stuart Richardson (Topic: Getting Stuff Done - productivity culture in YBF) 11:00 Work 11:30 PRESENTATION: Scott Rogers (Topic: The need for a product vision) 12:00 Work 12:30 WORKSHOP: The Pitch - Selling the Idea to Others 13:00 Work 13:30 Lunch 14:00 Work 14:30 Work 15:00 Stop Work GROUP ACTIVITY: Pitches for 15 teams x 5 minutes each (including Q/A) 16:30 Judging Commences While judges deliberate: Announce side prize winners 17:00 Dinner 17:30 Winner Announcements Closing Comments 18:00 Closing Drinks
Calling all product managers, designers, developers, and marketers!

How creative can you be in just 33 hours? You'd be surprised at what's possible.
Join us and find out how much innovation you can unlock in a weekend.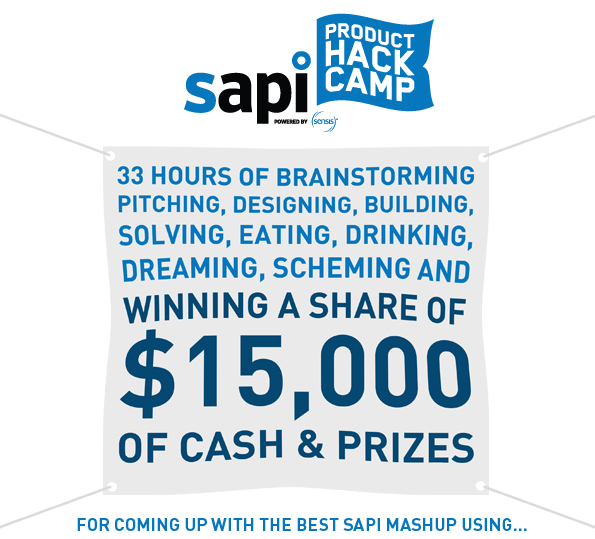 ---
This is your chance to hack together new product concepts and explore amazing feature ideas, play with a bunch of fun tools and mash some great brands together.
With inspirational talks by successful product management veterans, product demos, giveaways and a series of invaluable product management mini workshops hosted by Brainmates.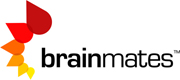 It doesn't matter who you are - designer, developer, marketing guru, student, analyst, or something else entirely - you've got worthwhile skills to contribute. Come with a team, or find some kindred spirits to partner with on the day.
PRIZES
Create something brand new and compete for the $5000 prize for the best product concept that mashes SAPI up with other partners.

Or bring your existing products and teams to the party, and compete for a $5000 prize for best SAPI integration with an existing product.

And more!
$500 prize to the runners up in each category.
$500 prize from Jeppesen for best use of thier Journey Planner API mashed up with SAPI
Adobe will award 3 months free acess to Creative Cloud for best use of Phonegap Build using SAPI

Best Mashery Hack (mashup of Sensis API and any other API in the Mashery API Network) wins a Mashery Red

Jambox

($199 value)

Two pairs of Beats Studio Heaphones for best SAPI + MOG Music Streaming Mashup
More gadgets!! Amazon Kindles - BlackBerry PlayBooks - an iPad Mini from Twilio.
Free tickets to workshop your app with app guru Mike Lee, mayor of Appsetrdam (value of $275 each)
Place in the next Brainmates Essentials of Product Management course (value of $2799)
3 free PRO licenses for the Wikitude SDK
OPTIONAL SESSIONS THROUGHOUT THE WEEKEND
Adobe Phonegap Build Workshop (20 minutes)
Amazon Web Services Workshop (20 minutes)
Ninjablocks Workshop - Working with Internet Connected Objects (20 minutes)
Startup advice from Stuart Richardson, Founder of Adventure Capital (15 minutes)
Stories From the Trenches – What Our Mentors Have Learned About Product Development (15 minutes each)
BRAINMATES SESSION 1: Ideation - Idea Collection and Prioritisation (20 minutes)
BRAINMATES SESSION 2: Persona Definition - Know your Market (20 minutes)
BRAINMATES SESSION 3: Scenario Definition - Describing the Problem (20 minutes)
BRAINMATES SESSION 4: The Pitch - Selling the Idea to Others (20 minutes)
Pitch practice sessions with our mentors.
TERMS AND CONDITIONS
Prior work is not allowed when competing for the 'Best new product' prize.
Prior work is acceptable when competing for the 'Best SAPI integration with an existing product' prize.
All Hackathon participants must register on this website before Saturday 23rd Nov 2012.
The development tools, frameworks and application focus are entirely up to the participants but all final submissions must integrate the Sensis API to be eligible for any prize.
Participants are expected to BYO tools & software necessary to build their entry.
Rules are subject to change if necessary at the discretion of Sensis & participating partners.
Participants must present their project concepts to the judging panel at 3:00pm on on Sunday 25th Nov 2012.
All prizes will be awarded after 5:00 PM on Sunday 25th Nov 2012.
All design and code assets remain intellectual property of the individuals who created them.
To access a third party API, you will either be required to enter into a separate agreement with the API provider.
Sensis may use your business name and the name of your product and screenshots of your product in our public statements and marketing materials.
Follow @SensisAPI and #sapihack for updates.
Any questions?api@sensis.com.au
Get a headstart on the competition and register for your Sensis API key today!

Date and time
Location
The York Butter Factory
66 King St
Melbourne, Victoria 3000
Australia