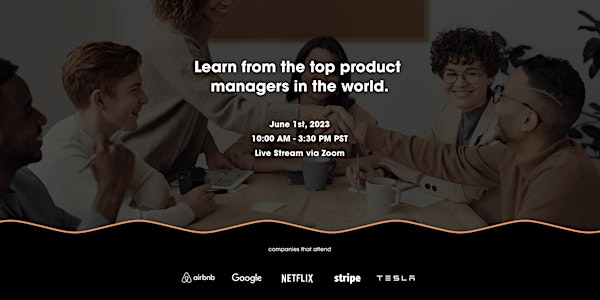 Product Festival
Learn from the top product managers in the world.
Date and time
Thu, Jun 1, 2023 10:00 AM - 3:30 PM PDT
Refund Policy
Refunds up to 30 days before event
About this event
5 hours 30 minutes

Mobile eTicket
Why attend?
Are you interested in learning how to build great products? We'd love to have you at Product Festival 2023. This is a one-day online conference where you'll get practical advice from some of the world's leading product people on how to make your users happy and how to become a great product leader. Get a view into product-focused companies and learn about their processes, how they tackle problems, and important things that they've learned.
Schedule
June 1st, 2023
Live Stream via Zoom
10:00 AM PST
Victoria Duggan
Senior Product Manager
Shopify
Platform Product Management: Navigating the Unique Challenges and Opportunities
Gain insights into the distinct responsibilities and challenges faced by platform product managers. This talk will explore strategies for managing multiple stakeholders, well-designed APIs and highlight the unique opportunities that come with overseeing large-scale underlying technologies.
10:30 AM PST
Ammad Raja
Product Manager
Ex-Uber Current: EarnIn
Stakeholder Synergy: A PM's Guide to Effective Influence & Collaboration
Discover the essentials of effective stakeholder management as a product manager in this fast-paced session. Learn how to identify and prioritize critical stakeholders, build trust and rapport, and master techniques for influencing, persuading, and resolving conflicts. You'll pave the way for successful product outcomes and a harmonious working environment by fostering collaboration and aligning interests.
11:00 AM PST
Rongfei Lu
Product Manager
Uber
10 lessons learned from an Uber PM.
This presentation will dive into the tricky problems that PMs encounter each day: What if your engineers propose ideas outside of your roadmap? How to deal with highly charged political issues? What to do if your product did not achieve the OKRs as expected? Those 10 lessons will help good product managers step up to the next level.
11:30 AM PST
Julia Maurer
Senior Product Manager
Spotify
How to build user-centric Monetization products
Monetization and retention sound like incongruent goals for many product organisations leading to Growth PMs and Monetization PMs quarrelling over AB test outcomes and strategy. I will share my experience on how to rediscover your role as a Monetization PM and how to create a sustainable monetization strategy. This talk is based on my experience across Spotify, Carousell and OLX and I am excited to hear from the audience how they have navigated through similar challenges.
12:00 PM PST
Lunch Break
12:30 PM PST
Manav Khandelwal
Product Manager
Stripe
Aligning business outcomes with your product roadmap
1:00 PM PST
Jacqueline Deprey
Senior Product Manager
Dropbox
Preparing for Takeoff? Ensure Your Success with an Internal Product Launch
Whether it's your first or hundredth product, launching a product in the external market can be an exhilarating yet stressful time. This talk plans to cover scrappy ways to gauge product-market fit, test for bugs, and generate feedback to ensure the best end-user experience!
1:30 PM PST
Bill Guan
Senior Product Manager, Consumer Growth
Yelp
How to craft a narrative throughout the product journey
I will talk about how to tell and reinforce a consistent narrative leveraging key product touch points including proposal, design, build, experimentation, analysis, and launch stages. This narrative can benefit you to get people bought into your vision, provide clarity for stakeholders, and get the alignment you need to be successful as a product manager.
2:00 PM PST
Matt Landry
VP Product Management
Cisco Wireless
How to balance the need of delivery and discovery
As companies scale from startup to established, product managers are tasked with delivering outcomes that cater to growing customer needs without losing sight of innovative advances. In this session, we'll talk about tackling the innovator's dilemma – the pull to focus on customer specific deliverables and the push to discover new uncovered directions.
2:30 PM PST
Raheem Mussa
Senior Product Manager
Amazon AWS
Navigating the PM Landscape: Comparing Roles at Startups and Large Companies
How PMs navigate the unique challenges and opportunities presented by different company sizes and develop strategies to excel in your own PM career, regardless of the company size.
3:00 PM PST
Razeen Jivani
Senior Product Manager
DoorDash
Harnessing the Power of Creativity: Techniques for Success as a PM
Exploring our creativity is necessary to develop product strategy, solving problems or just preparing for the next step in your career. Often faced with "product managers block"? Lets explore ways to tap into our imagination and generate new ideas, using examples of former artists and creators. This talk will provide tools to help you get better at storytelling, idea generation and product innovation.
"Fantastic event! Hands down the best conference I've been to."
— Anna Sparrow, UNIVERIS
"Informative. Inspiring speakers. Great take aways."
— Ashley Hamilton, Demac Media
"Great opportunity to get insight into practices at companies."
— Shehzad Akbar, Architech
"Glad I took the leap and came to this event."
— Jack Lee, MDDT
Official site: productfestival.com