Description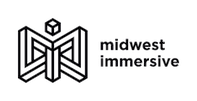 Midwest Immersive presents Ian Forester & Mariana Acuña Acosta
About The Speakers:
Ian Forester is the Chief Creative Officer and Co-Founder of VR Playhouse. He has written and directed VR content for Red Bull Media House and Discovery Channel and managed 15 VR projects in 2015. Before entering VR, Ian was an award winning theater director and Performance Studies nerd focused on wildly impractical immersive theater-making. Ian cut his teeth in the same basement theaters of Chicago that saw the origins of Broadway productions of Our Town, August: Osage County, and A Steady Rain. He then moved to Los Angeles where he continued to develop and produce new works as the Artistic Director of Needtheater, winning several LA Weekly awards for his first production with the company. After experiencing the Oculus Rift in 2013 he abandoned the stage and immediately spent all of his money on GoPros. Ian holds a Bachelor of Science in Performance Studies from Northwestern.
VR Playhouse is a Los Angeles-based creative studio and full-service production company specializing in virtual and augmented reality. With a fervent passion for transporting viewers through meaningful experiences in immersive media, VRP has amassed a specialized team with diverse backgrounds ranging from production to animation, journalism, VFX, theater and live events. From creative to production and distribution, VR Playhouse delivers complete projects through its cohesive VR pipeline.
Boasting a broad range of projects in the commercial, live sports, cinematic narrative and high-end real estate industries, VR Playhouse's original VR content transports viewers into unexplored times and locations, allowing audiences to transcend their daily lives and experience new perspectives and emotions.
Mariana Acuña Acosta is the Media & Production Creative Manager with The Foundry, and the founder of Jolt VR, a VR company with offices in both Los Angeles and Mexico City. Her focus for the last two years has been specializing in Virtual Reality Postproduction workflows as The Foundry is actively embracing the brave new world of virtual reality. She leads the Creative Team in the creation and deployment of training, software testing and demo materials, driven by client feedback. Mariana travels globally working with studios to find solutions to streamline their post production workflows. Prior to joining The Foundry she worked as an On set supervisor and Senior Compositor with over 10 years of experience in the motion picture industry working at places such as Sony Imageworks, CIS Hollywood, Digital Domain, HBO, Columbia Pictures, Fuse FX, amongst others. She is an active participant of Women in VR and VRLA, as Los Angeles has become a hotbed for VR production and the largest VR community worldwide. With over 20 years of experience working internationally in VFX and connections to almost every company working in the VR space, Mariana is well suited to provide a thirty thousand foot view of what is going on in VR from both a technical and global perspective
---
EVENT SCHEDULE
5:30 pm - Networking and demos begin
6:15 pm - Presentation with Ian begins
6:35 pm - Q&A with Ian
6:55 pm - Presentation with Mariana begins
7:15 pm - Q&A with Mariana
7:35 pm - Networking and demos resume
8:00 pm - Event ends, after-party at Moe's Cantina / 155 W. Kinzie
---
AFTER PARTY
The after-party celebration will be at Moe's Cantina, located at 155 W. Kinzie, a 3-minute walk from the Merchandise Mart. Specials: 1/2 off of all small plates, $4 Budlight bottles, $6 Sangrias, and $8 Moe's Margaritas.
---
ELEVATORS
The Merchandise Mart is one of the largest building in the world, with 4,000,000 square feet of floor space, and has over 30 different elevators. The elevator banks we recommend you take are:
Main/Corporate Elevator Bank: This bank is closest to The Merchandise Mart main entrance directly parallel to the Chicago River. Take these up to the 12th Floor, exit the elevator bank, and take a right down the long hallway to 1871.
Orleans Street Elevator Bank: This is the elevator bank closest to the 1871 entrance on the 12th Floor. This elevator is located closest to Orleans/Merchandise Mart Plaza Drive, by the Divvy Bikes.
---
PARKING
Luxe Valet can meet you at The Merchandise Mart and valet park your car (they can even wash and fuel it!) and will return it whenever you are ready to leave. Download the Luxe App on iOS or Android. Enter promo code "1871Guest" under Payment for one free park ($15 credit) at The Merchandise Mart.
SpotHero can help you secure and pay for a parking spot in advance, usually at a discounted cost. Visit the Storytelling in VR SpotHero Parking Page or download the iPhone or Android app to book your spot from your phone. New to SpotHero? Enter promo code MWIMMERSIVE at checkout for an extra $5 off parking!
Date and Time
Location
1871 - Chicago's Technology & Entrepreneurship Center
222 W Merchandise Mart Plaza
Suite 1212
Chicago, IL 60654