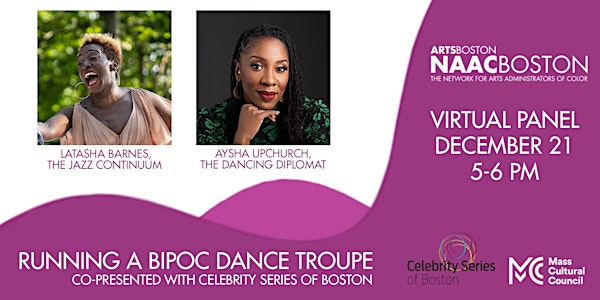 Producing and Managing a BIPOC Dance Company
Join The Network for Arts Administrators of Color Panels Series |Producing and Managing a BIPOC Dance Company
About this event
NAACBoston & Celebrity Series of Boston present: Virtual Panel
Producing and Managing a BIPOC Dance Company
Welcome all members to engaged to join us on December 21st!
The NAACBoston Mentorship & Sponsorship Program (MSP3) is in its third year, MSP3's builds upon research showing both that arts administrators of color are under-mentored and that mentoring under-represented categories of professionals (women and people of color)—by itself—does not drive systemic change in the current power structures of our predominately white institutions and sectors.
This year's program is themed around Connections, building on the lessons from the 2019 to 2022 programs to address the ever-changing needs of BIPOC arts administrators as we continue to navigate the pandemics of racism and COVID-19.
This year's program will include workshop series and tools centered on reconnecting and rebuilding the Boston arts sector, adapting to in the post-pandemic landscape and finding new ways to create equity for all.
Come connect with NAAC!
Program Outline:
5:00 PM: Moderated by Aysha Upchurch
Guest Speaker: Dancer, LaTasha Barnes' The Jazz Continuum centers the prolific artistry of Jazz music and dance as a cornerstone of Black American culture and community. Featuring an intergenerational and multidisciplinary cast of Black dancers and musicians, this offering to the continuum celebrates the joy and sacred power of the Black experience to each artist and the ensemble.
Barnes reaches back nearly 100 years, making visible the connections between the past and today's Black dance expressions: House, Hip-Hop, and more. The New York Times said of the Bessie Award-winning Barnes: "Barnes is especially extraordinary for the way the past and the present can pass through her." Her facilitation of the casts' exploration of their relationships to Jazz and its progenies through mind-bending musicality spectacular athleticism, and boundless joy, shine through the work's expansive and riveting choreography.
The Jazz Continuum celebrates music and dances from across the diaspora, with works drawn from Harlem, Chicago, New Orleans, Cuba, Angola, and Brazil. It conjures the spirits of Black dance elders, including Norma Miller Frankie Manning, Earl "Snakehips" Tucker, Marie Bryant, and Marjory Smarth, and many others.
Be prepared to witness and celebrate the life and lives of the continuum, visit, https://www.latashabarnes.com/
5:45 PM: Q&A
6:00 PM: Thank you & Announcements

NAACBoston supports self-identifying arts administrators of color, such as Asian American, African American, Native American, Native Hawaiian, and Pacific Islander, Latin American, and multiracial individuals. The Network is open to self-identifying BIPOC individuals working in a full-time or part-time capacity at non-profit or for-profit/social enterprise arts and culture organizations in Greater Boston, as well as freelancers and consultants. There is no membership fee to participate.