Description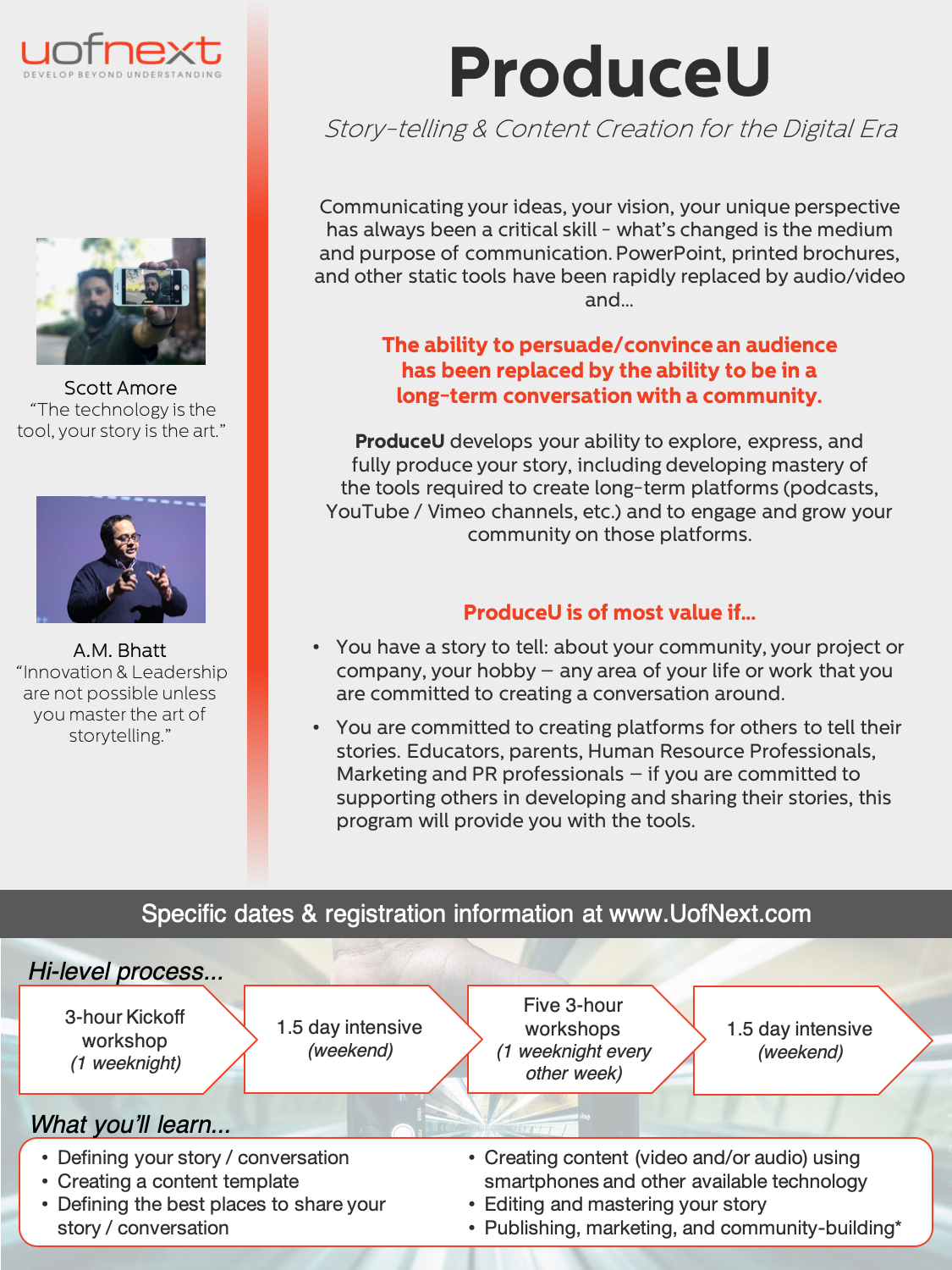 Our ProduceU programs develop your ability to explore, express, and fully produce your story, including developing mastery of the tools required to create long-term platforms
Communicating your ideas, your vision, your unique perspective has always been a critical skill - what's changed is the medium and purpose of communication. PowerPoint, printed brochures, and other static tools have been rapidly replaced by audio and video and the ability to persuade or convince an audience has been replaced by the ability to be in a long-term conversation with a community.
By the end of this program, participants will:
Conceptualize, plan, create, and edit a complete project - either a web-ready video or an iTunes-ready podcast (including sourcing music and sound effects that will add to the impact of your video or podcast).


Create a custom online platform for themselves or their business (by establishing one or more on-line content channels - YouTube, Vimeo, iTunes, etc.)
Course Schedule

Kick-off Session
Tuesday 1/29, 6:00 pm - 9:00 pm
First Weekend Intensive
Friday 2/1, 6:00 pm - 9:00 pm
Saturday 2/2, 9:00 am - 5:00 pm
Workshops
Tuesday 2/19, 6:00 pm - 9:00 pm
Tuesday 3/5, 6:00 pm - 9:00 pm
Tuesday 3/19, 6:00 pm - 9:00 pm
Tuesday 4/2, 6:00 pm - 9:00 pm
Tuesday 4/16, 6:00 pm - 9:00 pm
Final Weekend
Friday 4/26, 6:00 pm - 9:00 pm
Saturday 4/27, 9:00 am - 5:00 pm
[Registration includes lunch during each full-day session]


Prerequisites & Technical Requirements:
Participants must have either:
a laptop - ideally a MacBook (PC users will edit and master videos in Youtude Creator Studio and other free applications) OR
an iPad (with iOS 11 or more recent)
For video projects:
participants must have access to their own recording equipment (an iPhone or good quality smartphone camera is perfectly suited for high-quality web video production)
This program will take place at Uof Next's state-of-the-art eucational facility @ District New Haven. Free parking on premises. 2.5 miles from Union Station.
Organizer of ProduceU: Storytelling & Digital Content Creation
U of Next provides coaching and developmental experiences and long-term learning communities that proceed from the premise that the most urgent need in education is not certifying more Experts, but cultivating of more self- and other-aware human beings. As the education arm of District New Haven, U of Next offers both corporate and community programs based on our learning over the last 25 years as consultants and educators.
U of Next designed and runs the M.A. in Leadership & Future Design program at TGI and, over the past 25 years, has developed leaders from large systems such as Johnson & Johnson, IBM, Facebook as well as educators and social-impact entrepreneurs.