Description
AN INTRODUCTION TO PODCASTING
with Chris Krimitsos, Chief Creative Officer, Podfest Multimedia Expo
Learn the techniques to become a content creator and produce your own engaging, memorable podcasts!
This two-part workshop will introduce you to the basics of developing and producing your own podcast, giving you the tools that you need to let your voice be heard!
You will:

1. Understand the process of developing a podcast
2. Learn how to produce content for a podcast
3. Create a mini-podcast, get feedback and be ready to share
Participants will work in teams to create content, becoming familiar with the equipment and software and launch a mini-podcast.
***Please note that no equipment is required for your participation. We will provide you the necessary equipment for this workshop***


If you have registered for the ContEnt Marketplace on October 3-4th, you are eligible for complimentary admission to the Introduction to Podcasting workshop. Please email Miriam Kohel at mkohelze@mdc.edu with your registration information.
If you are a Miami Dade College student, faculty, staff or alumni, please email Miriam Kohel at
mkohelze@mdc.edu
to obtain a discounted price.


SESSIONS
July 9th 6:30 - 8:30 P.M.
July 11th 6:30 - 8:30 P.M.
*** Participants are expected to attend both sessions.***
THE INSTRUCTOR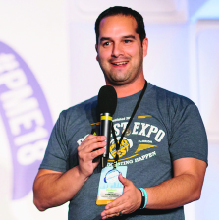 Chief Creative Officer at Podfest Multimedia Expo
Talk to people that Chris Krimitsos has spent any amount of time with and you'll hear descriptions like "changemaker," "motivator," "catalyst for change," and "inspiration." Whether it's a major corporation's CEO or a solopreneur, Chris is passionate about being a difference maker. Unlike the featured guest who comes in and delivers a keynote and leaves, slipping out the back door like a national celebrity, Chris Krimitsos is the passionate professional who hangs around talking to anyone who wants his time – to listen, evaluate, and affect change.
Chris grew Podfest Multimedia Expo to over 500 attendees in just three years, with an expectation of 1,000-plus in the fourth year, thanks to his ability to communicate key messaging to that community. Podfest Expo is a community of people who are interested in and passionate about sharing their voice and message with the world through the powerful mediums of audio and video.
Channeling that energy into creating a documentary, Chris is now making an impact globally. Under the CK Productions banner, as a filmmaker and producer, Chris has successfully birthed The Messengers: A Podcast Documentary, which has obtained worldwide distribution and theatrical screenings. With a unique skill set programmed to stay out in front of rapid change, Chris Krimitsos – as a speaker, as a business leader, and as a source for growth – is empowering audiences toward better opportunities for succeeding in business in the 21st century.