Description

Process Column Chromatography
Bioprocessing Professional Advancement & Training (BPAT) 
Industry Training Program
Date: Jan 29 - 31, 2018
Location: City of Fremont EOC, 42551 Osgood Rd., Fremont, CA 94539

Who Should Apply?
KGI has designed this course for biopharmaceutical operations professionals who wish to update their basic knowledge of and skill in process column chromatography. It is also an excellent training for those seeking to enter operations, as well as for those in other functions – such as business development – who need a robust appreciation of all aspects of biopharmaceutical manufacturing.

Course Program Synopsis
Liquid process column chromatography is by far the most important unit operation in the biopharmaceutical industry for purification of biologics. A modern platform process for purification of monoclonal antibodies, for example, typically includes two or three chromatography unit operations. The impact of chromatography on product quality attributes and process economics is significant. Major advances in scale-up and scale-down methods combined with the introduction of new resins and column packing techniques are transforming the way chromatography columns are designed and operated. In the biopharmaceutical industry, the rapid advances, combined with increasingly stringent regulatory expectations for biotherapeutics, require focused training of new bioprocess scientists and engineers who enter biomanufacturing, as well as upskilling practicing professionals in the field. This 2½ day course in process column chromatography is designed and delivered by industry and academic experts, specifically to advance the participant's technical understanding of process chromatography for biomanufacturing.

Topics covered and key learning outcomes
Commercial scale applications of preparative chromatography for biologics.

Chromatography platform – Affinity, ion exchange, hydrophobic, mixed mode.

Bioprocess design and operation aspects of chromatography.

Understanding linear and non-linear adsorption equilibria.

Understanding chromatography resolution, purity and yield

Understanding gradient and step elution – Why and how

Packing techniques and evaluation for commercial-scale chromatography.

Impact of packing on column purification performance

Understanding column pressure drop and its impact on column performance

Scale-down and scale-up methods in chromatography

Modeling chromatographic operation

Industrial CASE Studies – include proteins and monoclonal antibody therapeutics

Membrane vs. column chromatography

Chromatography process economics

Resin media selection

Column sanitization

Recent advances in chromatography – towards continuous chromatography.

Chromatography control and monitoring.

Process optimization and tech transfer to manufacturing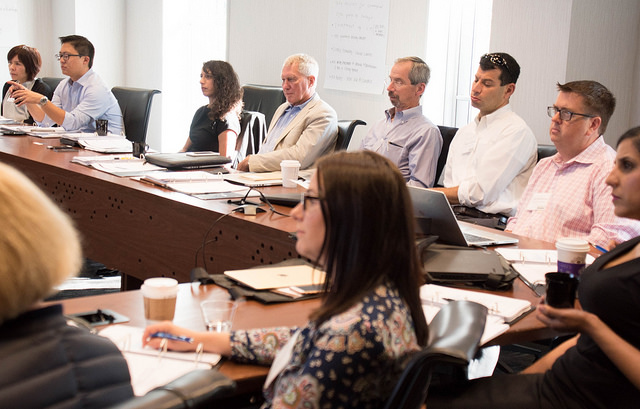 Quotes from previous course attendees
"The BPAT Courses have been an exceptional tool for learning the in-depth theory behind the bioprocessing techniques that we work with every day."
- Victor Constantinescu, Manager, Purification, SHIRE
"Besides delivering targeted subjects, one of the best parts about the KGI BPAT workshop (Viral Safety in Biomanufacturing) was the high ratio of instructors to students - creating a comfortable intimate setting that fostered interactive learning. This approach is unique to anything I've experienced to date, and as a result, I was able to conveniently build relationships with SMEs in the field,"
- Sheldon Mink, PhD, Sr. Manager, QC Virology, Regenron, Inc.
"Every time I visit KGI for their BPAT courses, I'm amazed by the engagement from the instructors, especially Dr. Parviz Shamlou...KGI is a well-respected school within the biopharma industry and their campus is modest for what they have to offer."
- Christine Bui, Sr. Manager, Manufacturing, Portola Pharmaceuticals, Inc.

Cost and Registration
The Early-Bird fee is $1,250 per attendee

After Dec. 31, 2017, the registration cost increases to $1,500

Included within the fee are all supplies, handouts and materials, instruction, daily breakfast, lunch, and two dinners

Accommodations and travel expenses are the participant's responsibility
*There is a special discount rate for KGI Alumni! For further information and alumni pricing, please contact:
Christa Oudshoorn-Hobo

KGI Alumni Engagement Manager

909-607-8592

Christa_Oudshoorn-Hobo@kgi.edu

Cancellation
Cancellation requests for refunds due to cancellation for any reason must be made in writing to diana_bartlett@kgi.edu.
Requests for refunds received by between Nov. 1, 2017 thru Dec. 31, 2017 will be made, minus a $500 processing fee.
NO refunds will be given for any reason starting Jan. 1, 2018.


---
For further information, contact:
Diana Bartlett
Associate Vice President of Corporate Partnerships & Education
909-607-9864
diana_bartlett@kgi.edu
www.kgi.edu