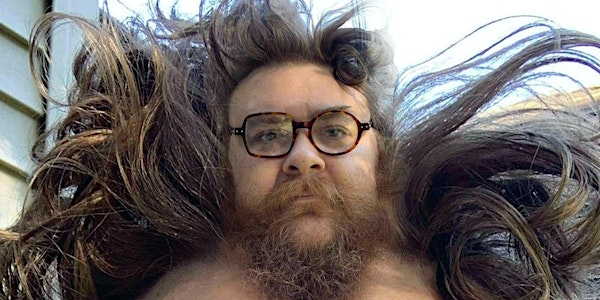 Location
DC9 Nightclub
1940 9th St NW
Washington, DC 20001
About this event
Proof of Vaccination REQUIRED
DC9 will require proof of vaccination for entry. Physical card or digital photo will be accepted. Proof of vaccination must match name on photo ID and will be checked at the door.
You can find more information HERE.
Things change quickly and we are all in the same boat trying to navigate and do our best to keep our concerts and communities safe. We appreciate your patience and understanding with our staff as we navigate this together. Thank you for your cooperation & continued support!
This is an ever changing situation and we reserve the right to change these policies at any time.
PROBLEMS

WEBSITE | FACEBOOK | INSTAGRAM | SPOTIFY | SOUNDCLOUD

PROBLEMS is the subversive dance music project of me, Darren Keen from Nebraska. I have been making solo computer music since 2003 with various projects including The Show is the Rainbow and Touch People.

After endless years of living self destructively, touring almost non stop, I am finally learning about self love and self care which has led me to this project. With actual focus and intent, I have been able to create dance floor ready tunes with interesting, sacred melodies, and text to speech vocals about things that are truly interesting to me, which lately is Pekingese dogs.

With my upcoming releases on Orange Milk Records and Orb Tapes I'm hoping to share my vision with everyone. I've been pounding the pavement and touring a lot already, playing shows with bands like Dan Deacon, Lightning Bolt, FM (Black Dice) and Vision Video, along with playing electronic shows in support of UZ, Sumthin Sumthin, Jantsen and others. This duality between punk / noise royalty, and new EDM type artists is something I find extremely interesting and I'm excited to see where it lands me next.

Come to a show. I wanna see a pic of your dog at the merch booth. I'll take a green tea. If you know anyone that can help book me a show in Cairo, please hook me up.

Lemz

WEBSITE | FACEBOOK | INSTAGRAM | TWITTER | SPOTIFY | SOUNDCLOUD

Lover / Fighter / Pillow Biter. Lemz makes the dance floor feel like both a home and an escape. As a DJ/producer, his club sets and original productions run the gamut from disco, house, techno – even a bit of top 40 pop when the time is right – plus he can read almost any crowd like an open book. Behind a pair of Technics since the age of 12, Lemz's early foundation in the craft led to a seemingly effortless skill that belies his laser-driven focus and constant challenge to surprise, and thrill, his audiences. Born in California and raised in Baltimore, the now DC-resident has racked up an impressive roster of parties (BENT, Sleaze, Rough House) and residencies in our nation's capital with seemingly no intention of slowing down. It may look like he wants to rule the scene, but he really just wants to make you dance.

Hi$To

WEBSITE | FACEBOOK | INSTAGRAM | TWITTER | SPOTIFY | BANDCAMP | SOUNDCLOUD

HI$TO is a Baltimore based Producer / DJ /Visual artist that is out of this world with his intergalactic and diverse sounds. He got his start in making music in 2008 while attending high school in Houston making Baltimore Club remixes and uploading them on Myspace and Soundcloud and started generating buzz in the club community.

In 2010, He moved to Baltimore to pursue his career as a DJ/ Producer after graduating and has made name for him self ever since constantly releasing mixtapes, remixes, and playing shows locally leading up to his national success with his electric / gritty sounds and his event series PSYCH'D.

In 2015, HI$TO wanted to go a more original route and released his debut l EP "YUNG SPVCE CADET" via Space is the Place records. which was featured on VICE saying that it sounds like "Baltimore Club on Mars" lead him to play his first festivals and go on tour.

While continuing to put out EP's, remixes and other originals over time, he decided to move to Los Angeles in 2018 to take his career to another level which lead to starting his first full length album "Cosmic", working on his brand Sector Zero Zone, and tapping into the world of acting.

While in LA, he got invited to the set of HBO's Insecure to be an extra in season 4 (2020), and led him to have a production credit for the final season in 2021. He is currently learning how to write and film.

Now in 2022, back in Baltimore to release his project, he has high hopes and determination of continuing to innovate and make a mark in this world. Tap in the world of HI$TO.