Problem Solving for Dentures, and An Endodontic Approach from Root to Crown
Description
PROGRAM OVERVIEW
By enrolling in this program you agree to participate in the following sessions:
Session I - Tips 'n Tricks: Problem Solving for Dentures
Course Overview
This program is intended for all Dentists, Technicians, and Assistants involved in the fabrication and delivery of dentures, from beginners to fully experienced. This 2 hour lecture discusses several basic factors of complete denture construction and solutions to problems encountered during their fabrication and delivery.

Educational Objectives
Discuss esthetic factors and how they apply a proper looking denture.
Suggest methods of mounting casts which can be applied to any articulator and will ease the arrangement denture of teeth. Using tools and materials readily available in every denture department. Positioning of posterior teeth to simplify articulation.
Various denture base materials and the differences in handling and physical properties. Press packing, Pour resins, Light Cured and Injection techniques will be discussed
Tips and suggestions to make the job more efficient and improve the accuracy of the final restoration.
About the Speaker
Kristi K. Neff, CDT – Kristi is currently employed with DENTSPLY Prosthetics as a Technical Specialist with over 20 years of experience in the dental laboratory field. Kristi joined our Trubyte/Austenal team in 2002 and has become an integral part of our Technical Center out in York, Pennsylvania helping to train our customers in our various denture and partial product lines, and also working closely with our sales reps in the field.
Kristi started at DENTSPLY Prosthetics with the launch of our Eclipse® Prosthetic Resin System, and has become proficient with all of our Trubyte and Austenal products lines. Kristi is handles many of our Complete Denture Workshop programs for Prosthetics throughout the year, she also lectures and handles training for government facilities and schools. Kristi lectures extensively throughout the United States and internationally. Prior to working for DENTSPLY Kristi worked for an in-house denture lab on the lab side, and also handled chairside responsibilities. Kristi is a Certified Dental Technician.

---
Session II - END-O in Mind: An Endodontic Approach from Root to Crown
Course Overview
This course is designed to walk dentists through the importance of "end-in-mind" endodontics. The course focuses on the ultimate goal of the single visit Endo/Resto appointment: preservation and extension of the tooth life cycle. The goal of this course is simple: reinforce the value of combining Endo/Resto into a single visit appointment thereby preserving teeth, providing exceptional service to the patient, and improving practice profitability.

Educational Objectives
Diagnose and Treatment plan Endo/Resto procedures
Discuss minimally invasive techniques for endodontic therapy including access and dentin preservation
Understand the concepts surrounding when and where to use posts
Learn the value of single visit Endo/Resto procedures for both patient and profits
ABOUT THE SPEAKER
Timothy M. Bizga, DDS, FAGD is a general dentist practicing in Cleveland, Ohio. His practice focuses on comprehensive care, with Dr. Bizga's special interests in implants, cosmetics and facial aesthetics. His background in dentistry is lengthy and diverse. Once a former chairside assistant, he also worked as a dental lab-technician, making his perspective unique among others in the field of dentistry. He graduated from Saint Louis University with a BA in Biology, before receiving his DDS from the University of Michigan School of Dentistry, at which time he was the recipient of the Francis B. Vedder award for excellence in prosthodontics.
He is currently a member of the American Dental Association and the Academy of General Dentistry. He is a graduating member of the Whitecap Institute, where he received advanced implant training. Dr. Bizga is a Certified John Maxwell Speaker/Trainer/Coach, a certified DISC profile trainer, clinical consultant for The Dental Advisor and member of Catapult Speakers Bureau. Dr. Bizga gives back to the community via dental missions around the world.
---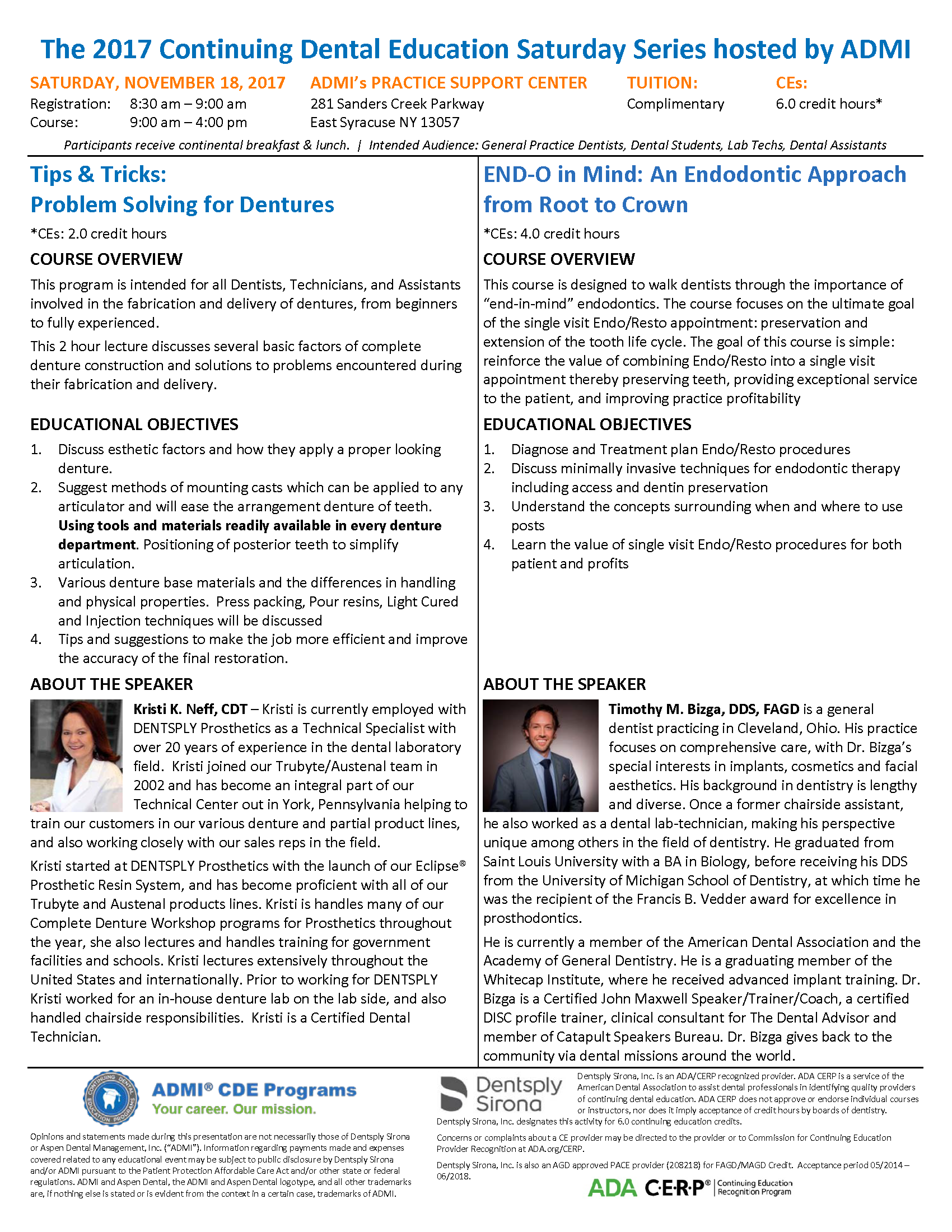 ---
For a copy of the course flyer, please email CDE@aspendental.com.
Questions? Please email CDE@aspendental.com.
---
Dentsply Sirona, Inc. is an ADA/CERP recognized provider. ADA CERP is a service of the American Dental Association to assist dental professionals in identifying quality providers of continuing dental education. ADA CERP does not approve or endorse individual courses or instructors, nor does it imply acceptance of credit hours by boards of dentistry.
Dentsply Sirona, Inc. designates this activity for 6.0 continuing education credits.
Concerns or complaints about a CE provider may be directed to the provider or to Commission for Continuing Education Provider Recognition at ADA.org/CERP.
Dentsply Sirona, Inc. is also an AGD approved PACE provider (208218) for FAGD/MAGD Credit. Acceptance period.