Pro-Voice Caucus with Exhale

Saturday, June 18, 2011 from 10:30 AM to 11:45 AM (CDT)
Event Details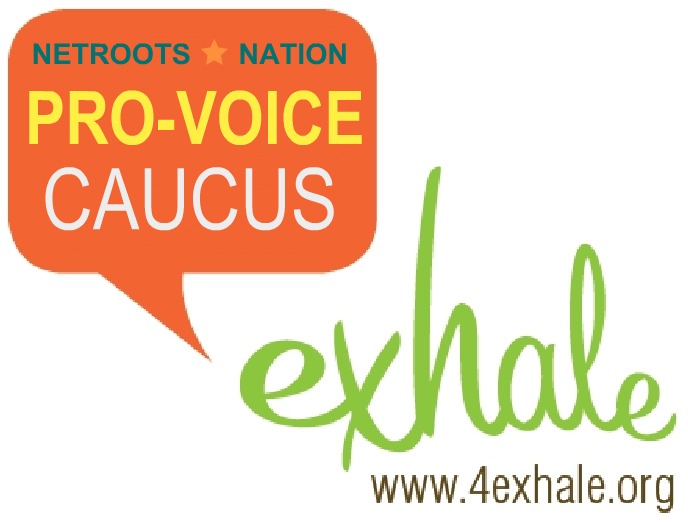 Join Exhale for a
Pro-Voice Caucus

June 18, 2011
10:30 a.m. - 11:45 a.m
Netroots Nation
Exhibit Hall, Minneapolis Convention Center

Caucus participants will explore methods of listening and creating public spaces of support and respect for women with abortion experiences.
On December 28, 2010, Exhale partnered with MTV as they aired "No Easy Decision," a groundbreaking special spotlighting three women--Markai, Katie and Natalia-- with personal abortion experiences, telling their own stories, in their own words.To support these young women, Exhale launched "16 & Loved," a media campaign collecting messages of support, love and respect from all over the country. "16 & Loved" was an incredible success, and not only collected an impressive volume of supportive messages for the women of "No Easy Decision" and all women with abortion experiences, but also received significant media coverage and effectively shifted the publice conversation on the MTV special.
The young women who appeared on "No Easy Decision" are just one example of how women who have had abortions are resisting stigma and finding creative ways to share their personal abortion stories in public. Since its founding, Exhale has been working in partnership with women to facilitate private and public forums where their personal stories with abortion are heard with dignity and respect. In 2005, we coined the term "Pro-Voice" to establish our position that it is women's voices and experiences that should lead the public dialogue on abortion.

Facilitated by:
Katie Stack
Featured in MTV's "No Easy Decision"
Jovida Ross
Director of Programs, Exhale
We hope to see you at the Caucus! Also check out Exhale's Founder and Executive Director, Aspen Baker, on the Netroots Nation Panel "FTW: Social Networks, Down and Dirty for Change" on Friday, June 17th. For questions about this caucus or Exhale's work, please contact Leah Uberseder at leah@4exhale.org">leah@4exhale.org.

When & Where

Minneapolis Convention Center
Exhibit Hall, Self-Organized Caucus Space
1301 Second Avenue South
Minneapolis, MN 55403


Saturday, June 18, 2011 from 10:30 AM to 11:45 AM (CDT)
Add to my calendar
Organizer
Hosted by Exhale with the generous support of our lead sponsors the Mary Wohlford Foundation, California Planned Parenthood Education Fund, Choice USA, Advocates for Youth, LFA Group: Learning For Change, A. Maciel Printing, ISIS [Youth, Tech, Health], The San Francisco Foundation, National Asian Pacific American Women's Forum, Princeton 2010 Woos, Reproductive Health Technologies Project, A Band of Wives, Artesa Vineyards & Winery, Gloria Ferrer Caves & Vineyards, Beverly Patterson, Lisa Hoffman, Robert & Karin Baker, Elizabeth Arndorfer & Clint Smith, Lauren Gard, and Jason M. Schultz

And all of our committed lead Host Committee members: Jenifer Fernandez Ancona, Aspen Baker & Chris Strasser, Margot Kramer Biehle, Renee Bracey Sherman, Inger Brinck & Grace Park, Christine Bronstein, Zaire Brown, Bonnie Chan, Cheryl Contee, Ronak Dave, Julie Davidson-Gomez, Janie & Don Friend, Sabrina Hersi Issa, The Jackson-Kirkendall Family, Heather Kirlin, Susan Lehman, Lisa Lepson, Shani Lerner, Christina McTiernan, Mariko Miki & Brent Fitzgerald, Kristin Rothballer, Jennifer & Scott Rudy, Deborah Santana, Cathy Schrieber Rouhani, Kristen Schultz Oliver, Brenda Solorzano, Christine Tran, Wen-Hua Yang, Jocelyn Yin, John Zipfel, and Armen Zohrabian

Exhale is the nation's leading Pro-Voice organization. We champion listening, promote storytelling, and build empathy with women who have had abortions. We are leading the movement to create a culture where every person's unique experience with abortion is supported, respected, and free from stigma.
Pro-Voice Caucus with Exhale