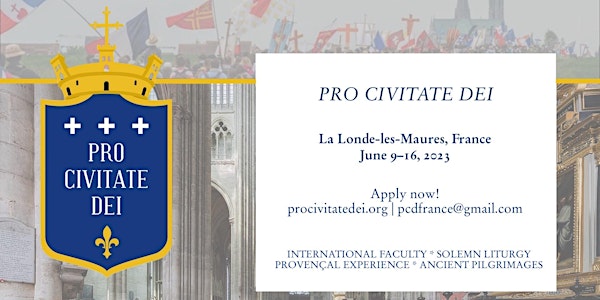 Pro Civitate Dei Summer Program 2023
Gather in the French Riviera June 9–16 as we resume Pro Civitate Dei's radical incarnation of Christian culture in the heart of Provence.
Date and time
June 9 · 6pm - June 16 · 11:30pm CEST
Location
La Comtesse rue Aristide Perrin 83250 La Londe-les-Maures France
Refund Policy
Refunds up to 30 days before event
About this event
Pro Civitate Dei is an annual program radically reaffirming the restoration of Western culture in an atmosphere of Christian conviviality.
This summer, Pro Civitate Dei brings American and European students and young professionals to the heart of the French Riviera for a weeklong, anglophone program rich in liturgy and intellectual discussion and an environment of Christian conviviality.
PCD is hosted by Matthew Menendez, Gladden Pappin and the fathers of the Fraternity of St. Joseph the Guardian in La Londe-les-Maures, France.
Registration is open on a first-come basis with limited spots. Pro Civitate Dei is open to undergraduates, graduate students and young professionals. For all inquiries contact pcdfrance@gmail.com. (Your registration will only be considered complete upon review by Pro Civitate Dei.)
Travelers can enter France without COVID-19 vaccination or negative test.
For travel plans, we recommend Rome2rio for plotting your route, Kayak and Skiplagged for finding flights. Regional airports include NCE Nice Côte d'Azur and MRS Marseille, with train connections to nearby Hy`eres or to the larger city of Toulon; or fly to Paris and take the train as well. PCD also is happy to provide expert travel advice for those who need it.
Your registration includes:
Lodging, food, drinks, and nightly hospitality June 9–16 in France (departure June 17)
Day trip by boat to the nearby vacation island
A special pilgrimage along an ancient Christian route
Daily lectures from our faculty
Free advice on booking your international trip (airfare excluded)
The conference will feature daily solemn liturgy, including Mass as well as the chanted hours of the Church for morning, evening, and night.
Arrival: June 9
Departure: June 17
Hosted by Gladden Pappin, Matthew Menendez, and the Fraternity of St. Joseph the Guardian, Pro Civitate Dei brings together a small number of select young men and women from top universities, as well as young professionals, to discuss the renewal of Christian civilization in one of the most beautiful settings of the French Riviera.
The program features lectures by high-level American and European university faculty in the rich intellectual and spiritual environment fostered by the clergy of the Fraternity of St. Joseph the Guardian, a religious order of North and South Americans dedicated to missionary work in the heart of Old World.
Above all, Pro Civitate Dei seeks to incarnate radically the spirit of communion that has uniquely marked the Church. The vigorous discussion of subjects in our talks continues outside the classroom, during breaks for coffee, apéritifs, dinner, supper, pilgrimages and even trips to the beach, in a convivial setting with noted professors and scholarly youth, surrounded by the remains of a Catholic France which is rightfully ours. 
Pro Civitate Dei enjoys the blessing of the Most Excellent Lord Dominique Rey, bishop of Fréjus-Toulon. PCD operates under the patronage of Ste. Jeanne d'Arc.
This year, for those willing to arrive a bit early, we will have the fortunte to again walk the great Chartres Pilgrimage, and Matt Menendez (Harvard '14) will organize a PCD group to walk the three consecutive marathons from Paris to Chartres. These two events combine to propose that the restoration of Christendom is possible. It will leave a gap between the two programs but we are happy to recommend some worthwhile activites. If you would like to join the sixteen thousand young people marching to Chartres, please email pcdfrance@gmail.com and plan on arriving in Paris at the latest Friday afternoon, June 2nd. You will finish late Monday, June 5th.
PAST LECTURE TOPICS
The Virtue of Patriotism in St. Joan of Arc
The Hierarchy of the Heavens: Cosmos and State in the Medieval World
Economic Libertarianism and Catholic Doctrine
Charity before Jihad
The Little Flower and Her Snuff Box
Subject to Lower Powers: The Life and Death of Modern Politics
Liturgical Politics in the Middle Ages
Building a Catholic Culture through Sacred Liturgy
FRATERNITY OF ST. JOSEPH THE GUARDIAN
For more information on the Fraternity of St. Joseph the Guardian, a religious order of North and South Americans dedicated to missionary work in the heart of Old World, consult http://fsjc.info or the Fraternity's Facebook page. The Fraternity is a registered public charity under U.S. law, 501(c)(3). Pro Civitate Dei is a nonprofit established in France under the loi 1901.