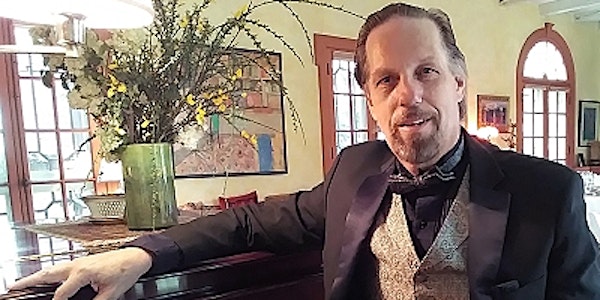 PRJC Presents Ragtime Revivals: Past, Present&Future featuring Bill Edwards
Ragtime Revivals – Past, Present and Future will cover trad jazz artists of the revival period from the late 1940s forward. These musicians
About this event
The PRJC is excited to have "Perfessor Bill" Edwards providing our monthly Zoom jazz talk. Join us on Wednesday, May 11 at 7:00 p.m. (Eastern) for the presentation in real-time.
Ragtime Revivals – Past, Present and Future will cover trad jazz artists of the revival period from the late 1940s forward. These musicians have helped drive new recordings and performances of this beloved musical genre. Each decade has its strengths and weaknesses – Bill will discuss these and provide audio-visual examples of them
William "Bill" Edwards began his love of ragtime as a child in Southern California. At the age of nearly 6, Bill's parents divorced, and his dad left behind some 10" discs of the Firehouse Five Plus Two, Frankie Carle, Joe Fingers" Carr (aka Lou Busch), and Paul Lingle, all full of Ragtime, Honky-Tonk, and Dixieland-style music. He immediately immersed himself into these few worn pieces of vinyl and began a journey into the metaphorical rabbit hole of syncopated desires. Crawling inside of the sounds of these wonderful records, the trauma around him went away, because ragtime was pure happiness. His grandfather bought him a piano, and a proverbial star was born. By the age of fourteen, he had learned half of the Scott Joplin catalog.
Bill worked as an intern for a couple of record companies and attended community college. After receiving a broadcasting degree from Los Angeles Valley College, he moved from the San Fernando Valley to Durango, Colorado, in hopes of establishing himself as the town's piano technician. While repairing a player piano at a local pizza parlor, the owner heard Bill play and hired him as a draw for the weekends. After a couple of months, The Abbey Theatre, a melodrama-style theater next door, hired him for a season of productions. In the midst of this, the well-established Dick Kroeckel, who played ragtime piano at the Diamond Belle Saloon in the Strater Hotel, asked Bill to fill in for him during a brief vacation. Within a very short time, Bill had his own niche at the Diamond Belle, and played there for six years, sharing duties with Mr. Kroeckel (who became an invaluable mentor), Molly Kaufman, Jim Rowe, and a few other talented pianists who helped shape his style and repertoire.
While he had several varying careers in a number of fields, Bill had earned a music degree in Durango from Fort Lewis College. An opportunity arose to play on the East Coast and he came to the Washington D.C. area in late 1986. The original opportunity did not pan out, but Bill ended up playing for a restaurant and a number of entertainment venues including the Kennedy Center. He also performed with many prestigious traditional jazz bands and worked with or opened for a variety of well-known artists, including Dave Brubeck, Al Hirt, Marie Osmond, Mel Tillis and Jo-Ann Castle.
The nickname "Perfessor" was adopted on his behalf in reference to early ragtime piano players. Their official title was often "Professor", but pronunciations routinely aberrated the word into "Perfessor." A local fan started referring to Bill as a "Professor" of ragtime one evening, and with the slight alteration in spelling and pronunciation, the name stuck.
Bill has competed, performed, given seminars, and won awards in a number of festivals including the World Championship Old Time Piano Competition https://oldtimepianocontest.com (he was one of six individuals profiled in the 2012 award-winning documentary The Entertainers, which was shot at the 2008-2010 competitions in Peoria) and the Scott Joplin International Ragtime Festival (He was the 2016 recipient of their award "For Oustanding Achievement in Research, Performance and Advancement of Ragtime). Some of you may also remember him from past PRJC performances.
The "Professor" makes a point of making music history both fun and relevant – and he is an amazing pianist. Don't miss your chance to learn more about the revival of ragtime.
*Register by 5:00 p.m. the day of the event using the link below. Zoom info will be e-mailed out to participants at that time. This event is FREE to the public, but we happily accept donations to defray costs at www.prjc.org