Description
PRIVY CIRCLE in association with CITY OF HOPE presents the "LEXUS NIGHT AT THE GALLERY" - a Fashion.Art.Music. Benefit for the National Asian Breast Cancer Initiative (NABCI).
NABCI was founded on the premise that Asian women face unique cultural, linguistic and genetic challenges related to breast cancer. In early October, NABCI is leading a national #asianbreastcancer social media campaign (endorsed by the White House) with a group of "influencers" who collectively have a reach of over 18M people. This event is the grande finale of the campaign. asianbreastcancer.org/advocates
FEATURING:::
+ Fashion Show by FRANKIE and Stella & Jamie
+ Open Bar by Ketel One, Johnnie Walker, Crown Royal and Tossware
+ Appetizers by C.O.D Restaurant
+ Raffle Drawing from Alexander Wang, Harrahs, LeTV etc.
+ Photobooth by Hashtag Photobooth
+ Music by DJ SHY
+ Performances by Megan Lee of XO-IQ and Broadway singers Welly Yang & Dina Morishita

...and a special surprise act!

DRESS CODE:::
Dressy, chic, elegant (jackets for men).
PARKING:::
Valet parking available.
ABOUT NABCI:::
NABCI was founded on the premise that Asian women face unique cultural, linguistic and genetic challenges related to breast cancer. This October, NABCI is leading a targeted social media campaign for Asian breast cancer awareness with our "Advocates".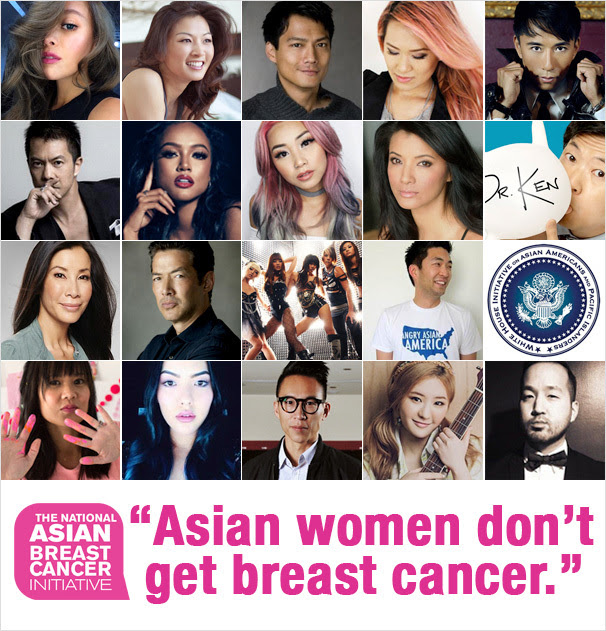 Some of the social media "influencers" and celebs (who have a reach of over 18M) supporting our cause including Amata Chittasenee (@pearypie), Ann Le (@anneorshine @annelestyle), Francis Lola (@flamcis), Jaeson Ma (East West Artists, 88 Rising), James Kyson (Heroes, NCIS), Joy Cho (@ohjoy), Karrueche Tran (@karrueche), Kelly Hu (Scorpion King, X2, Vampire Diaries), Ken Jeong (Dr. Ken, The Hangover, Community), Lisa Ling (This is Life, CNN), Megan Lee (Make It Pop, XO-IQ), Nylon Pink (@nylonpink) Phil Yu (Angry Asian Man), Stephanie Villa (@soothingsista) as well as the White House Initiative on Asian Americans and Pacific Islanders (@whitehouseaapi). A list of our advocates can be found here: http://asianbreastcancer.org/advocates
Let's utilize our collective social influence to get out this important message. Together, in numbers, we can bring attention to this important cause that affects our moms, sisters, aunts, grandmothers, and every important woman in your life.
ABOUT PRIVY CIRCLE:::
Privy Circle is building a trusted community of accomplished and like-minded individuals who are part of an emerging generation of global influencers. Our mission is simple - to empower relationships that matter and to inspire our generation to redefine what success looks like in business and in life. We believe what's good for business, should also be good for the world. More importantly, Privy Circle believes in the power of raising awareness and rallying support for issues important to our members and our community. Our hope is that, as individuals who have achieved a certain amount of success, we can leverage our collective resources to affect change worldwide. We have supported a number of causes in health, environment, human rights. privycircle.com
ABOUT CITY OF HOPE:::
City of Hope is an independent research and treatment center for cancer, diabetes and other life-threatening diseases. Designated as one of only 45 comprehensive cancer centers, the highest recognition bestowed by the National Cancer Institute, City of Hope is also a founding member of the National Comprehensive Cancer Network, with research and treatment protocols that advance care throughout the world. City of Hope is located in Duarte, California, just northeast of Los Angeles, with community clinics throughout Southern California. It is ranked as one of "America's Best Hospitals" in cancer by U.S. News & World Report. Founded in 1913, City of Hope is a pioneer in the fields of bone marrow transplantation, diabetes and numerous breakthrough cancer drugs based on technology developed at the institution. cityofhope.org

ABOUT FRANKIE:::
Frankie is a ready-to-wear and denim collection made in the US and rooted in the Los Angeles Arts District. The Fall Winter 2016 collection is inspired by famed director Jean-Luc Godard's landmark drama, "Vivre sa vie". Brand founder/owner and fashion Executive/Chief Creative, Kevin J Chen, has thrived amongst the virtuosity of creating in the arts for 30+ years. From studying established and emerging brands and developing his own collections, he has cultivated a vast awareness for past and current waves in the industry. Training in sewing factories deep in the New York Fashion District from the age of 17, he built a mastery of detail and expertise in bespoke & fine luxury market. Following his graduation from The Fashion Institute of Technology as a designer in 1991, Chen successfully continued to introduce multiple fashion labels to key destinations in the US and Asia. frankie-us.com
ABOUT STELLA & JAMIE:::
Stella & Jamie evokes a world of contemporary glamour and beauty, with a predilection for rich textures, modern lines and attention to a woman's body. Created by April Mun, Stella & Jamie launched it's first collection of rock-edgy leather motorcycle jackets with feminine printed-silk dresses in Spring 2007. This was instantly adored by fashion industry and Hollywood's elite, including Ashley Green and Jessica Biel. Since its launch, Stella & Jamie have expanded into women's full collection and leather goods. In Spring 2011, Stella & Jamie's handbag collection was launched and stunned the fashion world with its leather fringe bags. stellaandjamie.com
ABOUT DJ SHY:::
DJ Shy was the first female on-air mixer at the No. 1 Top 40 radio station in America, 102.7 KIIS-FM in Los Angeles. This Clear Channel station with over 2.6 million listeners each week features Ryan Seacrest as the morning host. femaledjshy.com
ABOUT WELLY YANG/DINA MORISHITA:::
Welly performed the role of Thuy in the original Boradway production of Miss Saigon and toured in Asia in the title role of "Aladdin". Dina performed the role of Eponine in the national tour of "Les Misérables" and the female lead of Kim in the national tour of "Miss Saigon".