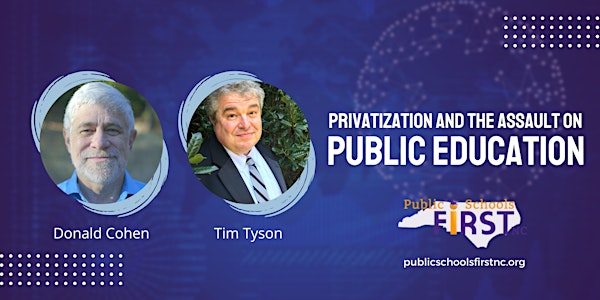 Privatization & the Assault on Public Ed: Authors Donald Cohen & Tim Tyson
Location
James B. Hunt Jr. Library
1070 Partners Way
Raleigh, NC 27606
Privatization & the Assault on Public Education: A Conversation with Donald Cohen & Tim Tyson
About this event
Public Schools First NC invites you to join us at the Hunt Library (NCSU) for this free community event on May 19th at 7pm (registration is required due to room size) with scholars Donald Cohen and Tim Tyson.
Cohen and Tyson will discuss how the movement to privatize how students are educated is a serious threat to our most important civic institution: public education. The movement to privatize education has the potential to decimate our traditional public schools. Vital resources have been siphoned from already cash-strapped public schools and reallocated to charter schools and to private schools via school vouchers. If this trend continues, and more children attend schools other than traditional public schools, this will result in a two-tier system with children from affluent families attending *choice* schools and concentrating high-needs children in the public schools left behind. We must disrupt this troubling trend to protect the cornerstone of our democracy, our free public schools. Throughout US history, strong public schools have been inseparable from a strong democracy. If we don't adequately and equitably invest in our traditional public schools that serve all children, irreparable damage will occur in North Carolina as in the nation.
Donald Cohen is the founder and executive director of In the Public Interest (ITPI,) a national research and policy center that studies public goods and services. He's the co-author of The Privatization of Everything: How the Plunder of Public Goods Transformed America and How We Can Fight Back. (See below for how you can help PSFNC and get a copy of this book.)
Tim Tyson is Senior Research Scholar at the Center for Documentary Studies at Duke University. His most recent book, The Blood of Emmett Till, won the Robert F. Kennedy Book Award and was among ten finalists for the 2017 National Book Award.
Make a tax-deductible donation of $50 to help Public Schools First NC and receive Cohen's book: The Privatization of Everything. Books can be picked up and signed at the event. Donate here: https://www.publicschoolsfirstnc.org/donate/make-a-donation/.